Drexel University's Sacramento campus will admit its first class of undergraduate students into its newest program this fall for a bachelor's degree in business administration. Officially announced Nov. 9, 2012, the undergraduate program is being offered to students who have already completed their first two years of college education. It's a transfer program that will accept transfer students from either a two-year community college or a four-year traditional college.
"I know you have a lot of community colleges back east, but here our community college culture is very strong. We have 110 community colleges in California alone. The model of going to a community college for your first two years and transferring to a four-year school is very common here," Olivia Stelte, the assistant director of admissions, said.
Students transferring from another university are required to complete their accounting, economics and statistics courses with 90 transferable credits. They also are required to have a minimum 2.5 GPA.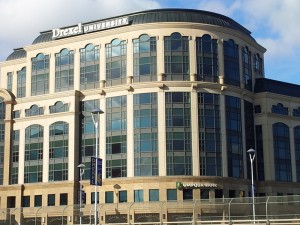 Drexel's Sacramento campus opened in January 2009 and was at first only open to graduate students with programs in business, human resources development, higher education and public health. Since then, 210 students have graduated from the school. The school offers seven master's programs along with one doctoral program and one post-baccalaureate program. The board of advisers and input about the demographics from Sacramento were the two main influences in starting this program.
"We have a very large population of college [students] who have really very few choices for higher education. They have the California State University, Sacramento campus to choose from and the University of California, Davis campus to choose from, just 20 miles away from us," Sandra Kirschenmann, associate vice provost of Drexel University Sacramento, said. "A very important and very successful community college population is the Los Rios Community College [District], which represents 100,000 students. Another community college that's not affiliated with Los Rios [is] called Sierra College, which has registered another 20,000-25,000 students."
"These institutions for higher education have been hammered by the recession in the last five years because [the] California state budget hasn't been able to afford improvements in state revenue. For example, the result has been that for a student who goes to California State Sacramento and wants to go into a post-baccalaureate program, the graduation rate is 8 percent," she continued.
The budget cuts have left a smaller number of available classes for students to choose from, leaving them without options of taking courses to complete their major requirements.
The undergraduate program is a co-op program in which students complete one co-op in their two years of attending.
"California worries a lot about students who go to schools and incur, what I call, a boatload of debt and when they try to get a job, they can't find one. That's a scary thing to the students and the student families. Another thing that Drexel does is demonstrate our expertise, in fact our DNA, in co-op. In my mind, I believe co-op is how you earn your baccalaureate degree and get a job," Kirschenmann said.
The co-op program will be a six-month commitment like the programs offered on the main campus. She also said that there are some co-op opportunities "in pocket" for the incoming class of students to be offered.
The tuition at the Drexel Sacramento undergraduate program will be the same as the one offered at Drexel's other transfer program in Burlington County Community College in New Jersey, which is $27,000. This is twice the tuition of the average California school. However, as Kirschenmann said, the tuition at the average program could be extended some years because of the overcrowding, causing the tuition to pile up with the extra years.
Currently, there are 20 spots being offered in the program. There have been about 20 applications sent in. "The students who start this program here will all go through the program together. They're all going to take the same classes. We intend to expand from there. It's going to be a smaller class-size model, so we're trying to keep class sizes under 30," Stelte said.
Drexel Sacramento is still in the process of accepting applications, including transfer students from the main campus. It is a rolling admissions process that will continue to accept applications until Aug. 15.
"We have a lot of meetings with community colleges. We talk to a lot of community college advisers. One thing unique that we did was that we sent out mugs to all the business faculty members to the local community colleges, and it was wrapped in a really neat advertising thing. [It said,] 'Help a Student Learn About What's Unique About Drexel.' I also talked to them about letting me come into their classrooms to talk about Drexel, and I was actually able to get into nine different classrooms," Stelte said.
In the fall, Drexel Sacramento will have 15 new faculty members, including two specifically for the undergraduate program. There are also career services being offered and created for undergraduate students, something that was not offered on the campus before.
Kirschenmann said that Drexel Sacramento plans to expand to 25 to 30 students in the next year and to add more majors or more business major concentrations into the program in the upcoming years.
"We are in alignment with President Fry's expansion and visions for the future. In fact, part of that is looking at what President Fry calls 'The Drexel Network Initiative.' What the Network Initiative refers to is the opportunity for Drexel to create additional sites outside of Philadelphia to bring again this unique, co-op related education to communities that don't have it. The institution is looking for other places to do this, and we are part of that vision," Kirschenmann said.