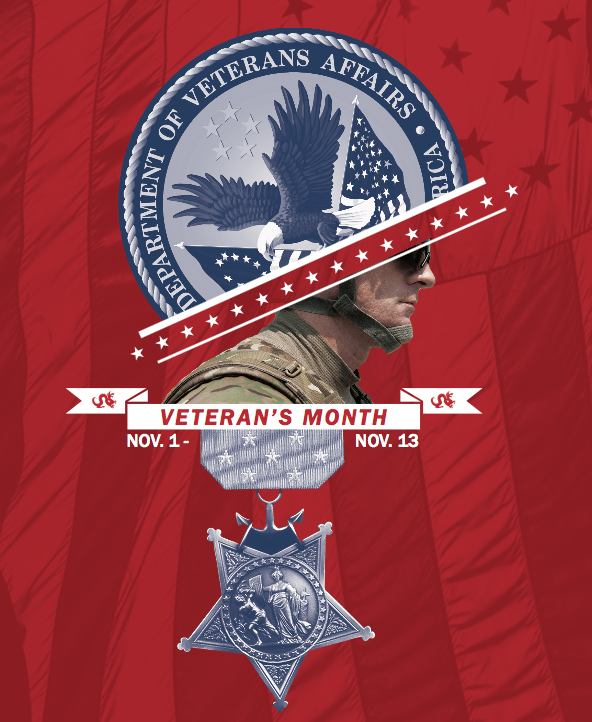 Drexel University will honor the military community during Veterans Appreciation Month Nov. 1-13 through an array of events that not only support student veterans, but also aim to connect non-military members of the Drexel community.
The plethora of activities planned throughout the two-week period underscore the importance of the military community across various university sectors, while also representing the university's continued dedication towards supporting this specific population.
"The military affinity is something that is very special at Drexel," Rebecca Weidensaul, the assistant vice president of the Office of Student Life, said. "The goal of the military appreciation month is to really celebrate the military community at our university."
Weidensaul, who oversees the Office of Veteran Student Services, said it's important to generate pride to help build authentic connections for all faculty, staff and students who have military service or are from military families.
"It's another way for Drexel to shows it appreciation of the sacrifices military members have made past, present and future," Andrew Stoffer, a U.S. military veteran and the Office of Veteran Student Services ambassador, added.
This year's celebratory events will extend across various parts of the university, spanning a large range of topics and overall purposes.
"When thinking about the programs we were going to offer, we wanted to have a menu of programs that would attract everyone," Weidensaul said. "There is something for everyone."
The celebration kicks off with the 4th Annual Serving Those Who Served Luncheon Nov. 1 from 12 to 1:30 p.m. The luncheon will be hosted by students and faculty from the Drexel Center for Food and Hospitality Management, which Weidensaul said is representative of how support is garnered across all levels of the university.
Beyond supporting military members, she explained how it is important to attempt to better understand the military community. One event, a lunch-and-learn to be hosted by the Office of Equality and Diversity, Human Resources and the Office of the Provost, will attempt to showcase what it means to be a military-friendly campus. At the event, which will take place Nov. 6  from 2 p.m. to 1:30 p.m., attendees will also receive a sticker — similar to an ally sticker — to communicate that they are military-friendly.
"It's a professional development opportunity for faculty and staff to learn more about the United States military culture and what our student veterans have experienced," Weidensaul said.
Another goal Weidensaul and her team are continuously addressing is helping to unite student veterans with opportunities post-graduation, and there are several events that speak to this.
The Veterans Colleague Resource Group at Drexel will be holding a Military Mixer and Networking Lunch Nov. 5 at Wahoo's Tacos from 11:30 a.m. to 1:30 p.m.
There is also a panel of military-affiliated alumni about launching an entrepreneurial career as a veteran Nov. 7 from  p.m. to 8 p.m at the Paul Peck Alumni Center. This annual program, which is open to alumni, students and employees who have served in the military, will explore topics related to the transition from military to civilian careers in order to help them progress professionally.
One of the most important events, Weidensaul said, is a breakfast and observation that will occur on Veterans Day Nov. 11, which also happens to be Family Weekend. Hosted by Drexel Army ROTC, the Veterans Task Force and Office of Veteran Student Services, the breakfast, set to take place from 10 a.m. to 12 p.m., will feature military traditions, patriotic music and remarks from members of our university's military community.
"We seize the opportunity to ensure families know that this is important to our universities and that we're happy to sponsor an actual event on the national holiday," Weidensaul said.
These events also percolate into the other two campuses. There will be a Veteran and Military Dependent Meet and Greet Luncheon at the Center City campus on Nov. 6 from 12 to 2 p.m, as well as a Veterans Health Forum that will take place on the Queen Lane campus Nov. 13 from 5:30 to 7 p.m., which will discuss caring for veteran patients in health-related fields.
According to Weidensaul, one of the most impactful events that has become a trademark of annual Veteran Day celebrations at the university, is the Philadelphia Veterans Day Parade, which will take place Nov. 4. All veterans and military dependents at Drexel are invited to join the Drexel Veterans Association and members of the Veterans Task Force in the parade in what has become a favorable tradition for the university.
"We really came out strong as one of the first Philadelphian schools to really embrace this opportunity and show our pride," Weidensaul said. "Now, every year we have the greatest number of student veterans represented, and when people see us in the parade, it's really impactful."
In accordance with these events, over 600 flags will be installed on the lawn beside Perelman Plaza and Gerri LeBow Hall to recognize veterans who are currently enrolled at the university.
Weidensaul said efforts to support the military community are historically embedded into the university as a result of the ROTC program — which is celebrating 100 years this year. Today, she said, there are nearly 1,000 student veterans and military dependents at Drexel.
While the university first commenced its yellow ribbon program — a provision of the Post-9/11 GI Bill that helps students attend private schools at little or no cost — in 2009 and has annually celebrated Veterans Day, she said this is the first year the tradition has manifested into a prolonged, almost two-week-long celebration.
"I'm just really proud of how far we've come," she said. "In the last four years, we've really amped things up."
Stoffer said these events are essential in connecting student veterans to the resources they might need, such as help with GI Bills, finding co-ops and even pairing them with mentors.
The events simultaneously build necessary recognition of the large veteran-base at the university, he added.
"I definitely think it draws awareness that there are more veterans at Drexel that people wouldn't realize unless they were at one of these events," he said. "It's one of those things that brings people together in a unique way."
However, Weidensaul said these events only represent a slice of continuous, year-round efforts, and she encourages members of the Drexel community to go out of their way to interact with student veterans beyond this two-week period. These students, she said, are extremely talented individuals who ultimately diversify the study body with their global orientation, experience with technology and vast commitment to civic engagement. Many students can learn from their experiences, as well as their overall tenacity, she said.
"The military culture is based on growth mindset and grit, which is something we can all learn from," she said. "There are few people who take oaths when they accept a job or position. This is truly emblematic of the character and commitment required to serve in the U.S. Armed Forces."
Overall, she said these events punctuate the ongoing efforts to engage and integrate Drexel's military students, faculty and staff.
"It's a continuation of the support we've always received at Drexel," Stoffer added.
Drexel was recently ranked No. 30 in Military Times' 2019 list of Best for Vets Colleges, and Stoffer said the fact that Drexel is a military-friendly university is one of the primary reasons he first came to the university. He said he has been thoroughly impressed with the resources he has been connected to upon his arrival.
"There's never been a situation where I couldn't go to someone — or two or three people — for help. Ever since I've been here, I've gotten nothing but support," he said. "Events like these make me appreciate being at Drexel. They continue to amaze me how much they do for the veteran community. I didn't expect to have half of what is available to me, and every time we have one of these events, it's just amazing."
For a full listing of events during Veteran's Appreciation Month, visit https://drexel.edu/studentlife/student_family_resources/veterans/events/.