Drexel University has hired 66 new high school interns from July 1 to Aug. 9 in 40 departments across campus. This program comes from an affiliation with the Philadelphia Youth Network's WorkReady summer internship program.
PYN is a nonprofit organization that works to assist Philadelphia youth in school, the workplace and college. WorkReady is open to people between the ages of 14 and 21.
For the last two years, the summer program at Drexel accepted up to 25 interns, but this summer, Philadelphia Mayor Michael Nutter asked Drexel to increase its commitment to 50 interns as a part of his 10,000 Summer Jobs Challenge, which he announced Jan. 28 to increase the opportunities for the youth of Philadelphia.
"This year, [President John A. Fry] met with Mayor Nutter, and Mayor Nutter wanted us to commit to initially 50. We said that we needed some more, and then we ended up committing to 60," Nadia McCrimmon, executive director of Drexel's Department of Human Resources, said. Six additional interns joined the program, McCrimmon added.
WorkReady takes applications, high school transcripts and job interests into account when offering internships. Drexel then conducts a separate interview process to determine whether to accept the intern and where to place each accepted intern.
"We may have someone in, say, [Information Resources & Technology]. They would have to have interests in a certain area, and they let us know that up front. If they are interested in IRT, things with computers, and things like that, or study that at school, then they'd be an intern at IRT, McCrimmon said. "It could be anything from working at the help desk, it could be during the day helping someone with the day-to-day process such as their different type of meetings or where they want to go at which organizations."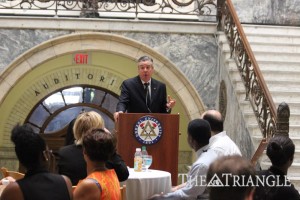 "A job varies from IRT such as human resources, special projects to research. … We try to give them some work experience. We also try to give them administrative duties, but a lot of things that they do are hands-on, so we try to keep them away from administrative stuff as much as possible," McCrimmon said.
During the interview process, potential interns are set in front of several different supervisors, allowing them the option to speak with and answer questions from several different departments in order to see which department best suits their interests and skills. The supervisors then send their recommendations of who they want working for them.
"They ask you to bring [a] resume, and they ask about different jobs we had. 'What did you do at this job?' 'How did you like this job?' And I tell them about skills in Microsoft, in Excel, in Photoshop, in Adobe and everything," Alice Naiko, an intern working in human resources, said.
Shira Smillie is another high school intern assigned to work in the HR department, She has been participating in WorkReady since she was 15, and she is now a senior in high school. Smillie was also a youth ambassador for PYN.
"I scan files, copying, send emails to whoever my boss needs me to. There's a big event that I'm coordinating for the staff. I've been going around taking down posters for the President's Award ceremony because the nominees were already announced. Also, my boss is responsible for tuition remission and processing those forms, so I've been processing those forms," Smillie said.
Orientation for the interns took place July 3, where they learned about Drexel and its mission, and were given temporary identification cards. A welcome breakfast for the interns was held July 16. Fry was in attendance at the breakfast, where he also spoke to the interns.
"We just really wanted them to know that we really appreciated them being here. We wanted to give them a welcome to the University so they can know more about what Drexel has to offer," McCrimmon said.
Smillie spoke at the welcome breakfast to share her past experiences with those new to the program. ]
"Drexel did a really good job at keeping us together and organized. The speakers were fantastic, especially my co-worker Shira. She basically talked about how WorkReady helped [her] throughout [the] years," Naiko said. She is entering her first year of college and has been working with WorkReady since she was 13.
Apart from providing intern experience for the WorkReady participants, Drexel has organized trips and activities around the city. They will spend time at the Academy of Natural Sciences of Drexel University, will visit the labs at Drexel's College of Medicine, and will have the opportunity to rock climb at the Recreation Center.
"We want to get them involved in Drexel University and also give them an opportunity to network with each other. We're trying to build the relationship that we want them to build here," McCrimmon said.
"Me and Shira, we went around to the different departments and took pictures of the interns and asked them how it is and what the job policy is. By the end of the internship, they're going to have a big celebration for us," Naiko said.
Interns working at Drexel this summer also have the opportunity to win prizes through a program called HotSpot. Interns will be nominated based on how well they represent core values, such as customer service and dependability. The nominees will be eligible to win one of the 10 netbook computers that Drexel is giving away.
The interns are paid $8 per hour, with an $834 cap for each intern. WorkReady allows for interns to work 20 hours per week, Monday through Thursday. On Fridays the interns go to WorkReady for professional development seminars to help further train them for the work environment.
McCrimmon said that the University hopes to continue expanding the program and employ even more WorkReady interns in the future.