Drexel University announced Dec. 5 that the University brand will be expanding south and opening a new office in the nation's capital.
The office, set to open May 2013 at 17th and H streets in Lafayette Tower in northwest Washington, D.C., is expected to serve both as an academic and outreach center. According to Brenda Sheridan, director of college relations for Drexel's College of Information Science and Technology, "There's not going to be any classes there. It's going to be administrative-type stuff that will be done there."
The project, which has been in the works for almost three years, will be devoted to working on Drexel University Online. Kerry Boland, a writer and editor for the iSchool, commented, "The purpose of the D.C. office is to bolster our online learning efforts, so we have been working with Drexel Online for a number of years, and this is really an extension of our work with them … so we are not going to have any classes inside."
"[This] is an excellent opportunity for Drexel to showcase its programs to a very diverse audience of prospective students," Todd Lucca, senior vice president of marketing and business development at Drexel University Online, wrote in an email.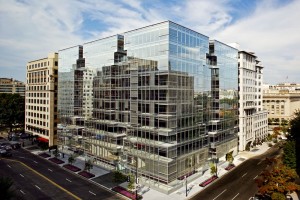 In addition to the iSchool, several other Drexel colleges will be involved in the D.C. project. "Drexel's iSchool, in conjunction with the University's Goodwin College of Professional Studies, School of Education, College of Nursing and Health Professions, Earle Mack School of Law and Drexel University Online, will use the office for academic outreach to promote online and predominantly graduate programs," Lucca wrote.
"[The office] also allows for our online students in that region to connect with their online programs in a way they haven't been able to before. Although this is an academic outreach center, various events will be planned, such as program-specific open houses, to allow for online students to have a more personal connection with fellow students, alumni and their university," Lucca continued.
Janice Biros, senior vice provost for budget, planning and administration, described the office's physical use in more detail.
"It will be a place to hold orientations for [online students], special workshops, advising and other support services for them. … It will also provide space for our senior vice provosts for research, government and community relations and others with frequent business in Washington to have a place to hold meetings, seminars, and conduct business while they are there," Biros said.
Past the building's academic use, "it will be a good opportunity for Drexel to be part of the D.C. area, be close to the government so we can have faculty members come there and use [hotel] space to conduct their meetings," Boland said.
She continued, "D.C. … has one of one of the highest percentages of nonprofit organizations in the country. So you have a lot of companies, organizations and federal government working toward education — I mean you have the Department of Education right there. You also have research organizations like the National Science Foundation, the Department of Defense. Any of those governmental wings will be able to connect with people in academia, and we can support our efforts to make those partnerships by being in Washington, D.C."