The Department of University Facilities announced July 21 that the Blue & Gold Route will be replaced by a new Powelton/Spring Garden Route effective September 8.
As rumored in a widespread Facebook post on the page, the new University City Loop will eliminate all stops within Powelton Village, and will instead offer students three stops: Hagerty Library at 33rd and Market streets, the Dornsife Center for Neighborhood Partnerships and the Vidas Athletic Complex. The avoidance of 43rd and Market streets through 38th and Walnut streets is the biggest change between the present and future routes. The Blue & Gold shuttles would take a left on to 38th Street and continue on Walnut Street until 43rd Street, where the new shuttles stay on Powelton Avenue until the athletic center.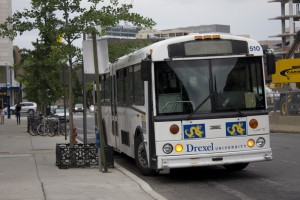 Pre-junior David Gamero described this as unfortunate news for commuting students who previously relied on the Blue & Gold shuttle as an easy and economically feasible source of transportation to and from main campus. Gamero said he currently rides the bus almost every weekday to get to his classes. The new shuttle system, however, calls for him to rethink his daily routine.
"I guess I'll take my bike out everyday," Gamero said.
"I'm not looking forward to that when it starts snowing in winter term. At least the new route will be better than nothing, but the new stop is still pretty far from my place," he continued.
"The Blue & Gold Route was originally designed to shuttle students to and from the Vidas Athletic Complex; a stop at the Dornsife Center for Neighborhood Partnerships was added when that facility opened," according to the Department of Facilities statement. "A recent review of ridership showed that utilization was lower during evening and weekend hours and along the expanded loop on Walnut Street. The new Powelton/Spring Garden Route will provide more efficient service to the route's most frequent riders," it continued.
University facilities encouraged that students accustomed to using the Blue & Gold Route to commute from their homes west of campus in Powelton Village or to reach the Fresh Grocer at 40th and Walnut Streets to take advantage of Drexel's agreement with the University of Pennsylvania. This service allows Drexel students to ride Penn's shuttle service to the destinations cut from the Blue & Gold Route.
Despite the promise of better service, some students are still not convinced the change is for the better. "Even though this doesn't really affect me — I never go to the stop on Walnut — I don't think ignoring some commuters is worth saving the rest of us a few extra minutes," junior Andrea Mauger said.
"I feel like the only people that will notice the switch will be ones that are losing their shuttle stop," Chris Bailes, a third-year student in the School of Law, predicted. "There's commuters who are going to have to figure out a new way to get to campus and I'll probably never think about it again."
When asked about Drexel's reasoning for altering the shuttle routes, Bailes continued, "I'm sure the shorter route is cheaper. I'm not accusing Drexel of being greedy or anything, like I hear some other students do, but it makes sense that they would want to save money anyway they can. Maybe they really think this can make the shuttles work better overall too, who knows."