According to a recent article published by Campus Grotto, Drexel is the eighth-most expensive university in America, trailing behind New York University, Columbia University and Dartmouth College. The article, which was published Oct. 4, factored things like tuition, fees, and room and board into the calculations of the 100 most expensive colleges in the country.
The financial aid office at Drexel is available to help students with the different funding options. Some students are able to participate in government-funded work-study programs to cover portions of their tuition, while others receive grants or scholarships through extracurricular activities, academic merit or financial need.
"Drexel is committed to making a quality education affordable. … About 77 percent of Drexel's incoming freshmen receive financial assistance, with an average financial aid package of $23,000," Niki Gianakaris, director of media relations, wrote in an email.
"I don't think it [being rated eighth-most expensive] really matters. … It doesn't change anything. I still have to pay the same amount, so why does it matter if someone thinks Drexel is the eighth or first most expensive school?" Anika Vittands, a biology major, said.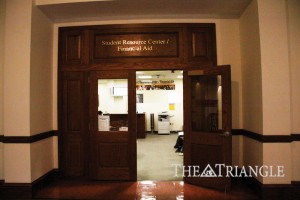 However, Lori Doyle, senior vice president for University Communications, said the calculations used in the rankings were misleading.
"The data they use is for four-year students only, and most of Drexel's students are five-year students. If they used the more accurate five-year data, our ranking would have been much lower," Doyle wrote in an email.
The average annual cost for an undergraduate in the five-year, three co-op option is $49,315, while a student in the four-year, no co-op option pays an average of $57,015 per year. When these expenses are calculated over the length of one's program, five-year students end up paying about $18,000 more than traditional, no co-op students. Still, co-op income can make a difference.
"Also, [Campus Grotto's] calculations don't take into account student earnings from Drexel's co-op program, through which students typically earn $10,000 to $15,000 over a six-month period," Doyle wrote in an email.
Most students in the five-year program participate in three co-ops, meaning they can factor in an estimated $30,000-$45,000 that they will receive from their employers while still earning college credits at Drexel. In some cases, the co-op program is what convinces students that attending Drexel is worth the high tuition prices.
"I believe that because of the co-op, going to Drexel is worth it. I get valuable experience when I am on co-op, and it has really helped me in choosing my career and what I want to do with my future. So if that is where the high cost comes from, then yes, I do think it is worth it," Vittands said.
Others, like chemical engineering student Melisa Aslan, believe the value of tuition won't be fully understood until after graduation. When asked whether she believes the cost for attending Drexel is worth it, she replied in an email, "I think we will see about this when we get to work in real life."
Students all over the world are spending thousands of dollars on their educations, assuming that the investment will pay off after graduation.
"Between costs approaching $60,000 a year, an increase in student loan defaults, and over $1 trillion in student loan debt, it's clear that the current model of raising tuition every year (at a rate higher than inflation) is unsustainable," Campus Grotto wrote in the article.
¬"In the most recent academic year, Drexel awarded approximately $170 million in financial aid and is committed to increasing this amount in the future," Gianakaris wrote.
This article has been reproduced by numerous large-scale media outlets such as the Wall Street Journal, CNBC, the New York Daily News and The Huffington Post. Other notable institutions on the list were the University of Pennsylvania at No. 48, Yale University at No. 67 and Harvard University at No. 85.
The Ivy League's Princeton University, which was ranked by Forbes as the No. 1 Best Value in Private Colleges, was nowhere on Campus Grotto's top 100 list.
The annual tuition of the 100th-most expensive college to make the list, Case Western Reserve, was $52,926 — about $5,000 less than Drexel. Forty-two percent of the colleges listed had a price range between $56,000 and $58,000. The most expensive college, Sarah Lawrence College, checked in at $61,236 per year of undergraduate study.