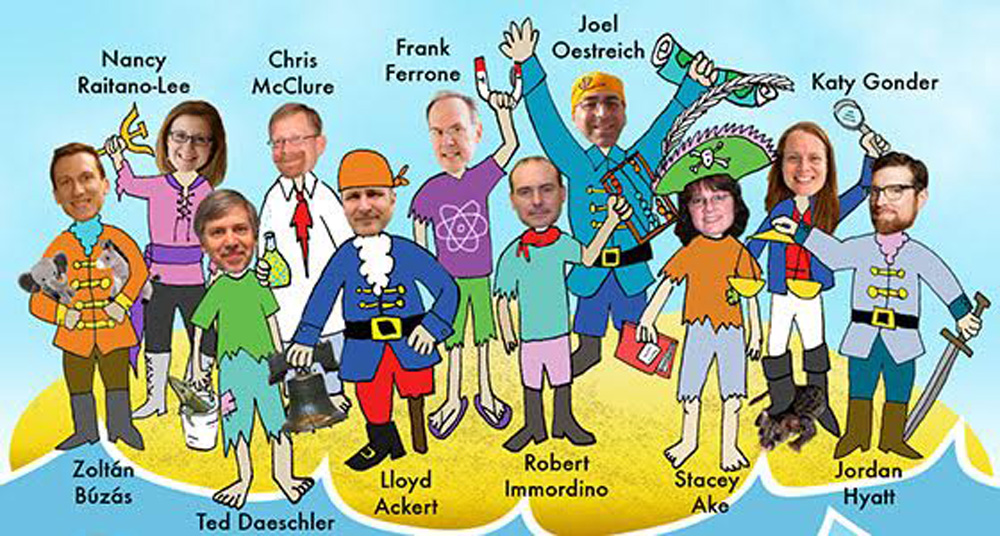 On March 14, Drexel University professors from eleven different fields of study were pitted against each other to determine what is more essential to human survival– science, humanity or social science. In this annual event, known as the College of Arts and Sciences Raft Debate, the participating professors (one from each academic category) operated under the pretense that they were all stranded on a desert island with only one available life raft. Using their quick wit and extensive knowledge of their respective subject areas, each professor argued as to why they and their discipline should be the one saved. The winner was chosen by the audience.
Joel Oestreich, representing Global Studies & Modern Languages, was randomly selected to offer his opening statement first, and offered a rousing poem in defense of his discipline's importance. Second up was Criminology & Justice Studies, represented by Jordan Hyatt, who took an equally comedic approach by informing the audience that either the person to their left or to their right was a psychopath whom they would no doubt need protection against. Politics' representative Zoltan Buzas argued that without him, Donald Trump may in fact become president, and claimed that political scientists are fond of cuddling stuffed animals.
"If you like puppies, stuffed or otherwise, save the political scientists," Buzas advised.
Robert Immordino, representing mathematics explained that Biology would be unable to count daisy petals without mathematics, and that aliens are no doubt using radians instead of degrees. Nancy Raitano Lee with the Psychology department wowed the audience with an actual preserved brain in a jar that she brought along with her as a prop. Biodiversity, Earth & Environmental Science (BEES) defender Ted Daeschler, claimed that only he and his discipline could "Make Earth Great Again."
"Where would we be without advances with yeast? Would you have beer? Probably not," Katy Gonder, representing Biology, pointed out in her study's defense. Lloyd Ackert then took the stage along with his alternative persona, a pirate, in order to defend the importance of history.
"You've probably already been saved by chemistry and may not know about it," Craig McClure claimed on the side of chemistry.
Frank Ferrone raised the stakes by spitting the hot fire of physics through rap: mirrored sunglasses, beanie and gold chain included.
English and Philosophy, represented by the eleventh contender Stacey Ake, concluded the opening round by arguing that all the other disciplines on the stage were born of philosophy, which in her opinion was the obvious winner.
The rebuttal period that followed was no less intense. "If you don't let me off this island, I will shiv every last one of you," Hyatt threatened on behalf of Criminology and Justice Studies.
"I will make sure you have beer forever," Gondor of Biology offered.
"If you want to be good lovers, you want to save philosophy," Ake offered, just before informing the audience of her intention to drink hemlock should she not be voted to survive. Buzas of Political Science informed the audience he'd rig the rules and win regardless.
"You will need to know which warlord to pledge your allegiance to in a world without chemistry," McClure warned, suggesting that in that case he hoped political science would be the one to make it out.
True to expectations, Ferrone followed up his original physics rap with a rebuttal rap. Ackert brought back the Dread Pirate himself in order to convince the audience of the need for History.
The final four contenders, determined by volume of audience applause, were Criminology & Justice Studies, Global Studies & Modern Languages, Physics, and BEES. In the end, hip-hoppin' physics professor Ferrone took the crown, claiming the one raft that would secure his safe passage off the metaphorical island.
Next year will see a new round of arguments from the eleven disciplines, where the proverbial raft will be earned once more by the wittiest and most convincing representative.