Most of us did not start off winter term by traveling 26 hours from Africa to Philadelphia, landing stateside at 8 a.m. and finding ourselves in a classroom by 9:30 a.m. Christopher Diaz did.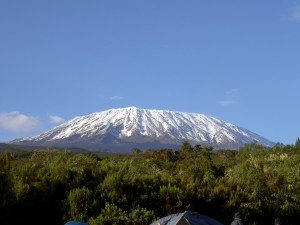 A former Navy hospital corpsman and graduate student studying clinical psychology, Diaz spent the last two weeks of winter break in Africa, where he summited Mount Kilimanjaro, the tallest peak in Africa.
"I like doing things that push my comfort level, my experience level. I think it's an important part of growth. And so this was another challenge that presented itself," he said.
Last year, during his time as the president of the Drexel Veterans Association, Diaz had the opportunity to connect with the Military Assistance Project, a nonprofit that helps veterans with legal and financial issues. It was then that he found out about its first charity climb, a project to help raise money for the organization.
In October 2014, another team member had to drop out of the climb and the open spot was offered to Diaz. His military and medical training background made him a suitable candidate, but he had less than two months to prepare.
Not only did he have limited time, Diaz had knee surgery in February, less than a year before the climb. However, that didn't do much to deter him from facing the mountain.
Previously Diaz had spent some time backpacking and climbing, but nothing to this scope. With a peak of 19,341 feet, the mountain only has a 45 percent completion rate.
Even though Mount Kilimanjaro is not considered a technical climb, that doesn't mean there aren't physical and mental obstacles to overcome. During the climb Diaz had to overcome altitude sickness, heat exhaustion and a drastic change in diet.
"Mentally the biggest challenge was getting over the altitude sickness. I had recently climbed in Colorado and got altitude sickness at 12,800 feet, so I knew what that felt like; so the thought of doing 19,000 plus was the biggest mental challenge for me to get over."
Diaz was one of four veterans on a team of 14 (mostly consisting of lawyers and a few other students) and one of 12 members who summited. He noted that upon reaching the summit he was proudly wearing his Drexel veteran pin.
Diaz's team followed the Machame route — also known as "Whiskey Route" — with which it took them five days to summit the mountain and then two days to climb back down.
Along the route they used the "climb high, sleep low" method, reaching a certain level of ascent and spending a few hours there before climbing back down to sleep. This process helps the body adjust to the drastic change in altitude.
To Diaz, the most rewarding part of the climb was the experience in itself. "I really like getting to add another first onto the list of life experiences that I have, and that to me is the most rewarding. Preserving through this challenge and getting the experience [was great,]" he said.
When asked if he would do another climb, Diaz responded: "When you're miserable in these situations, which I find whether it be deployed in Afghanistan or stuck on a ship for seven months in the ocean, that misery only lasts for a certain amount of time, and when you remove from it, you forget how terrible it was. … So I got down from the mountain and I told my tent mate, 'I'm selling all of my camping gear, I'm never going outside again.' But I knew that would only last for a short time, so I'm looking forward to whatever the next [challenge] ends up being."
Diaz did say he would most likely not ever climb Mount Kilimanjaro again, but only because there are more interesting climbs he would like to attempt.
While in Africa, Diaz spent some time at a Tanzanian orphanage with a few other team members before the climb. One member bought sunglasses for all the children in the orphanage, knowing from a prior visit there was a need for it.
Diaz decided he wanted to bring shoes to donate. His son wanted to help and asked his fellow middle school classmates to help out. Diaz and his family were able to donate two sea bags filled with shoes to the orphanage.
"It was very rewarding to get to do that, I've always had that servant component in what I do," he said.