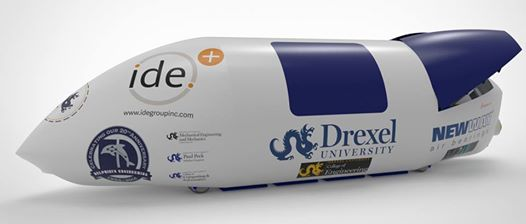 The Drexel Hyperloop team proved successful Jan. 29–30 at SpaceX's Design Weekend hosted by Texas A&M University. The contest offered student teams the opportunity to showcase their designs to a panel of judges, along with a host of potential sponsors.
Of the 178 teams that presented their design packages during Design Weekend, only 22 teams emerged victorious and earned the right to advance to the next stage of the competition. Drexel's team, which consists of over 70 students, was among this group of winners.
"Getting the chance to meet teams all over the world trying to make Hyperloop a reality was really exciting," Om Mahida wrote in an email interview. "It was a great opportunity to network with people with the vision to change transportation," he continued.
Team member Richard Crane enjoyed the networking aspect the most."We took full advantage of being so close to many other engineers that have been working equally as hard as us on the hyperloop concept. The learning environment was amazing and all the teams were eager to discuss their concept and their engineering process."
The Hyperloop is a theoretical mode of transportation conceived by SpaceX CEO Elon Musk. SpaceX accepted preliminary applications from student teams to compete for the best pod design until Sept. 15, 2015. Final design packages for all qualifying teams were due Jan. 20, just nine days before Design Weekend.
"It is an honor to be accepted to the next round, and the whole team is very excited and more determined than ever," Ronnie Joshi said, speaking for the team.
The next phase of the project will involve the top 22 teams testing prototypes of their designs in California on a SpaceX track this summer. The Drexel team's prototype is slated to be completed by the end of February according to Joshi.
"We are gearing up to work hard over the next few months to prove to everyone that we have the best design at the test track this summer! The biggest short-term goal is to finish securing all of the funding required to build and test our pod." Joshi said with excitement.
Whether or not the Drexel team will win the final stage of the competition will be decided this summer after the 22 prototypes from each team are tested.