Drexel University School of Public Health has been christened the Dana and David Dornsife School of Public Health in recognition of their $45 million gift to the University. President John A. Fry made this announcement at 2 p.m., Sept. 30, at Nesbitt Hall.
The Dornsifes are known worldwide for their philanthropic and humanitarian efforts. This latest kind endeavor brings their cumulative Drexel donations to $58 million.
"They put not just their resources but also their hearts and their backs into empowering communities that face challenges. I learned this when I traveled with them to Africa, where they work with World Vision International to build wells that provide safe water for millions of people," Fry wrote in an open letter about the announcement.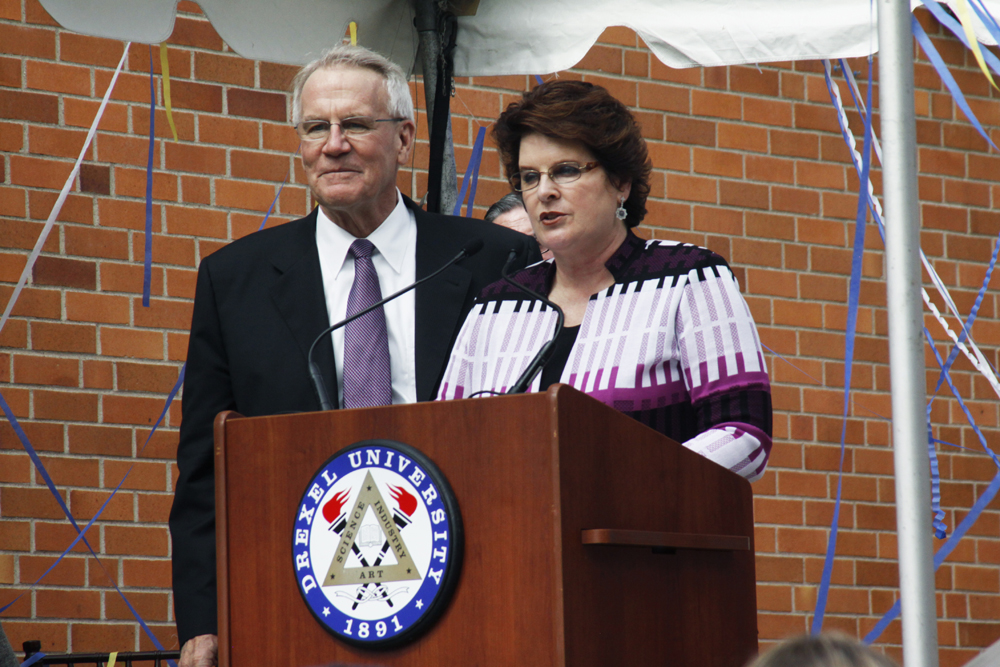 "Our School of Public Health was founded on the principle that health must be viewed as a human right. Today, led by Dean Ana Diez-Roux, M.D., Ph.D., the school provides innovative community-based education for public health professionals and conducts research and community outreach benefiting many thousands of people each year," he continued.
The donation was made in hopes of accomplishing several goals detailed out in the letter. With this donation, Drexel will establish the Drexel Urban Health Collaborative, the first of its kind in North America according to Fry, which will be focusing on improving urban public health policies and health inequality. It will also create three endowed professorships, four endowed scholarships for graduate students, expand Drexel's Global Public Health Program to include visiting professorships, online courses and other opportunities, and establish Dean's Strategic Initiatives Fund to respond to urgent public health issues.
"We believe health is a human right—that doing good requires boots on the ground and engagement with the people that you serve," Dana Dornsife said in her speech at the naming ceremony, citing Fry's vision as the main inspiration for her donation. "Truly effective change relies on sustainable intervention. Dave and I know firsthand that Drexel's public health team is making a sizeable impact on health and human rights in Philadelphia and around the globe. They're making a difference in communities today and in shaping the next generation of public health leaders. We are profoundly inspired by their commitment to health equality and social justice."
Dana Dornsife, a 1983 graduate of the LeBow College of Business, is founder, CEO and President of the Lazarex Cancer Foundation. David, a graduate of the University of Southern California, is chairman of Herrick Corporation, the largest steel fabricator and contractor on the West Coast.
At the naming ceremony, Diez-Roux made some comments as well. "I do want to emphasize that this gift is a recognition of all the hard work and the teamwork that has gone on in the school over many years involving faculty, staff, students and external partners, and that has characterized this school from its very origins."
The couple's first big donation to Drexel in 2012 gave $10 million to establish the Dana and David Dornsife Center for Neighborhood Partnerships. The center has enhanced Drexel's civic engagement in the form of collaboration between students, faculty and residents in Mantua and Powelton. Since then, the Dornsife name has made some more appearances on campus including the Dana and David Dornsife Office of Experiential Learning and the Dornsife Global Development Scholars program in which students work for World Vision International on development projects related to water, sanitation and hygiene in African countries.
"The work that David and I do with World Vision is immeasurably enriched by the Dornsife Global Development Scholars Program," Dana Dornsife said, "and the capacity building online education program established in partnership with this school, World Vision, and Desert Research Institute." She attributed her continued success of these programs at Drexel with the shared core beliefs among them and the school.
This is the second largest donation the university has ever received, right after the $50 million donation to the Thomas R. Kline School of Law in its naming in September 2014.