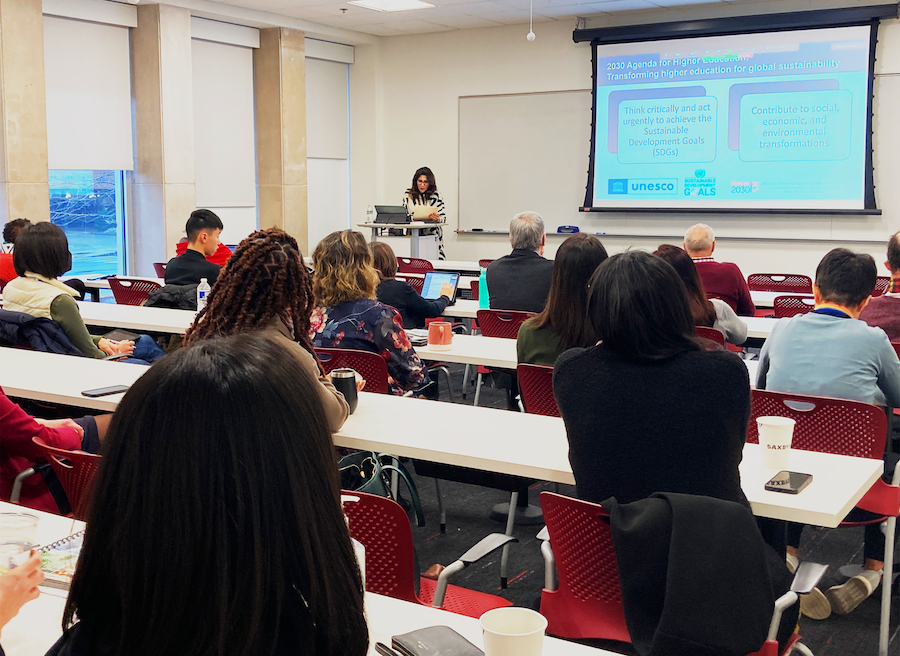 On Jan. 25, the Dornsife School of Public Health held a Population Health Spotlight event in reflection of the lessons learned from the COVID-19 pandemic. As the world recovers from the biggest health crisis in a century, the importance of education around public health has become relevant now more than ever.
The event was part of a larger lecture series that Dornsife has organized to encourage conversations around the field of public health. This particular lecture was led by Laura Magaña, PhD, MS, the President & CEO of the Association of Schools and Programs of Public Health (ASPPH).
The lecture took place in Nesbitt Hall and was simultaneously streamed over Zoom. It mainly provided insight into how public health can be improved if we transform the educational system to train people in a more holistic approach, ultimately working towards the goal of global sustainability.
To start, Dr. Magaña quickly got into how public health is poorly addressed in our society due to the lack of higher education for most of the public. Dr. Magaña reminded the audience that we are in a higher educational institution and defined higher education institutions (HEI) as organizations with large amounts of educational resources available to a select type of people who have the money to access it. Thus, Magaña emphasized the need for accessible education.
Aside from the importance of education, Dr. Magaña encouraged audience members to think about what stands in the way for solutions that contribute "to a fair, more human, democratic, holistic and more peaceful picture for all."
The advocacy discussion took a turn as Dr. Magaña covered the benefits of smarter educational strategies that came about during the pandemic by talking about what a 'beyond discipline' collaboration could do for building community and reimagining learning.
According to Dr. Magaña, "We need to do more collectively among the programs. Not just the health programs, but the schools of engineering, business, and architecture among others in order to bring knowledge together and altogether, really think differently about how to solve the biggest challenges."
The lecture then went back to addressing how we need to transform the education system to make way for these better teaching methods. Dr. Magaña covered ten different areas to think about when it comes to this massive change needed, starting with the area of fostering lifelong learning skills which are extremely beneficial to those willing to get educated to help others.
To close, Dr. Magaña addressed how public health can bring people together to address not just one but several systemic issues affecting the welfare of our society. These kinds of benefits could be made possible if public health educators and learners had the proper training methods to move forward.
Dr. Magaña strongly believes that public health "can be a leader in the innovation to improve the integration of essential competencies, technologies, of course and a new horde of models."
This lecture, one of many in a series Drexel University hosts aimed at improving public health services, covered several new ideas educational institutions can implement to better train students in all fields related to these services. We can only hope that with collective efforts, methods to keep ourselves and others healthy will get better.