This year for Eating Disorders Awareness Week, Delta Phi Epsilon organized multiple events to spread awareness within the Drexel community and reach out to anyone seeking help.
Feb. 26 held the main event of the week. DPhiE hosted a speaker panel by Active Minds where students learned about eating disorders from medical professional Michael Thomas, a professor at Eastern University. Additionally, recovering eating disorder patients and loved ones shared their personal stories and struggles with recovery. The panel was followed by DPhiE's annual vigil, which gave students the opportunity to share their thoughts and stories, and ended the night with the National Association of Anorexia Nervosa and Associated Disorders pledge.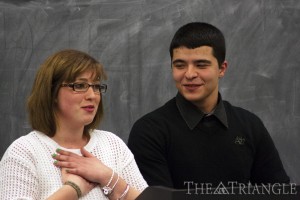 "The speakers tonight were really engaging and gave a lot of important information and personal experiences with eating disorders. Everyone really enjoyed getting to see what eating disorders are like from different perspectives. … It really gave us all a better understanding of the disorders and advice on what to do if we know someone who may have one," Ali Pajonk, a pre-junior entertainment and arts management major and DPhiE philanthropy chair, said of Wednesday night's speaker panel.
Thomas focused on anorexia nervosa and bulimia nervosa. He explained their causes and symptoms and touched on how to help and confront someone with an eating disorder.
Anorexia nervosa is categorized by dietary restriction. "The main goal of an anorexic person is to lose weight," Thomas said, and they will often engage in compulsive exercise, restricted eating habits and sometimes purging. "People suffering from anorexia will set a goal weight. After achieving it, they will set another goal weight until they continue to lose weight. … They also experience a lot of pressure from their families. They internalize this pressure." Anorexics will practice rigid and strict schedules and can show signs of obsessive-compulsive disorder.
On the other hand, bulimia nervosa involves eating and purging. A bulimic will eat for comfort and purge out of guilt. "They don't want to eat, but it's an addiction. They cope with food," Thomas said. He explained that bulimics tend to experience stress at home and over-express their feelings.
DPhiE is known around the country for its annual ANAD vigil. During the vigil, students stepped up to share their personal stories and also their thoughts on the panel of speakers.
"At first it's a little difficult to get people to come forward and speak, but once that initial person breaks the ice, a lot more people are willing to tell their stories. It was amazing to hear some of the stories that were told, both by sisters and those we had never met before," Pajonk said.
On Feb. 24, DPhiE set up trash cans by the statue of Mario the Dragon asking passersby to "throw away [their] insecurities" by writing an insecurity on a slip of paper and throwing it away in the trash cans.
"It felt great to have so much support at the beginning of the week and to get more of the campus involved that wouldn't have normally known about our events," Pajonk said.
There was a team-building fitness day workout in the Drexel Recreation Center Feb. 25. There was an eating disorder screening in the DAC lobby and the Khlar Lobby at the New College Building Feb. 27, and Friday there will be a healthy dessert demonstration in the Academic Bistro.
The National Eating Disorders Association suggests that eating disorder development is at its highest between the ages of 18 and 21 and that 10 percent to 20 percent of college women and 4 percent to 10 percent of college men suffer from an eating disorder. Further, only one in 10 of the 24 million who suffer will receive treatment.