Starting in the fall 2011 term, Drexel University's Handschumacher Dining Center will begin to offer a takeout option for students with a meal plan.
The program was enacted after the Retail Management office, in partnership with Campus Dining, decided to investigate the idea after receiving feedback from students.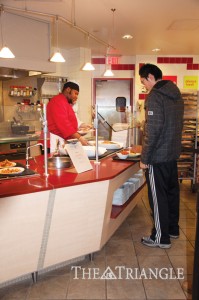 Students who want to take advantage of the takeout option will request takeout at the register, where they will be charged the same price as a regular meal and pay with either Dragon Dollars, Dining Dollars or meal swipes.
One soup container and one food container will be supplied, both of which are biodegradable, in order to support Drexel's sustainability initiatives.
Jackelyn Eliassen, director of Retail Management, hopes that this program will make Campus Dining more appealing to students.
"Drexel students are busy students on the go. We hope this program will allow people more flexibility to get food when they need it and in a manner that supports their academic schedule and goals," Eliassen said. "We are looking at many options to improve the lives of students, faculty and staff."
According to Eliassen, the program, which was already trialed this spring, will be trialed again during the summer to collect student feedback regarding the containers and the logistics of administering the program.
Sarah Mortensen, a sophomore business major, was excited to see the advertisements for the takeout option featured on the napkin boxes around the dining hall over the past few weeks.
"I think it sounds awesome because then if we don't have time to sit there and eat or we want to eat outside, we can still get our food using a swipe," Mortensen said. "It sounds like a really good idea."
Some students who haven't had a meal plan in previous years are now excited to see that the takeout option is being brought to Drexel.
Eryn Lynn, a photography major, found the meal plan appealing for the academic benefits.
"Sometimes I really just want to run in and grab food because I have homework to do or something to study for," Lynn said. "I'm glad that I'll be able to run in and grab stuff instead of having to get a tray, sit down, eat and put my tray away. It's not a lot but it can get in the way if you're in a time crunch."
The Drexel Campus Dining program actively collects student feedback through surveys, focus groups and student advisory groups. In order to submit feedback, visit www.drexelcampusdining.com/feedback.