Kudo Tsunoda, the creative director of Kinect for the Xbox 360, gave a lecture at Drexel University Nov. 15 following a video game tournament.
Tsunoda spoke about his personal experience in the gaming industry, his inspiration for Kinect, "getting a gig" in the industry, and the future of Kinect technology. Tsunoda has developed games for 3D0, EA sports and Microsoft, but perhaps his greatest achievement is the Kinect technology.
Kinect has enjoyed much success since its launch in 2010, breaking the Guinness world record for fastest-selling game peripheral.
"What makes a game successful is it has to have some sort of uniqueness to it," Mike Wagner, Drexel's digital media program director, said.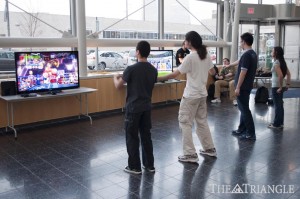 Named for both the kinetic energy generated while playing and the connections made between players, Kinect technology allows the player of the game to interact without using a controller. It has the ability to track a body, recognize a voice and scan an object, but Tsunoda doesn't see the use of Kinect technology ending with entertainment.
John Novak, a junior digital media major, said that Kinect games are used "in more experimental ways and are interesting because it's just new game mechanics that main developers and publishers don't generally think of. It gives a nicer experience mostly because it's handsfree."
With interactive options beyond gameplay, Tsunoda said they are just "scratching the surface" of the technology's potential and that he already notices a change in how people watch television with programs such as Kinect Sesame Street TV and Kinect National Geographic TV. Tsunoda predicted that the technology will significantly revolutionize storytelling.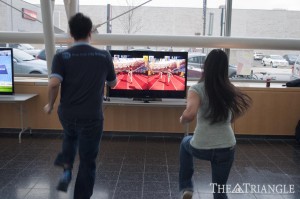 "We can use Kinect to deliver interactive storytelling. … We can read so much about the way that humans communicate — your body language, facial expressions, hand gestures," Tsunoda said. As Kinect technology becomes more sophisticated, it will be able to interpret human interaction in a way that it will communicate with the subject.
Game design students at Drexel are using Kinect technology for medical purposes in a collaborative effort with the College of Nursing and Health Professions. The students are developing a game that will be used as therapy for patients with cerebral palsy, who often have physical and cognitive limitations that will be accommodated by the handsfree Kinect technology.
"The interesting part goes beyond the game itself. The doctor or clinician or parent has the ability to remotely configure the game for the cerebral palsy patient as well as get monitored progress, so a doctor will be able to go on and click on the name and see that the patient played 'this' game, and they played it for so long and they will give it information about how the patient did so they can monitor the progress," Paul Diefenbach, associate professor and co-director for Drexel's game design program, said.
Developing a game is no easy task. "Having fun and playing games is a fundamental part of being a human being," Tsunoda said in explaining the strenuous commitment that the gaming industry requires. Tsunoda gave insight on the long hours and the importance of teamwork, time management and balancing family life when developing a game.
"When there's big money to be made. In big-money situations, you got to pull through with the guns," Tsunoda said and he explained further that big sacrifices are necessary for success.
Following the lecture, Tsunoda challenged Rory O'Kane, winner of the preceding double-elimination tournament. O'Kane, who prefers games that require controllers, admitted that prior to the tournament he had only played a Kinect game one other time. Tsunoda chose the Kinect Sports 100-meter hurdle race to be the game for the entire tournament and also for the final challenge. Even after using unconventional gameplay methods and playing a rematch, O'Kane pulled out a victory over Tsunoda.
A graduate of George Washington University with a degree in philosophy, Tsunoda worked his way up in the gaming industry from an entry-level position for Philips Media during the development of the Philips CD-i console to Microsoft's corporate vice president for next-gen experiences, earning a promotion at least every year and a half.
The event was sponsored by the Kal & Lucille Rudman Institute for Entertainment Industry Studies, the Game Art & Production program, and the College of Engineering's Department of Computer Science.