Drexel students can expect to see a Shake Shack among the businesses opening at 32nd and Chestnut streets in late summer or early fall 2013.
Originally from New York City, this hot spot will be the second Shake Shack to open in Philadelphia and one of only a handful in the entire country. The University City establishment will be located slightly more than a mile from the already existing Shake Shack at 20th and Sansom streets.
Even with a Shake Shack already within walking distance of campus, students are expressing their excitement.
"I am so excited for next year. I love Shake Shack; their burgers are so good, addictive," Mackenzie Diggs, a freshman biology major, said. "I'm tired of Chick-fil-a, Currito and Subway. I'm really tired of going to the Hans and getting those nasty little patties. Drexel doesn't really have a burger place, so I think it's a good idea."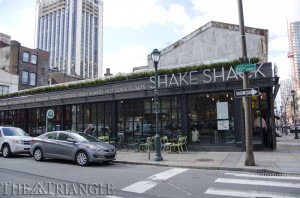 Spencer Burger, in Ross Commons, is currently the only specialty burger restaurant located on Drexel's campus aside from some among the variety of food trucks.
"You can't really go to Spencer Burger and get a plain burger. They're kind of outrageous, which I think deters people from going there. You can go to Shake Shack and get any burger you want," Diggs said.
However, the news has some students confused. They see it as a mixed signal about healthy eating habits.
"Don't get me wrong — I love burgers, but it seems like Drexel is always trying to enforce healthy eating, and opening a Shake Shack really negates that message. It's like, 'Oh, you're on the run? Well, here's a burger,'" Tifany Nguyen, a freshman business major, said.
Students are also using the opportunity to express their discontent with the already existing on-campus dining options. Some feel that a Shake Shack merely adds to the problem of dining at Drexel.
"It would be nice to have a kind of healthier choice, like a salad bar — something with fruit because Drexel never has fruit," Nguyen said.
The absence of healthy eating options on campus is a sentiment expressed by many others. This problem is not solved by Shake Shack, as it offers no salad items beyond the lettuce and tomato found on its burgers.
At the Center City location, a hamburger costs $3.60 before the additional price of any toppings. Cheese is an extra 50 cents per patty, and bacon costs $1.25. Fries cost almost the same as a burger, and a shake is $5.00. All in all, a meal at Shake Shack could cost more than $10.
"If it's part of the dining plan, I'm completely fine with it. But if I have to use my own personal money, I don't think I'll be going to Shake Shack that much. The Hans may not be as good, but I don't have to pay anything extra. Free is good," Nguyen said.
The new location will not accept Drexel Dining Dollars because it will not be operated by Drexel Campus Dining. American Campus Communities, the same company in charge of Chestnut Square housing, will manage the new location.
Shake Shack, a restaurant chain first appearing in NYC's Madison Square Park in July 2004, is known for its burgers, hot dogs, fries and shakes. Customers can choose from a variety of toppings for their burgers and hot dogs, as well as numerous "mix-ins" for their milkshakes. Shake Shack also offers the "Shroom Burger," which is a vegetarian alternative to their beef patties, as well as a chicken substitute for their hot dogs.
In addition to their classic items, Shake Shack offers ice cream treats specialized for the restaurant's location. The Center City Shake Shack serves the Rittenhouse, Liberty Bell and Center City Pretzel, with 5 percent of the sales from the Center City Pretzel supporting the City of Philadelphia Mural Arts Program.
Shake Shack is also known for its signature wines and beers, bottled and brewed exclusively for Shake Shack. It is uncertain as to whether or not the University City Shake Shack will join the likes of Drexel Pizza and Landmark Americana by selling alcohol on campus.