Drexel's Convenient Care Center in Center City has been named the "Best of Philly 2012 Medi-Clinic" in Philadelphia Magazine's August 2012 issue.
The clinic, located in the lower level of The Shops at Liberty Place on 16th Street between Market and Chestnut streets, provides nonemergency medical attention for working professionals, residents, or tourists 18 years of age and older. They also have commonly prescribed medications readily available for patients. The clinic welcomes walk-ins and provides appointments with Drexel's medical practices for more complicated conditions.
"The editors cited the facts that no appointment is needed and that many times patients can leave with a prescription as reasons why they named it a 'Best of Philly,'" Shailaja Nair, the medical director of the clinic, said. "Two things that make the Drexel Convenient Care Center unique are that we have a physician on staff and we are the only clinic in Center City affiliated with an academic medical center," Nair said.
The services they offer range from treatments for seasonal allergies and rashes to pre-employment and pre-college physicals. They also administer certain immunizations, including the flu shot. An appointment costs $80, but the center accepts many different insurance providers to defray the cost. Patients have to pay extra for vaccines and medications.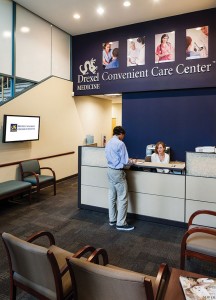 The Drexel Convenient Care Center has four full-time employees and four to five nurse practitioners who rotate on a part-time basis, Nair said. It is open 7 a.m. to 7 p.m. Monday through Friday. A detailed list of conditions they treat can be found on the clinic's website.
Philadelphia Magazine compiles a lengthy list of "bests" every year, split into four categories: restaurants and bars, shopping and style, fun and games, and "at your service." The best medi-clinic award is featured in the service category. Other awards in the category include best dry cleaner, best personal trainer and best dog groomer.