Drexel University Music Program Director Myron "Mike" Moss died July 2 from a sudden heart attack. He was 60.
Moss was an associate professor in the Antoinette Westphal College of Media Arts & Design. He had conducted the Drexel concert band, pep band and chamber groups for six years.
"Dr. Moss was one of the most personable, caring individuals anywhere. He was a skilled conductor, an enthusiastic teacher and a wonderful colleague. His unswerving efforts over the past several years have led to a substantial improvement in the quality of our music program, and his work with the concert and pep bands was simply exemplary," Steven Powell, head of the Department of Performing Arts, wrote in an email sent to students July 3.
Moss was nationally known for his work on African-American composers. As previously reported in The Triangle, the Drexel University Concert Band held its first-ever performance at the Kimmel Center Feb. 29 with music Moss had spent years working on with African-American composers. He commissioned new works to be played by Valerie Coleman and was excited at the prospect of presenting them to the public. As part of a Drexel initiative led by Moss, Coleman has created arrangements for 25 university bands.
The last number of the concert, Adolphus Hailstork's "Look to this Day," was a combined choral and concert band number. Powell said helping the Drexel University Chorus prepare for the concert was the least he could do to repay Moss for all he has done.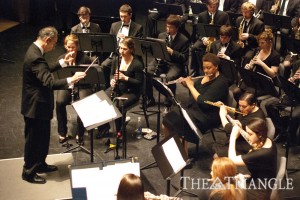 "Dr. Moss was always very generous with his time. When I needed a player for an orchestra, he would go find the right player, and he would work with that player outside of the rehearsal process to make sure they were prepared for my rehearsals," Powell said.
He added, "He effectively did two full-time jobs and he did them all the time. The band director's a full-time job. But on top of that he was the music program director, which is a full-time job. And he still managed to make time for everybody."
Moss contributed much of his time during the winter months to Drexel Athletics to train and conduct the pep band at Drexel basketball games.
"We will truly miss the enthusiasm he brought in conducting the pep band and [his] ability to get the crowd involved during games with his flair for encouraging to get fans on their feet and make some noise," the DAC Pack posted with a photo of Moss on its Facebook page.
Before coming to Drexel, Moss was music department chair and director of bands at Southern Connecticut State University. Additionally, he previously directed the athletic band at Quinnipiac University.
According to Powell, an on-campus memorial for Moss is still in the planning process. The department would like to wait until the fall when all of the students and faculty will be on campus to attend the event.
"His office was always open to anyone. If you had a problem he would sit down and talk to you about it. He never ended a conversation. He gave you as much time as you needed," Powell said.
Sophomore electrical engineering major DJ Brown had auditioned for concert band with Moss in April 2010.
"I honestly [thought] that he was just a goofy man, calm and collective but definitely goofy," Brown said. "I had never played a better audition, and that was because he wasn't judgmental. He just wanted to hear the music you had to offer."
According to Powell, Moss exercised four to five times per week.
"It was like being punched in the head. It was just complete shock. It's different when somebody's been ill for a long time; you prepare yourself emotionally. This was just a, 'Really?' 'Seriously?' 'Are you kidding?'" Powell said.
"You spend the rest of the day wondering if you read the email right or if you heard the phone conversation right," he added.
A private funeral for Moss will be held July 6. A public shiva service will be held Sunday, July 8 from 5 to 9 p.m. at the home of Charles and Peggy Morscheck at 821 Clifford Ave. in Ardmore, Pa.