Senior biology major Andrea Messina passed away May 31 from complications during treatment for leukemia.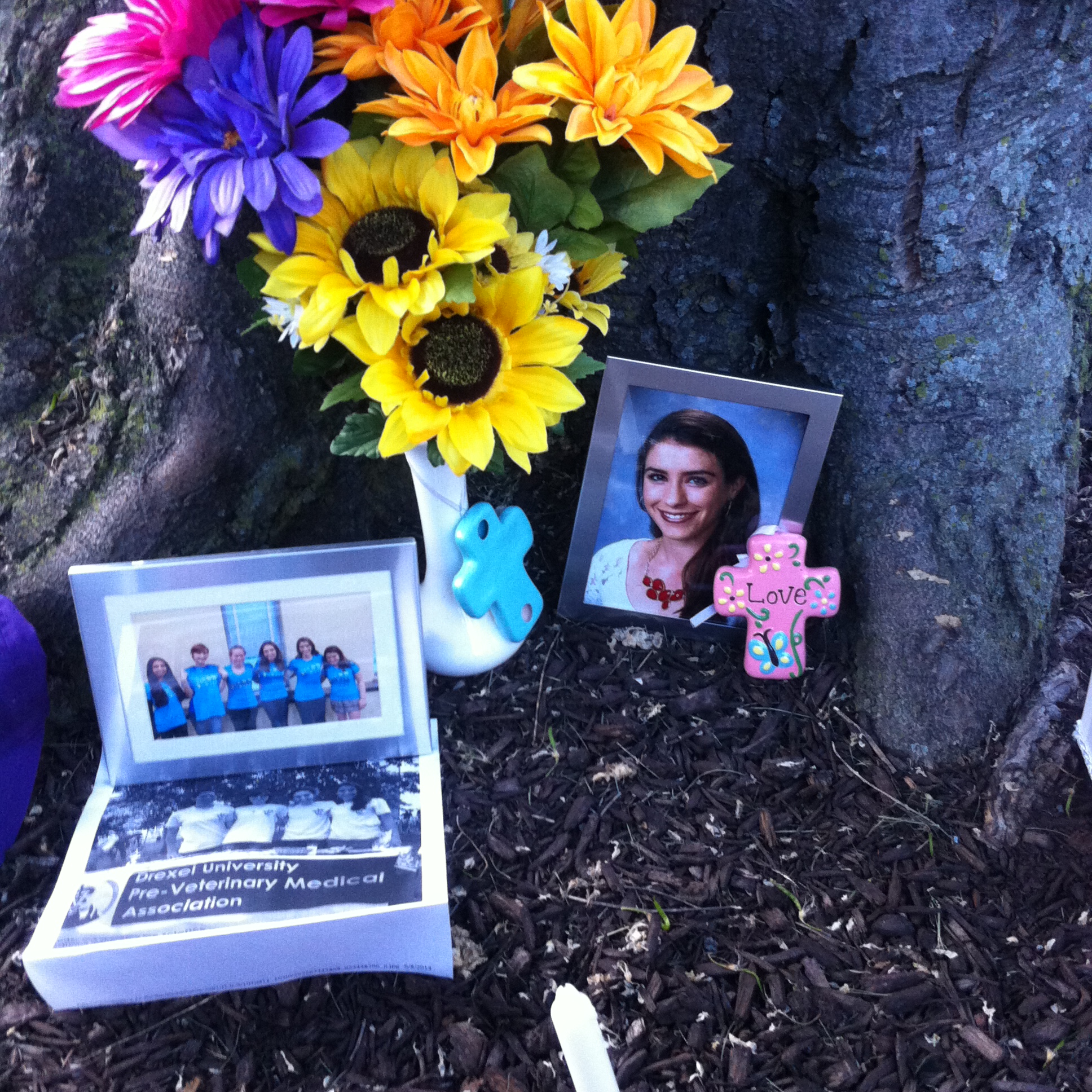 Better known to her friends and brothers as "Skillet," Messina was the president of the Pre-Veterinary Medical Association, a Novice Class member of the Equestrian Team, member of the Beta Beta Beta Biological Honors Society and crescent girl of Lambda Chi Alpha fraternity, Epsilon Kappa chapter.
Her funeral was held June 6 at St. Eleanor Parish in Collegeville, Pa.
"It was impressive. I knew that she had a lot of friends. I knew that she a lot of people that were very close to her. I didn't know she had touched that many people," senior materials science and engineering major Daniel Quinn said.
Quinn first met Messina five years ago when he was a freshman. "When we went to the service, the line was wrapped around inside the church. It was wrapped around outside the church. I think there were close to a thousand people there."
"You know she made a big impact, but to see it on that day was almost indescribable."
First-year Laboratory Animal Sciences master's student Athena Patel wrote in an email, "I was with Andrea and her family when she passed. Like everyone there, I was in disbelief. I still think I am. She was such a vibrant person and a breath of fresh air, it's hard to fathom that she's not here anymore. I'm deeply saddened by the loss, but more so that the world does not have such a wonderful person in it anymore."
Patel first met Messina three years ago through the Equestrian Team. They continued their friendship through the Pre-Veterinary Medical Association.
"Andrea was the sweetest and most lively person in the world," she continued. "She tackled everything with a smile on her face and a bubbly attitude. I don't ever remember seeing her frown. Even when she found out she had cancer, she tackled the problem and wouldn't let it keep her down. She loved animals and was planning on becoming a veterinarian. She also enjoyed riding horses, playing softball and was an incredibly talented nail artist."
Patel, along with the rest of Messina's friends, learned of Messina's diagnosis when she announced it May 11.
"You wouldn't have known anything was different about her. She took on her treatment like she did every other problem she faced, with a smile," Patel said.
Messina and Patel were planning Messina's admission into the Laboratory Animal Sciences master's program before Messina made the announcement.
The Pre-Veterinary Medical Association held a candlelight vigil at the Quad for Messina June 8, where members, students, brothers of Lambda Chi Alpha, Drexel faculty, and Messina's family came to pay respects and share stories of the funny and outgoing girl they had known, often times leaving the participants laughing from hearing about her.
The members of the association created a small memorial to Messina, which included a bouquet of flowers, a picture of her and a box that was accepting donations from the members for the Leukemia & Lymphoma Society as well as the no-kill nonprofit animal rescue group, City of Elderly Love.
"Andrea was one of those people whose warmth just extended to everyone around her and she also brought a light-hearted, funny sense to any situation," Maria Mick, a sophomore biology major and vice president of the Pre-Veterinary Medical Association, said. "She was really great [as president]. …We did a lot of fun trips like go to a wolf sanctuary and a lot of awareness of what we need to know for getting into vet school."
Among the people who shared stories of Messina's time at Drexel with stories of her climbing onto fraternity brothers' backs and stealing traffic cones after a night out, Messina's boyfriend, computer science major Stephen Zarro, shared his story of meeting Messina when he was a disc jockey for a party on a house on Powelton Avenue during his freshman year.
"I met Andrea [at the party], and I started talking to her and I started talking so much that I forgot that I was still DJ-ing the party. We just talked, and she told me she was a sophomore and I was a freshman at the time, but I told her I was a sophomore of course," Zarro said. "We had a good time at the party. We came back. Of course, I had to walk her home, in fact, she carried my speaker home and that's how I knew she was really a keeper."
He continued, "We just kind of sat on her front porch and literally until three in the morning we had a heart-to-heart. I explained to her that I wasn't really a sophomore. I had to undo some of the grounds I was setting. … I'll never forget that conversation. In fact, at the very end of our conversation she got up and walked up to her apartment door and I went, 'Can I come in?' And she looked at me and very politely said, 'Nope.'"
Other people who attended and shared stories were various members of the Lambda Chi Alpha fraternity including Quinn, students who had known Messina in college and high school such as Patel, biology professor Karen Kabnick, members of the Pre-Veterinary Medical Association such as Mick and Messina's mother, Debra Messina. Messina's mother shared her appreciation for all of the participation and attendance at Messina's funeral and vigil, as well as offering herself as a person to talk to.
"I just feel so blessed to be a part of this. I've been having some moments but I'm like a lot of you, I guess. When I think of Andrea, there are just so many good things and funny stories that I know are going to live within my heart, and I certainly know that, as you said, will carry on in your lives," her mother said. "Because I know Andrea, she would want that. … My daughter is gone, but she will never forget the love that you ladies and gentlemen give for her."
Quinn had also been a brother of the Lambda Chi Alpha fraternity since 2010, attributing his membership partially to Messina.
"She took [being a part of Lambda Chi] to a whole new level because [of her support]. The term support is kind of loosely used sometimes, because it's easy to support things or causes in a lot of different ways, but she lived it. This might sound cliche, but she was a Lambda Chi."
Her role as crescent girl, according to Quinn, meant she was regarded as equal to the fraternity brothers themselves.
Quinn continued, "Introducing her to those guys back in 2009, when I first got to know them — it led to so many great things and years to come that I didn't even know about at the time. It led to such great and active participation in [Relay For Life]. It led to a lot of great memories. It led to a bunch of great relationships. It led to great friends that we gained in the organization and all those people who she touched and that were a part of us, those people are going to be in better in one way or another."
Relay For Life, although an organization and event at Drexel associated with Pi Kappa Alpha fraternity, better known as Pike, has had a large participation from Lambda Chi Alpha as well.
"She raised lots of money. She brought a lot of positivity. She was more enthusiastic than any 10 people there, I guarantee it," Quinn continued. "She just did it because it was a good thing to do. She loved it. She'd stay the whole time. She was the most energetic. It was because of her that we've done so well in the relay. I put full credit to her and the people who were running it and if it wasn't for her we wouldn't have put nearly as much into Relay."
According to Quinn, there have been talks of doing an event in Lambda Chi Alpha to host an event in her memory in the coming months, as well as possibly a financial scholarship to honor her name.
For those who were affected by her death, services and counseling can be found at the Drexel Counseling Center by calling 215-895-1415 during their regular office hours or 215-416-3337 during their emergency hours.