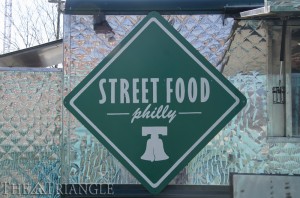 Campus Soapbox, a mobile polling application for students, will run a poll April 21-28 in which users have the chance to win a free food truck meal for themselves and a friend. Later, a student will also have the opportunity to design a meal to be featured by the food truck of their choice.
The winner will be able to name the meal and choose a theme song to accompany it; every time the meal is ordered, the song will be played.
The poll will be known as the Food Truck Challenge and will ask students specific questions about their food truck experiences and what they hope to see in the future. Questions such as, "When you think food truck, what's the first thing that comes to mind?" and, "What is the strangest hour that you've had a craving for a food truck food? What was it?" will be asked.
"It's going to be as much about engaging the individual — their favorite music — as it is about your experience with food trucks," Kert Heinecke, founder of Campus Soapbox, said. "We're figuring out who is Drexel, who are food trucks and what happens if you mesh those two together."
Heinecke hopes for the poll to foster a food truck conversation and supply the restaurants on wheels with feedback to increase customer satisfaction.
Up to 15 food trucks will participate in the poll. So far, 10 have committed, including Philly Street Food, Say Cheese, Taco Shack, and Chicken and Rice. The participating trucks will be able to contribute a question to the poll in order to get feedback from Campus Soapbox users about their businesses.
Entrepreneurship major Alex Prus and finance major Moyassar Eltigani inspired the idea for the food truck competition as part of a project for a management class, in which students must consult with one or more business clients. Prus and Eltigani came up with the plan to solicit the food trucks. Later, they acquired the help of the Campus Soapbox advisory team, which has developed the competition into a community event.
The Campus Soapbox advisory team consists of two full-time members: Lauren Patterson, a pre-junior English major, and Laurelle Holley, a pre-junior sport management major, who joined the team at the beginning of winter term.
"We're already on our phones and social media, but we're connected to just our friends there, not to people who are four years ahead of us and in a completely different major," Holley said. "[Campus Soapbox] is a place where, no matter who you are or who you know on this campus, you can be connected."
Patterson believes this will help her future career. "Working with Campus Soapbox has given me a chance to stretch my creative muscles a bit and really work to engage other students through my writing," Patterson wrote in an email. "I think the experience could definitely help with the social media and marketing sides of the publishing career that I am pursuing."
The team's goals for the Food Truck Challenge were to make it fun, allow students to engage with their community, and involve businesses in the area. Heinecke and his team also wanted to give users what they have continuously asked for: free stuff, as they had done in the past.
Prus and Eltigani figured it would be fun and unique to work with businesses close to the hearts and stomachs of students.
Campus Soapbox launched in July 2013 as a social media platform where users can actively consume content, reflect on it and engage with other users. It is functional on the iPhone, Android and mobile web app. It also has its own website, campussoapbox.com. Users can create and take polls, read news about campus events on their news feed, and start conversations with other users.
There are just over 1,600 individual users of the app today, mostly freshmen who were encouraged to download it at New Student Orientation, and Heinecke is striving to acquire more upperclassmen users. Campus Soapbox is also accessible to University of Pennsylvania students.
Heinecke thought of the app himself. He started by surveying between 100 and 150 students in university coffee shops asking what they might be interested to have on campus. He then began to develop the idea of the app with a friend, who eventually dropped out of the project. Later, he collaborated with a development team that helped with the design. In April [CE2] 2013, he pitched the app to Drexel.
Heinecke spoke with Dean of Students David Ruth and Associate Dean John E. Cooke. Around the same time, he began to work with Elizabeth Lee, a UPenn alumna who assisted him in launching the app over the summer. Lee signed off in late November.
"We didn't want to have the administration policing the community," Heinecke said. "We wanted to let students decide what conversations they wanted to have — what's appropriate, what's important." A system of flagging has been set up to determine appropriate posts.
Since then, Heinecke has started to teach himself coding in order to design new functions. The code utilized in the app is in Ruby Programming Language, which, he says, reads like English, but a little like logic. In creating new utilities, he loosely emulates the codes already in existence, but adds variations to meet different specifications.
Campus Soapbox is funded by Heinecke.
"I'm not looking to change the world. I'm looking to bump it, or nudge it, to get it slightly more active," Heinecke said. "And that's because I know I can."
In July 2013, when the app was marketed to students at New Student Orientation, users had the opportunity to win two iPads in a polling competition. The creators of the polls that received the most number of votes by the last week of September each won an iPad.
The Food Truck Challenge is the first Campus Soapbox competition that reaches outside of the app and its users and involves a greater part of the community.
Since the summer, the app has evolved significantly. Today, any user can log on and create a quick poll, which allows them to pre-pick types of answer choices, or a classic poll in which they create their own. They can also use "Chatter," which functions like a message board, to start a conversation about anything.There is now also a private groups feature for groups to communicate with their immediate peers and share information specific to their group with the entire Drexel community. A student group or club can post about events along with links to tickets or share news articles that relate to their purpose or what members of their group find interesting. Daily Headlines alert users of groups' happenings.
The group or its members can also easily post group-only, private content to all group members just by adding @(the group name) to the front of a question or post title. This aspect is integral to the student group account.
In order to register as a private group, a group must be registered as a student organization by Student Affairs and will then be registered and trained by Heinecke or the advisory team.
Today, 35 of 407 student organizations on campus are registered as private groups. The Drexel Interfraternity Council, however, did not want individual sororities or fraternities to join. IFC did not want Greek Life to divide itself.
The adaptation of private groups to the app is a step in the direction of connecting people less anonymously. Heinecke was originally hesitant that the private groups feature would separate tight-knit groups from individual users instead of connect them. But groups' ability to share their content publicly allows cross-pollination between all users.
Today, users are requesting that the app connect to Facebook. Heinecke believes in the app's current legitimacy but is willing to change it to please his users.
"If I say I don't want to do it and students say, 'I'm not going to use it if you don't do that,' then it will die anyway," Heinecke said. "If I avoid Facebook entirely, it might give me no chance of actually succeeding."
Campus Soapbox may also create a Swag Shop in the future. Users could redeem points when they vote in polls, then use the points at the Swag Shop to buy things like t-shirts, sunglasses or things from the community, like DragonDollars and discounts at campus vendors.
Heinecke is always looking for feedback and individuals interested in working to advance the app. He hopes for it to be run completely by students one day, as he believes students know best what will satisfy their needs.