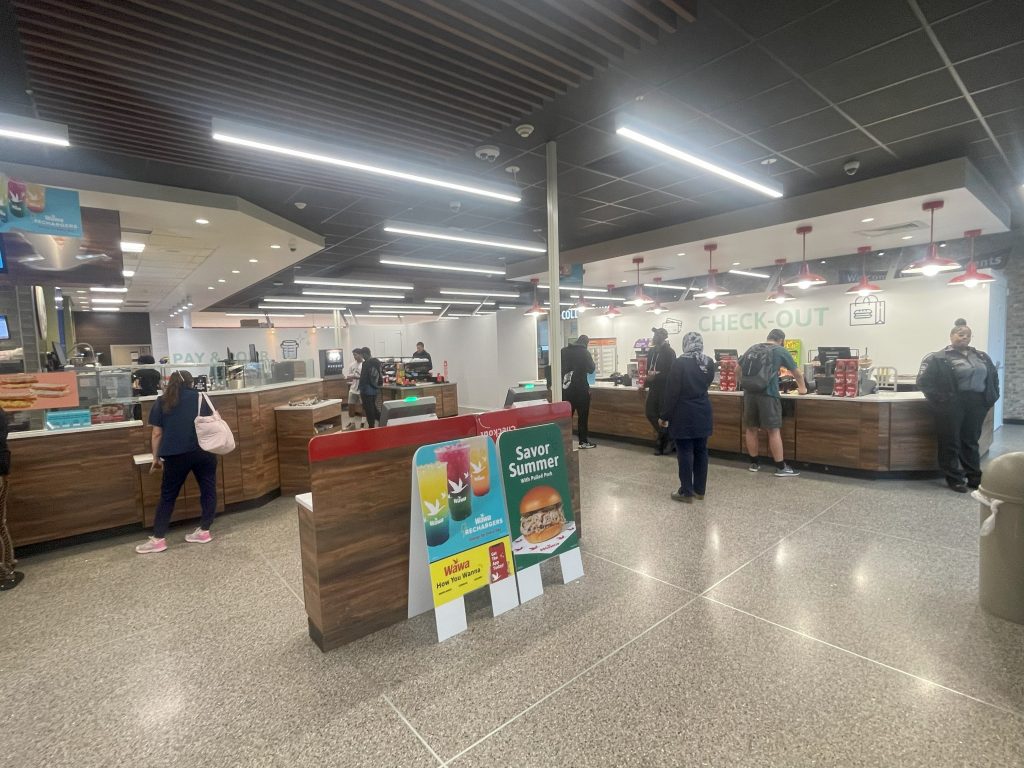 The Wawa located at 3300 Market Street opened its doors on July 26 to customers with a shocking new look — no stocked shelves. This store, located in the heart of Drexel University's campus, is the first and only store in the nation to pilot Wawa's new fully digital store setup. 
After a brief six day closure, the store reopened, debuting this new format with its consistent 24/7 schedule. Rather than shopping for themselves, customers must select and purchase all items through one of the many in-store touchscreen kiosks or through the Wawa app. The areas of the store previously filled with shelves and coolers are now covered up by high white walls displaying greetings and instructions on how to navigate the new store format.
One aspect remains unchanged: the self-serve coffee bar. Aside from that, all orders are fulfilled by Wawa staff members away from public view. 
Wawa promotes this change at their Market Street location in the name of improved customer experience. 
"We are always testing new formats to provide the greatest level of convenience for our customers, some of which include our drive-thrus, our fly-thru mobile order windows and now a full-serve, digital experience format," a Wawa representative told the Philadelphia Business Journal in a piece published on Aug. 1. 
Considering Wawa's public relations, Matthew Reindorp, an Associate Clinical Professor of Decision Sciences from LeBow College of Business, said that "'convenience' is an appropriate choice to summarize Wawa's aims" as it can range from concerns with the effectiveness of shopping to how comfortable a customer is in the store. 
Reindorp continued by saying that "firms and individual professionals may prefer a simpler message than a complex one that could be misunderstood."
Furthermore, the decision may "ultimately derive from their business strategy, so they may be concerned not to provide information that could help competitors. Today it's not unusual that grocery customers don't fill their own baskets — consider the rise of grocery delivery to homes. Having your basket filled for you in a store could be an experimental extension of that," according to Reindorp.
However, this shift is one in a long line of changes for Wawa here in Philadelphia, specifically after numerous reports of issues with crime and theft. 
Since 2020, Wawa has closed six of its Center City locations, most recently, the Headhouse Square location, which closed in July. The company points to a bevy of issues causing these closures including changing customer traffic, security concerns, as well as community complaints of "aggressive panhandling, crime, and drug use" at and around Wawas, as reported earlier this year by the Philadelphia Inquirer. 
In Sept. of 2022, a Northeast Philadelphia Wawa located on Roosevelt Boulevard made news nationwide after it was ransacked by dozens of children. This story and the accompanying footage as seen in the New York Post have been used to bolster claims of lawlessness and failing standards of public behavior in Philadelphia, often presented alongside statistics showing a steep rise in property crimes and public statements speaking to general feelings of unrest and uneasiness in the city. 
Commenting on the crime in Wawa, Reindorp said, "I think all businesses have some responsibility for the safety of customers on their premises…any reputable business will want to mitigate risk to the extent that seems reasonable for the law and the standards of their industry." 
Ashley Johnson, a food and beverage manager at the 3300 Market Street location, says she is inclined to believe the layout change has more to do with crime in the city than convenience. 
"I like it, I like the process," Johnson said of the new all-digital format. She finds the new setup to be a positive move for the brand but states that she feels Wawa corporate made the switch "to try to cut back on theft," as opposed to any other reason. 
She does not believe this location experienced a higher volume of theft when compared to the chain's other Philadelphia locations but that shoplifting was still a big consideration when making this decision. 
"I feel the same…I've never really felt unsafe. I feel safe," says Johnson, a Wawa employee of 13 years but a new addition to the Market Street staff. 
At large, Drexel students are unsure of or downright frustrated with the new Wawa layout.  
"I'm interested in it, but I think it's odd," said Caroline Van Pelt, a Drexel third-year student studying psychology. 
"I think it's gonna be weird to not be really doing a lot of face-to-face interaction with employees. I'm a little uneasy. It's very strange," said Van Pelt. 
This change also doesn't necessarily make her feel safer shopping in the store: "It just feels like there's less eyes to witness something bad happening," said Van Pelt.
Other students recommended alternative security measures. Comparing it to the Chick-fil-A within Northside Dining Terrace, David Miller, a third-year architectural engineering student proposed a "Wawa that is DragonCard access only, that's a normal layout."
Further, students suggested Wawa to "just hire security that stops people from stealing things," as articulated by Azmain Yousuf, a third-year electrical engineering student. 
Only time will tell if the new layout is effective in curbing crime as customers do not have access to any items to steal, but currently, the new layout may repel potential customers. 
Nathan Earney, a third-year computer engineering student, said, "I understand why they implemented it, I just wish it didn't happen to be the Wawa I go to all the time… I actively choose one of the two 7/ll's [or] the Penn Wawa instead just because of how much I don't like the new one." 
This raises concerns as to how the layout may impact Wawa as a business. 
Reindorp explained how stakeholder value, including opinions of business owners, "customers, employees, suppliers, local community members, etc." may be more important than revenue. 
"If fewer customers go to a store we can expect the revenue to decline, but if the change also entails an equal or greater reduction in expenses — due to more streamlined 'back office' processes or fewer problematic incidents — the net result for profit may be neutral or even positive. If a majority of stakeholders feel good about the changes, that is a positive outcome," according to Reindorp. 
Reindorp encourages the community to keep an open mind regarding layout changes and believes the success of this new model should be defined by the stakeholder value and the "trend of behavior and outlook resulting from the changes, not just the short-term reactions." 
Wawa has stated that they will be continually monitoring customer and employee feedback regarding this new store model.