The third annual Drexel Finance Week, a series of events held to better educate undergraduate business students on their career options, was held Feb. 24-28. The week comprised multiple events to help students network with representatives from leading players in their field.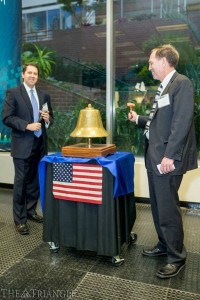 To begin the week, there was a networking event in Gerri C. LeBow Hall on Monday evening that offered the opportunity for students to engage with representatives from Goldman Sachs, SIG, Turner Investments, Johnson & Johnson, PNC and The Vanguard Group. Some firms sent human resources representatives as well as Drexel students who were currently on co-op there.
Banu Jafarli, a sophomore business major who recently switched from engineering,  went to the event to get a better grasp on a plan for her career. According to Jafarli, she left the event feeling overwhelmed, because there were too many opportunities and careers for business students to pursue.
"There is just too much to do and too much competition. I just want to start working," she said.
A Chartered Financial Analyst preparation course was offered Feb. 25 for the Level I exam, the first of three exams that must be passed in order to become a CFA.
A casino night was also hosted that day on the second floor of Gerri C. LeBow Hall. Students could play blackjack while "gambling" their stakes with future employers. It was cosponsored by the Drexel Finance & Investment Group.
On Feb. 26, alumni and students gathered at 1900 Market St., where they visited the oldest stock exchange in the United States: the Philadelphia Stock Exchange. Students were shown the trading floor and top professionals in the field answered questions.
Feb. 27 featured a special, invitation-only New York Alumni Networking Event. Students had to submit an application and essay in order to receive an invitation. The Drexel New York Alumni Chapter cosponsored this event to help bring together alumni and students in the world's financial capital, New York.
The week culminated in an administration of the Bloomberg Aptitude Test, which is a relatively new way to gauge how much a business student knows about finance.
One representative from Goldman Sachs gave advice to finance students just entering the job market.
He said students should not narrow down their options too soon and should keep an open mind while constantly soaking in as much experience as possible. While constantly being open to new opportunities, they will find what they love in the business world. They accidentally build their resumes, in a sense. A future job is worked up to, and there are smaller steps to take that lead someone to their dream job.