Green Week officially commenced April 22 with Drexel Green's Annual Earth Day Block Party, held from 11 a.m. to 2 p.m. along Lancaster Walk behind the Drexel Recreation Center.
Enticing students with loud music, an array of free food and environmentally themed activities, the block party hosted numerous information tables from various on- and off-campus organizations that provided students with information on how to become environmentally friendly. Representatives of each organization were present to pass out pamphlets, talk personally with students and encourage them to participate in their table's relevant activities.
Among the organizations involved was Drexel's Sierra Club, a student coalition that, according to its website, "seeks to spread environmental awareness in order to reduce Drexel's environmental impact through its policies and student involvement and to educate students in order to continue environmental efforts after they graduate." The club's booth gave students the opportunity to plant their own herbs in an effort to connect people to their food and its origin.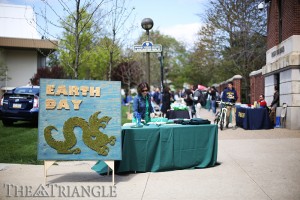 "This activity [planting herbs] is to connect people back with nature and growing their own food," Nicole Koedyker, president of the Sierra Club and a junior business administration major, said. "[It's] limiting the distance between the farm to the table, being able to grow your own stuff."
Rebecca Barnes, vice president of the Sierra Club and a pre-junior environmental engineering major, said that she wanted students to know how simple it is to grow their own food and to understand where their food comes from. She said that the club's involvement with Earth Day was also focused on its bottled water campaign.
"We … have a campaign to ban the sale of bottled water on campus, to bring education about the waste of bottled water and how expensive it is to buy something that you can get for free," Barnes said.
Further down Lancaster Walk and representing Drexel Campus Dining with an information table was Sunil Verma, a pre-junior entrepreneurship and marketing major, who gave apples away to any student who would commit to being environmentally friendly in some way.
"[Drexel Campus Dining is] trying to be more environmentally friendly with our 'I Commit' movement, which is when students, faculty and staff are committing to doing something more environmentally friendly," Verma said. "We're taking their photo, posting it on Facebook, tagging them in it. They can spread awareness through social media."
Verma said that throughout the month of April, Drexel Campus Dining has been taking pictures of students holding a piece of paper on which they had written what each student "committed" to doing in the effort to be environmentally friendly. These commitments have ranged from "I commit to buying produce locally" to "I commit to leaving the world a better place."
With the Earth Day celebration, Verma said that Drexel Campus Dining wanted to spread even more awareness for the movement.
"One of the major things [students] can help with is actually following through on what they commit to doing," Verma said. "It's easy to write down on a piece of paper. Whether they actually followed or not, we hope they will."
A booth that put a creative spin on recycling was represented by the Antoinette Westphal College of Media Arts & Design, which took recycled paper and products and demonstrated how to make usable objects out of them. The college also featured jewelry and various fashion accessories designed out of sustainable objects in its "pop-up" shop.
"We're showing that you can make art out of anything," Devon Ikeler, a junior design and merchandising major, said. She showed students how to make little booklets out of recycled paper. "The [design and merchandising] shop … has products from local artists and students that made their products out of sustainable-source everything. … It's pretty cool."
Describing how this was the first Drexel Earth Day she had ever attended, Ikeler thought that the effort put out by the different organizations was successful.
"Being an arts major, you always have to find your sources and reuse what you can because you don't want to have to go out and get more stuff," Ikeler said. "So reusing, recycling — it always comes in handy."
"If you have free food and students, it's always going to be receptive," Adrienne Zahka, also a junior design and merchandising major who helped Ikeler make the booklets out of recycled paper, added. "Food gets people to get here, and once you get them here, you have to teach them about Green Week and what's going on here. I think it's effective."
Of the many different organizations that took part in the Earth Day Block Party, a few included National Paper Recycling Inc., the Drexel University Recycling Program, the Drexel Animal Welfare Association and Green Mountain Energy. Goodwill also had a clothing drive set up for any students who wished to donate new or lightly used clothes to charity, with any revenue dedicated to fund employment training for West Philadelphians.
As part of the ongoing Green Week, the Sierra Club planned events throughout the week all over campus: a clothing swap, the screening of the film "Tapped," a vegan bake sale, and bike-powered smoothies.
"[The] events are about reducing your impact on consumption, whether it's the clothing swap; maybe eating healthier and locally from the vegan bake sale; and then being aware of the health, economic and environmental impact of bottled water at the movie screening," Koedyker said.
Though a few Drexel students at the block party said that they hadn't been particularly aware of the Drexel-sponsored Green Week events, they did enjoy the Earth Day celebrations.
"[Green Week's] definitely one of the best weeks," Sean Preston, a sophomore product design major, said. "People are conscious of the earth, so that's good. … There's lots of fun stuff going on."