Beta Theta Pi, one of the nation's oldest social college fraternities, has recently been admitted on campus and is making headway to seek out a new generation of brothers.
Drexel University was chosen as a potential new home by virtue of being a premier institution of higher education, according to Jason Gangwer, Beta Theta Pi's colony development coordinator assigned to Drexel.
Drexel's recent rise in scholastic rankings, success in Greek life expansion, and ongoing support from the University's administration has also played an instrumental role in attaining the interest of the organization's management, Gangwer said.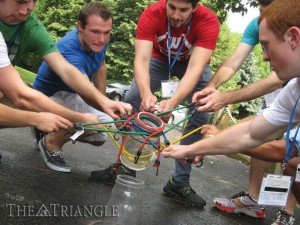 The fraternity, founded in 1839 at Miami University in Oxford, Ohio, is part of a nationwide brotherhood that has been around for nearly 175 years. Beta Theta Pi currently boasts over 8,000 undergraduate members on 129 collegiate campuses, with 126,000 living alumni.
The group affirmed to be different than the norms of stereotypical fraternities, embodied through their "Men of Principle" initiative: a series of core values that the fraternity lives by, Gangwer said. An excerpt of these principles includes zero tolerance for alcohol abuse, drug use or hazing.
"The mission of Beta Theta Pi is to develop its members and to find those members who identify with those values, and to use those values to continue to grow as people," Gangwer said. "To develop men of principle for a principled life."
Gangwer, an alumnus of Beta Theta Pi, strongly advocated the myriad of leadership opportunities that the fraternity offers for its members, as well as its substantial dedication to membership development to help further members' proficiency in both the organization and the workforce. Brothers of Beta Theta Pi also attend many leadership summits held both locally and nationally following their induction.
Because the brotherhood is new to campus this year, criticism and skepticism may be prevalent toward how the organization will deal with the hurdles that come with starting a new fraternity.
"Having worked with colonies before, there will always be different challenges, ones that you can anticipate and other challenges you never saw coming," Gangwer said. "[However], one of the most interesting aspects of starting a new fraternity is getting that core group started, getting the quality of men who fit the principles of Beta."
Gangwer asserted that discovering the new fraternity's identity among its founding fathers may be the biggest challenge of all.
The proposition of where Beta Theta Pi will be housed is still undetermined. The organization is currently searching the neighborhood to find the right location to purchase a home. The idea of utilizing one of Drexel University's residence hall floors has also been proposed. It's still very early in the process, as nothing is official as of now. What is certain is that the fraternity will not have housing for the 2013-14 academic year.
Because Beta Theta Pi is still in its formation phase, its schedule of events will differ in comparison to that of other fraternities on campus. The group will recruit members until the end of the fall term and will have rush and pledge events between the weeks of Oct. 21 and Nov. 15. For interested students, Beta Theta Pi's information tables will be on campus over the course of the next several weeks.
"We're excited to be a part of the Drexel community, and the founding fathers of Beta will get the chance to create a legacy and tradition that will be around the University for years to come," Gangwer said. "Fun fact: Our mascot is also the dragon. You're Dragons. We're Dragons. We're all Dragons."