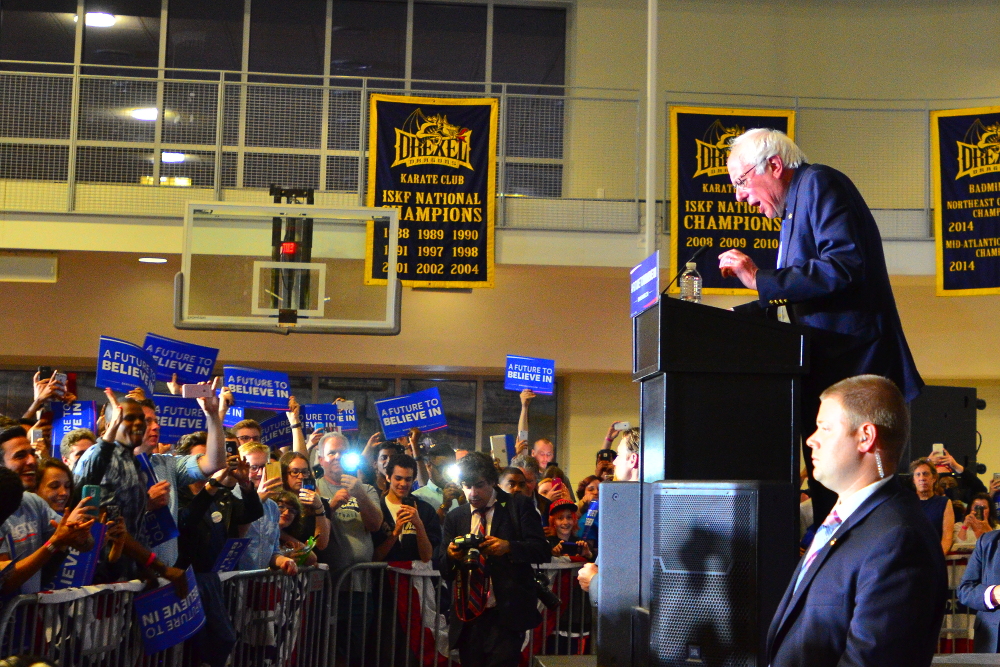 Senator Bernie Sanders took to the microphone the evening of April 25 at the Daskalakis Athletic Center (DAC) of Drexel University to promote his bid for the United States presidency. This rally, "A Future to Believe In," took place one day before the Pennsylvania primary April 26.
Actors Kendrick Sampson and Susan Sarandon were the first to speak, each offering their ringing endorsement of senator Sanders. Just before 9 p.m., the senator emerged, and was met with a deafening wave of cheers from the 1,200 people in the attendance. With the indoor space completely filled, hundreds more remained outside. A large screen with a live feed from inside the DAC was playing for those seated outside.  
Sanders addressed a multitude of national problems during the next hour, including the reality of climate change.
"Let me just tell you what I have heard from scientists all over our country and all over our world. The debate is over; climate change is real. Climate change is caused by human activity and climate change is already causing devastating problems in this country and all over the world," Sanders said.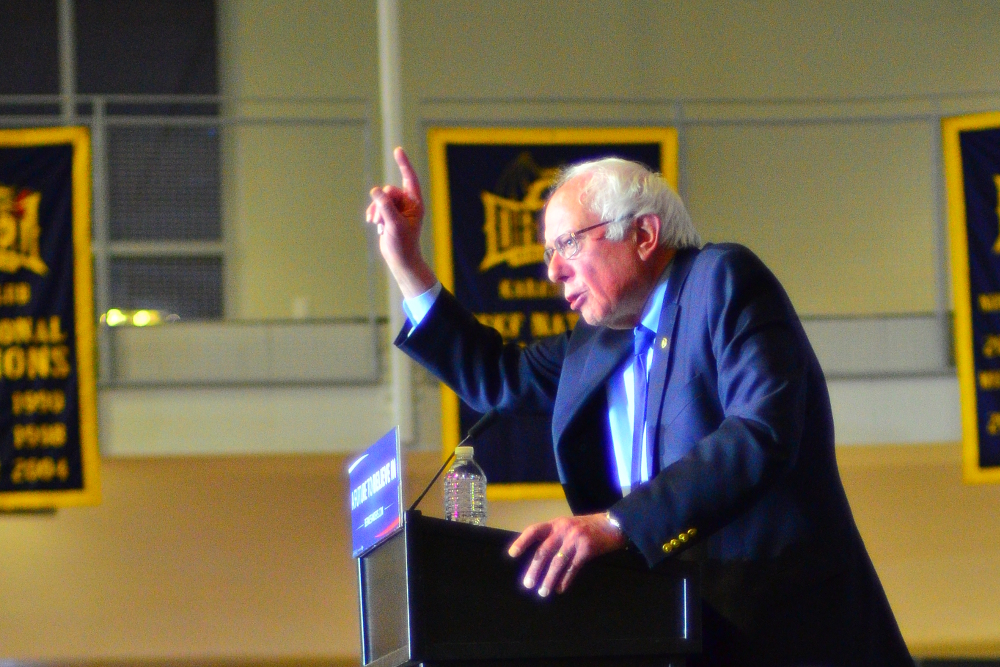 The Vermont senator also spoke of the importance of equal pay for both men and women.
"When we talk about pay equity, women will no longer be forced to work for 79 cents on the dollar. Women of this country want the whole damn dollar – and they're right," Sanders stated.
Sanders stressed his views on the corruption on Wall Street. He referred to the multiple speaking engagements for which his opponent, Hillary Clinton, was allegedly compensated $225,000 per speech by major corporations such as Goldman Sachs.
"I don't want to give a speech for two and a quarter [$225,000], I don't want to give a speech for two dollars – I am prepared to go to Wall Street for nothing," Sanders said.
"And the reason I would like to go to Wall Street is to tell them face to face that their greed and their recklessness and their illegal behavior has destroyed the lives of many, many Americans," he continued.
Midway through the senator's speech, an attendee fell unconscious. Sanders stopped immediately and did not resume speaking until the individual was carried out by Drexel Emergency Medical Services. Following that event, he went on to discuss his plan to make tuition free for public colleges.
"Young people are asking me, 'how does it happen that after we go out and get this good education, we find ourselves 30, 50, 70 thousand dollars in debt?'" Sanders said.
"The world has changed, education has changed, that is why when we think of public education today, we have got to be talking about making public colleges and universities tuition-free," he continued.
In conclusion, Sanders expressed to the crowd the importance of their votes.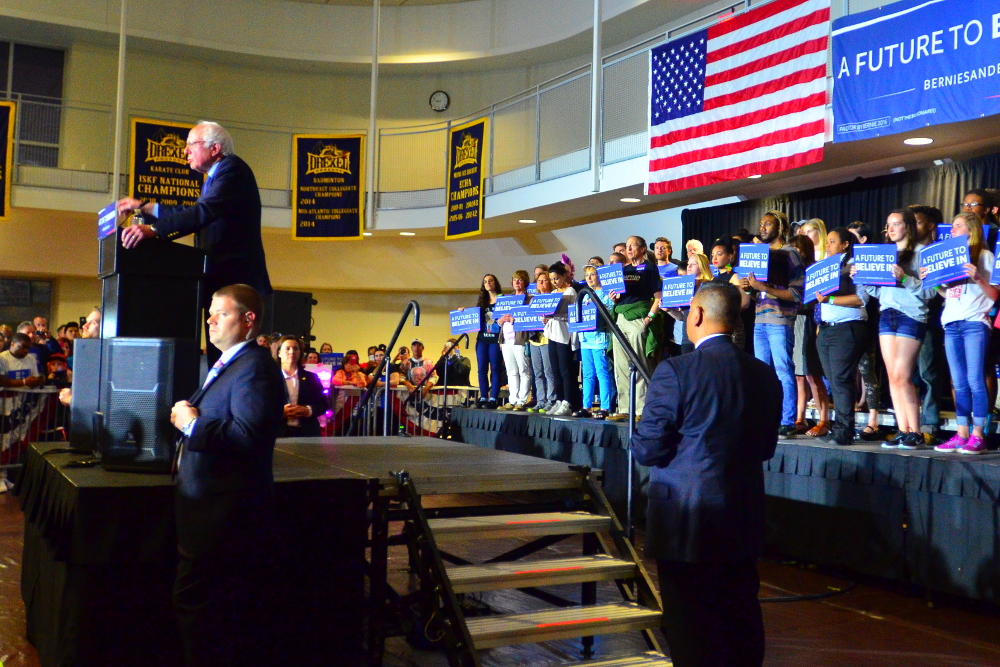 "Tomorrow morning, right here in Pennsylvania, you have an enormously important democratic primary. And what I have learned from this campaign so far, is that when voter turnout is high, we win. And when voter turnout is low, we lose. So tomorrow, let us see in Pennsylvania the highest voter turnout in the history of the state. Let the great state of Pennsylvania come forward and say 'we are joining the political revolution,'" Sanders said.
Following the rally, some attendees remained outside, discussing the Senator's speech and sharing their views about his proposed agenda. Francis Schlosbom, a resident of Media, Pennsylvania who was also present at both the Reading and Temple University Sanders rallies, offered his opinion.
"His focus on individuality, and the power of one, is really, really resonant with me because it's about being yourself and he supports you no matter what – no matter your gender, your race, all that. So that encouragement of individuality and support of you purely based off of how you function as a person is amazing to me, and that really resonates with me," Schlosbom stated.
West Chester University student Rhianon Morgan contrasted the ambience of the Sanders rally with the vibe of a Donald Trump rally.
"I go to West Chester, Trump was there…it's just a totally different atmosphere. It feels tight in a way, over there [at West Chester University Trump rally], because it feels like there's so much negativity, but when you come to a Bernie event, there's a positive feel," Morgan explained.
In the official results of the Pennsylvania primaries Clinton won the Democratic primary nomination, and that Trump won the Republican nomination in Pennsylvania. In Philadelphia specifically, Sanders took 36.97 percent of the votes, with Clinton winning 62.60 percent. Roque Rocky De La Fuente won only 0.43 percent of the votes. Trump took 57.45 percent of the votes in the Republican primary. For all of Pennsylvania, Clinton took majority with 55.59 percent of democratic votes, with Sanders receiving 43.55 percent. Trump won the state in Republican votes, coming in at 56.76 percent.