Ascend, the Pan-Asian student association, hosted an event titled "Celebrate Ascend Spirits across Generations with Jeff Chin" March 5 in the Van Rensselaer Ballroom. As one of the founders and current national president of Ascend, Chin offered his advice to members of student chapters at Drexel University and Temple University and professional chapters from New Jersey.
Chin spoke about how Ascend's mission arose in 2005 when he realized in his 30 years of experience that very few Pan-Asian employees of Ernst & Young took leadership positions within the company.
"My goal for Ascend was to get Pan-Asians more connected within the firm. Once they were connected internally, we wanted to connect them outside the company. We offer soft skills. It does take time to develop these skills, such as communication, branding and building relationships, but they are essential to providing organizations with a valued proposition," he said.
Other segments of this event included a panel discussion and networking session by representatives from companies such as Ernst & Young, PricewaterhouseCoopers, Deloitte, KPMG, Grant Thornton, and Johnson & Johnson.
The panelists included Chin; Sid Murarka, manager at E&Y; Michelle Cheng, senior financial analyst at Johnson & Johnson; Susan Wong, Tax Associate at PricewaterhouseCoopers; and the presidents of Ascend's Temple and Drexel student chapters, senior Luv Sodha and senior Linh Duong, respectively.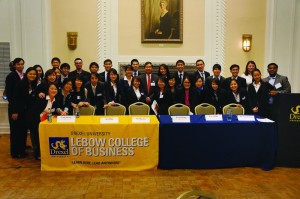 Both Sodha and Duong presented accomplishments that each chapter has attained since being established. Ascend was established at Drexel in 2011 by a team of founding members including Duong. Its membership has grown rapidly since then, and the organization recently won the LeBow College of Business Dean's Cup Challenge for being the most successful organization on campus in excellent programming and active student engagement after one year of establishment.
Brian Ellis, interim assistant dean for LeBow undergraduates, spoke about Ascend's role in bridging the gap between Western and Pan-Asian cultures.
"We're super excited about Ascend. We went from a student membership of two to over 100 in two years. The face of business in America is changing, and to see the diversity in this room itself is amazing. Especially here at Drexel, we're passionate about diversity," he said.
As an international student at Temple, Sodha talked about how Ascend has directly provided him with the skill set for success that eventually led him to his internship at Deloitte.
"Through my involvement with Ascend, I can tell that the American Dream is still alive and well," Sodha said.
The Temple chapter has also been awarded several scholarships for its achievements. It actively partakes in case competitions, service events and national conventions. This year Ascend will be hosting its sixth annual national convention Aug. 23-26 in Anaheim, Calif., at Disneyland.
Chin built up Ascend as a nonprofit professional association based on his core values, primarily working his way up from humble beginnings to give back to the Pan-Asian community.
"I'll tell you my little secret. The reason why I'm here is because I'm trying to rehabilitate myself in terms of working too hard. I really started working when I was 12 years old, which I'm sure broke every child labor law. … I progressed through my career rapidly because I was brought up to value education and hard work," he said.
He also spoke about the importance of networking to realize the leadership potential of Pan-Asians in global corporations.
"Corporate sponsors and student leaders are a great marriage," Chin said.
Student members were receptive to the advice and knowledge Chin had to offer.
"I think the Ascend mission is to bring benefits to our members. Jeff Chin is our founder. It's an honor for us to have him here. It's beneficial to have big networking events because once we have those personal connections, we can lead our members to more opportunities," Thang Chu, a pre-junior studying finance and economics, said.
Yen An, a senior majoring in management information systems, was part of the team that managed the number of attendees and marketed the event. During the planning process, Linh and his team emailed often, sticking to a master plan and splitting the duties between the 14 executive board members and 18 associate board members.
"We also guided our guest speakers by giving them questions that student members would most like to learn about. I am so happy that students get a chance to network with these professionals," she said.
Since its inception eight years ago, Ascend has reached 15,000 people with 27 student chapters and 15 professional chapters located in both the U.S. and Canada. Ascend Drexel typically holds four events per term and actively tries to branch out to other organizations by establishing ties with accounting firms and the accounting department at Drexel. In the future, Ascend will be holding "Industry Talks Series" in which they network with corporations in sectors such as financial services.