Drexel alumnus and chef Chip Roman, who graduated in 2002 from Goodwin College's culinary arts program, was recently honored by GQ magazine, which placed his restaurant, Mica, eighth on their list of "The 10 Best New Restaurants in America" earlier this month.
Mica is a progressive American cuisine restaurant located in Philadelphia's Chestnut Hill neighborhood. It features an a-la-carte menu that incorporates local ingredients and is known for a multi-course chef's tasting. Mica also serves brunch, taking a modern approach to American cuisine yet keeping it more classic compared to its dinner entrees.
"Roman reminded me of the young Parisian chefs cooking in stark surroundings, thinking about nothing but their stoves. Maybe he's better than they are, considering the lusciousness of his Manjari-chocolate dessert," GQ food critic Alan Richman wrote in his review.
In an interview with the Drexel Alumni Association, Roman said he always loved culinary arts, and his passion continued to develop as he grew.
"My earliest memories were always in a kitchen," he said.
Chef Jason Cichonski helped Roman open Mica, and in November 2011 they partnered up again to open Ela in Queen Village with Cichonski acting as executive chef. Ela is an all-American bar and restaurant that combines innovative dishes with an extensive list of wines and craft beer.
Roman was working at Philadelphia French restaurant Le Bec-Fin when the restaurant offered him a scholarship to attend Drexel University. He studied in the kitchens of some of Philadelphia's best-known chefs, including Marc Vetri, Georges Perrier and Daniel Stern.
Once he graduated from Drexel with a business degree, Roman returned to Le Bec-Fin, working his way up to sous chef and saucier, spending a total of five years there. During his time at the restaurant, Roman was chosen to enter the "2004 Young Chef Rotisseur Competition," in which he won the Mid-Atlantic contest and placed second nationally.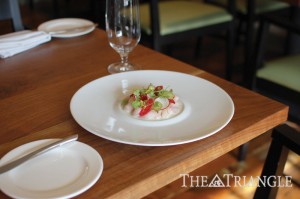 In 2004 Roman started his own catering company, Charles Roman Catering, which has cooked for private parties as well as some of the area's biggest institutions and dignitaries, including the University of Pennsylvania, Abington Friends School and Pepper Hamilton LLP.
Roman opened his first restaurant, Blackfish, in 2006. The seafood-centric establishment is located in Conshohocken and features progressive American cuisine with French influences.
Roman has claimed he always had an obsession with seafood. He explained to Food & Wine magazine why he began to cook, saying, "When I was young, I used to fish, and I wanted to know how to cook what I caught."
Philadelphia Magazine ranked Blackfish first out of the area's 50 best restaurants in 2011.
Additionally, for three consecutive years, Roman has been nominated for the James Beard Foundation's Rising Star Award, an honor given to chefs under the age of 31.