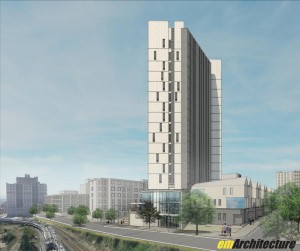 On the northern corner of campus, Drexel University is planning the reconstruction of the parking lot currently laying at 3201 Race Street. Construction will begin between late 2015 and early 2016 for a class-A apartment building for Drexel faculty, graduates, young professionals and other members of the community, designed by the Erdy McHenry Architecture firm.
At 178,000 square-feet and 16 floors, the blueprints for the building show the apartments rising above a mixed-use platform. A parking section for the facility housing 26 spaces, 61 bike spots, in addition to two car share spaces will sit underground.
The second and third floors will be designated as a daycare facility. The daycare is a part of Drexel's master plan for campus renovations in order to further accommodate students with families. The Hildbrandt Company will provide childcare for children of Drexel staff, as well as other children in the community.
The rest of the building will be apartments, 75 percent of the 164 apartments being one bedroom apartments. The other 25 percent will be two-bedroom apartments, with both options being an opportune living situation for future staff members, who would like to stay close to campus, and young graduates and professionals, who are just starting out. Other building amenities will include a fitness center, game room, a communal kitchen, a library and rooftop deck with a view of the city. The entire building is being oriented at an angle that will allow for wide range of view of the Philadelphia skyline.
The project is being led by Radnor Property Group, who is also leading a similar construction project at 3737 Chestnut St. While the building will be built on Drexel-owned property, the funding for the project will be provided by Radnor Property Group. David Yeager, president of Radnor Property Group, said, "It's an exciting piece of architecture and an exciting parcel of property adjacent to an innovative neighborhood." Radnor Property Group plans to break ground during winter of 2015. Construction should last until spring of 2017.