Nowadays, YouTube has become the go-to place when in search of the next big thing. For pop artist Ryan Beatty, that's exactly where he got his break.
The 17-year-old singer from Clovis, Calif., who was discovered on the popular video-sharing website, performed to a sold-out crowd of screaming teenagers and their accompanying parents Jan. 18 at The Note in West Chester, Pa.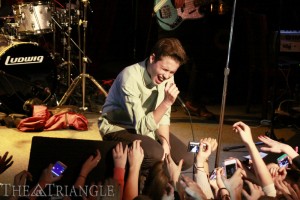 Prior to the "Hey L.A." singer running onstage for the opening night of his short six-city tour, a Pennsylvania native named Gina Castanzo warmed up the crowed, performing a piano cover of Rihanna's popular single "Diamonds" and several original songs that she says were based on a recent relationship.
Bashfully revealing it was her first live performance, the 15-year-old ran into a few bumps during her set but was ultimately able to connect with the audience, as most were around her age.
Once Beatty hit the stage, he opened with one of his most interactive songs, "Simple Song." Fans belted out the lyrics verbatim, still in shock of his presence.
Not having much material of his own, he covered multiple songs from musicians who inspired him as a young artist, including John Mayer's "I Don't Trust Myself," Andy Grammer's "Keep Your Head Up," Tom Petty's "Free Fallin'," Stevie Wonder's "Superstition" and the late Amy Winehouse's "Valerie." He was able to tailor each song successfully, making it his own without simply covering it.
His style of music is not like any other teen currently on the music scene. According to his official website, it combines an acoustic sound mixed with modern old-school edge and adds in real instruments for upbeat tempos.
Although Beatty is in the midst of promoting his summer-released EP "Because of You," which features the single "Every Little Thing," he's doing all it takes to put together a stellar debut album that's sure to impress.
"I'm working on an album this year. I'm really excited for it. I just want to make sure it's my best possible first album because you can only get one first album," he told Billboard.
With over 30 million YouTube views,  you're bound to come across the young fella at some point.