When it comes to genre, electronic dance music has a crowded floor. Started by pioneering acts such as Giorgio Moroder and Kraftwerk, electronic dance music was embraced worldwide as the soundtrack for partying at nightclubs and discotheques, as controlled and manipulated by the disc jockey. During the 1980s in Chicago, the house music genre formed and was then broken into many subgenres within a decade. This evolution occurred in dubstep, big beat, trip-hop, drum and bass, and every other electronic music genre, creating countless ways to express its basic principles: drum machines and synthesizers. Despite the vast possibilities given to electronic artists, they generally seem to stick to their tiny corner without much genre or subgenre crossing. This mode of thinking is not bad, but defining boundaries so strongly can damper the innovation and evolution of electronic music. Luckily, groups who think outside the box do exist, one of which released its debut album 15 years ago.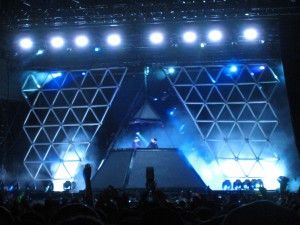 Daft Punk is an electronic music duo that has been active in the music industry since 1993. Band members include French musicians Thomas Bangalter and Guy-Manuel de Homem-Christo.
The electronic duo Daft Punk, consisting of French musicians Thomas Bangalter and Guy-Manuel de Homem-Christo, is one of the biggest names in dance music today. Their robot helmets, mind-blowing live show on a pyramid and a few classic music videos form what is possibly the genre's most recognizable image (although Deadmau5 has given them a run for their money these days). Factor in a self-scripted movie, a Disney movie soundtrack and a flop third album, ironically titled "Human After All," and now you've also described one of the most eccentric acts. There is serious substance behind Daft Punk's style. Their second album, "Discovery," essentially established the aforementioned imagery by adding great tunes to their antics. Yet if you go back even further, stripping away the masks, Daft Punk created an influential debut with "Homework" that needs no image.
To explain the importance of "Homework" is to explore the origins of Daft Punk itself. Bangalter and de Homem-Christo became friends at a Paris secondary school, and in 1992, with future Phoenix guitarist Laurent Brancowitz, formed rock 'n' roll band Darlin', named after the Beach Boys song. While Phoenix turned out to be pretty good at the rock thing, Darlin' was not. A "Melody Maker" review of their demo lampooned the band for being "a bunch of daft punk." The descriptor immediately resonated with the duo. Darlin' was disbanded, and Bangalter and de Homem-Christo began to experiment with dance music. The demo tape process started again, and this time the group released four singles under Soma Recordings. The singles, especially "Da Funk," created a huge buzz, and soon after major labels were calling the duo with a chance to make it big. In September 1996, Daft Punk signed with Virgin Records in a deal that, because they owned their own master recordings, emphasized creative control over monetization. Four months later, "Homework" was released to critical acclaim and commercial success.
Many of the genre-crossing attributes of "Homework" are as refreshing and startling as they were 15 years ago. For one thing, no one had heard anything quite like "Da Funk" or "Around the World" until Daft Punk came along. A song that is heavily influenced by the subgenre acid house, "Da Funk" displays a blazing melody, a rubbery countermelody with surprising pop sensibility, and a powerful midtempo beat propelling it from underneath. "Around the World" gets even crazier, with the robotic electro vocals caught between several darting synth lines, a captivatingly funky bass line and a deep 4/4 thud. These songs are the best example that Daft Punk wasn't sticking to any formula when making "Homework" but was creating its own. But that is not to say that the group was only looking forward. Other highlights such as "Rollin' & Scratchin" and "Burnin" dive into gritty big beat and house, where the dynamics of each song are controlled by a single, atonal, processed synth and its rising and falling frequency.
"Homework" shows Daft Punk as restless experimentalists with rather humble beginnings and a genuine appreciation for their influences. For proof, look no further than "Teachers," which mentions several DJ contemporaries and legends. However, George Clinton and The Beach Boys' Brian Wilson stand out as noble, yet strange, influences. But why should it be? In music, it turns out that it's OK to learn things from different classes and then mix up your homework.