Rachael Yamagata returned to World Cafe Live Oct. 31 after her last Free-At-Noon performance Sept. 30. This time around, Yamagata headlined the performance, with friend and album collaborator Mike Viola as her opening act. About a week and a half prior to the show, Yamagata began her U.S. tour for her new album, "Chesapeake," which was released Oct. 11."Chesapeake" is Yamagata's third album, and it embodies a shift in composition and message. Firstly, the album was put together under Yamagata's independent label, "Frankenfish." Yamagata discussed her thoughts behind "Chesapeake", saying that developing a finished work under an independent label had a great impact on her approach toward the music. "There were huge amounts of freedom, huge amounts of work," Yamagata said. "We were left to our own devices. … It made all the difference in the world." In terms of personal recollections, Yamagata stated that the album "had a tremendous effect on me … reaffirmed my confidence … extremely empowering. That's how it's changed me."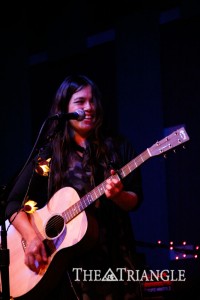 The performance began at 8 p.m. with Mike Viola, one of the musicians heavily involved in the arrangement of "Chesapeake." Viola is a Massachusetts-born singer-songwriter with the foot-tapping electricity of indie rock and a jazzy groove when he played keys. Viola actively interacted with audience, encouraging singing along, Addams Family-esque snapping and refrain echoing. His high energy and quirky musical style won audience members who were new to his sound. "I was pleasantly surprised. … I was expecting acoustic guitar," one audience member said. "I liked him. … Sounded like a mix of Teddy Geiger and Phil Collins," Kellie Chiu, a Drexel undergraduate, said.
Wild applause and shouts welcomed Yamagata to the stage. Yamagata performed all of the songs on her new album in addition to older songs. Most notable was her natural demeanor and casual performing style, which evoked deeper elements from the album's tracks, reaching into the true depth and devotion that went into each piece. The audience was moved to dance, cheer, sing along and even fist pump.
When asked about performing live, Yamagata ventured, "I think [that] just engaging the audience is really important, … a comfort to me." Truly, Yamagata offers an almost transparent view of her emotions and thoughts while performing, even to the point of self-depreciation. When returning for her encore after a few minutes of enthusiastic applause, she apologized to the audience, saying she had to use the bathroom. Yamagata's openness about herself and her music enveloped the whole performance with air of familiarity and genuine heart. After a particularly enthusiastic wave of cheers, Yamagata said fondly, "I love Philly. … I miss Philly." After the performance, Yamagata held a meet-and-greet for friends and fans to sign copies of "Chesapeake," pose for photos and even have some small talk.