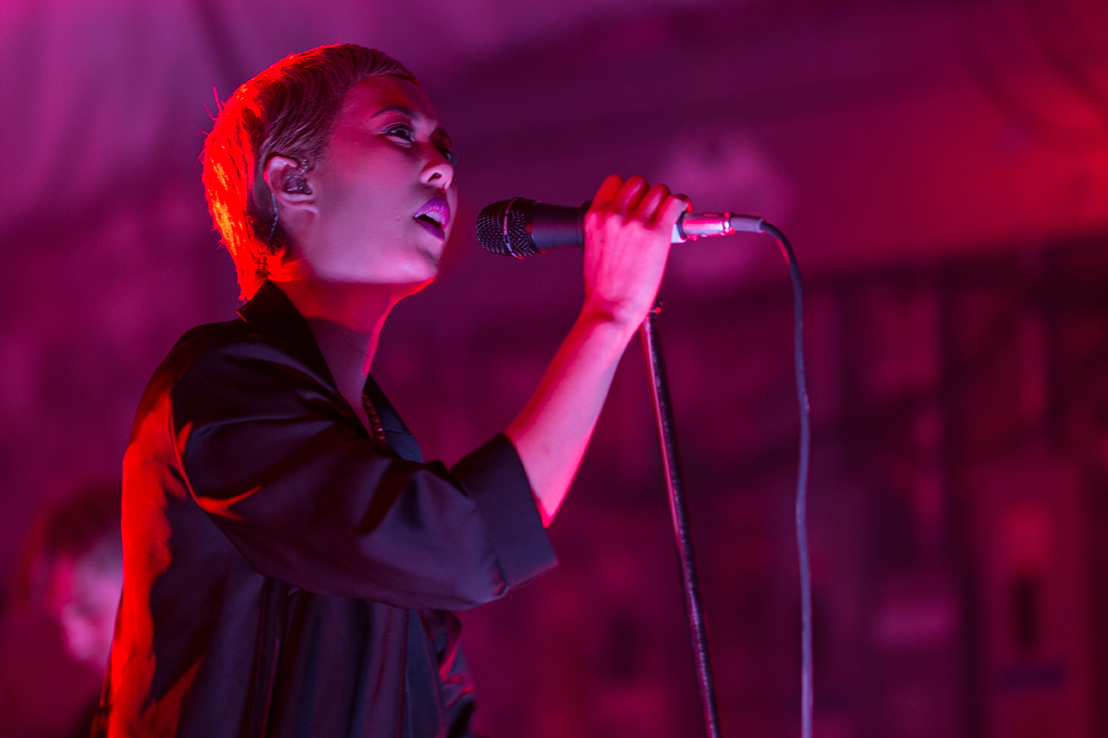 XYLO, an electronic pop duo made up of Chase and Paige Duddy from the suburbs of Los Angeles, opened for The Naked and Famous at Union Transfer on Nov. 14.
As the brother-sister duo took the stage with their band, they immediately upped the mood in the venue and made the crowd move much more than the first opening act, The Chain Gang of 1974.
Starting with their newest release, "Gossip," XYLO proved to be natural performers with high energy.
Their undeniable confidence, proven by Paige wearing her own band T-shirt and a black pleather mini skirt as stage attire, and their badass vibe kept the audience interested and excited even if they weren't familiar with their music.
On their first tour ever, the show production was close to perfection with impressive light effects, remarkable musicianship and a positive response from the crowd. The stage was flooded with red and blue lights to compliment their chilling, alternative sound.
As Paige noticed the few fans singing along to their lyrics, she would point and smile, her happiness apparent and contagious. Their passion for music was unquestionable throughout the entirety of their eight-song set. This included their new collaboration with The Chainsmokers, "Setting Fires," which hyped the audience and the catchy and repetitive chorus allowed everyone to sing along.
After XYLO's performance, they both took the time to come out to their merchandise table to take photos and sign autographs. Many people came out to see them and compliment their music.
I spoke with Paige, who was the most down-to-earth, normal and personable musician I had ever met. She treated me like a friend rather than a fan.
Overall, they put on a great performance and are definitely an up and coming band to keep an eye out for.
Suffice to say, everyone was more than itching for the main band to come out. Although I've been more into underground bands lately, I still hold The Naked and Famous close to my heart. I still stand by the assertion that their debut "Passive Me, Aggressive You" from 2010 should be considered among the best electronica albums of the decade.
The New Zealand quintet is on tour in support of their third album, "Simple Forms," and the subsequent performance leaned towards more tracks from that.
They started off with "The Water Beneath You" and "Higher," the latter sounding closer to their past sound, but both still containing tinges of EDM. While the audience was enthusiastic about these tracks (especially "Higher," a highlight from the album), the crowd truly lit up with energy when they dug into their back catalog.
The first moment came when the first drum patterns of "All of This" started. Their lighting scheme, featuring strobes and synced patterns as well as a series of rods that changed colors depending on the song and the mood, was perfectly attuned to their sensibility and helped craft the overall mood of the set.
Even when they played the hits, the band members knew just when to stretch it out and when to bring down the house.
Singers Alisa Xayalith and Thom Powers both said how much they enjoyed seeing everyone, and their stage presence confirmed it. Xayalith in particular gave everything she had into her vocals, making every word felt.
By the time they reached "Young Blood," (a song that Xayalith herself said "no longer seemed to be theirs, but rather a generation's") everyone was yelling along to it.
As someone who didn't particularly find a lot of "Simple Forms" memorable, I enjoyed it, but I was a tad disappointed that I didn't hear some other favorites. It's impossible to deny that they put on a good show, and when they did play the favorites they brought the house down.