After spending 10 years as a band and releasing six well-received studio albums, The Walkmen embarked upon the "An Evening With The Walkmen" tour, playing shows in Chicago, San Francisco, Toronto and Philadelphia to commemorate their 10th anniversary. Philadelphia, something of a home base for the band (three of its members hail from the Philadelphia area), was the last stop on the sold-out tour, and their show March 3 at Union Transfer demonstrated why they have been successful for so long.
The concert was conspicuously missing an opening act. Instead, The Walkmen emerged to an anticipatory crowd, took their positions and began playing. The stage setup reflected their music rather well: The lighting was simple but effective, and the instrumentation was sparse — classic guitars and vintage amplifiers were used sans effects pedals, the drum kit was minimalist, and an upright piano provided additional texture. There was a no-frills attitude that placed emphasis on the musicians and the interplay of an exceedingly talented band and its songwriting.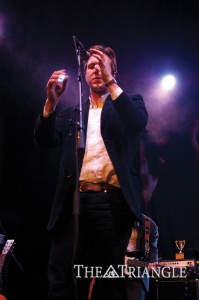 The Walkmen celebrated ten years as a band by playing a three-city tour, "An Evening With The Walkmen." Included was a Philadelphia show at Union Transfer March 3.
This attitude was absolutely successful, as the band sounded simply terrific. From the moment The Walkmen took the stage, they were in full command of the crowd, proving that they had retained the ability to put on a high-energy show after many years together. While they were professional in demeanor, they still put a remarkable amount of vigor into their performance. Perhaps most impressive was the versatile lead vocalist, Hamilton Leithauser. His voice ran the gamut from strained and impassioned when singing higher in his register to a soothing southern drawl with pleasant vibrato.
This flexibility proved critical in the band's performance, as they played a broad variety of songs ranging from their biggest hits to obscure B-sides and album cuts. The array of styles and tones that The Walkmen were able to create in their time at Union Transfer was a testament to their ability as musicians. Playing for about two and a half hours, the show was an absolute treat to fans and fitting for such a seasoned, capable band. They even ended their set with requests from a delighted crowd that responded with a variety of songs from throughout their career — no small feat, given the obscurity of some of the songs they performed.
"An Evening with The Walkmen" demonstrated why The Walkmen are among the more respected touring bands today. Their performance emphasized their technical ability and compatibility with one another, as well as the quality of their songwriting. While they have been together for an extended period already, they show no sign of slowing down (they performed songs from an upcoming album during their set), a fact for which fans should be thankful.