Everybody's got a different opinion on what makes a concert great. It's a huge roaring crowd, an elaborate stage, a crazy light design, a ridiculous amount of outfit changes. However, after spending a cold Saturday evening at a warm and intimate acoustic show at Flux with Tony Lucca, the runner-up of season 2 of "The Voice," I was reassured in my own belief that what makes a concert truly great are musicians who sincerely love what they do.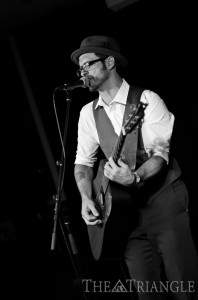 The event was hosted by Drexel's Campus Activities Board and began March 2 at 7 p.m. Drexel's own Blair Ollendorf of the band Wild Rompit took the stage to open the night, beginning with a cover of The Lumineers' hit "Ho Hey." Even though he already won me over with his song choice, Ollendorf impressed the crowd with his cool, raspy-toned voice that is reminiscent of indie folk singer The Tallest Man on Earth. His soulful rasp and skill on the guitar combined beautifully and made for a soulful, soothing set.
Despite a small crowd, Lucca finally stepped up to the microphone with a genuine smile and a few jokes to liven up the room. And the fun did not stop there. After starting off the set with an original song, "Reckless Love," Lucca decided to take, in his words, a "VH1 Storytellers" approach to his set and spent the night telling jokes and funny stories to introduce each of his songs.
From jokes about how Adam Levine really was that cute in person to comical asides of how he'd cast Ryan Gosling to play him in a movie of his life, Lucca kept smiles on everyone's faces. His down-to-earth personality was honestly enough to satisfy the crowd, but his music made the night that much more special.
His set was a delightful mix of original songs and covers that he performed with just as much soul and passion as he brought to "The Voice" stage back in season 2. He introduced each of his original songs with lighthearted stories of how they came to be and memories of playing them, my favorite story being about his song "All Up in Your Place," which fans have affectionately dubbed "The Stalker Song." He also played some of his popular covers from "The Voice" such as "Trouble," the song that landed him on Team Adam, and "Baby One More Time" mixed with Madonna's hit "Like a Prayer."
One of the highlights of the night came when Lucca covered "The Bed Intruder Song." The entire crowd was howling with laughter from the song's beginning when Lucca jokingly admitted that he just wished he wrote that song to its very end.
Rounding out the night, Tony ended on a high note with arguably his most popular cover that he performed on "The Voice" — "99 Problems." Rather than directing the crowd in a sing-along, Lucca encouraged crowd participation by simply saying, "If the spirit moves you, sing along." It is safe to say the spirit was hard at work because Lucca's soulful delivery of the song prompted almost everyone in the audience to join right in, myself included.
Shows like this remind me why I love music so much. Watching both Ollendorf and Lucca on that stage, you can see that they wholeheartedly love what they do.
Check out The Triangle Live's video coverage of Lucca's performance here.