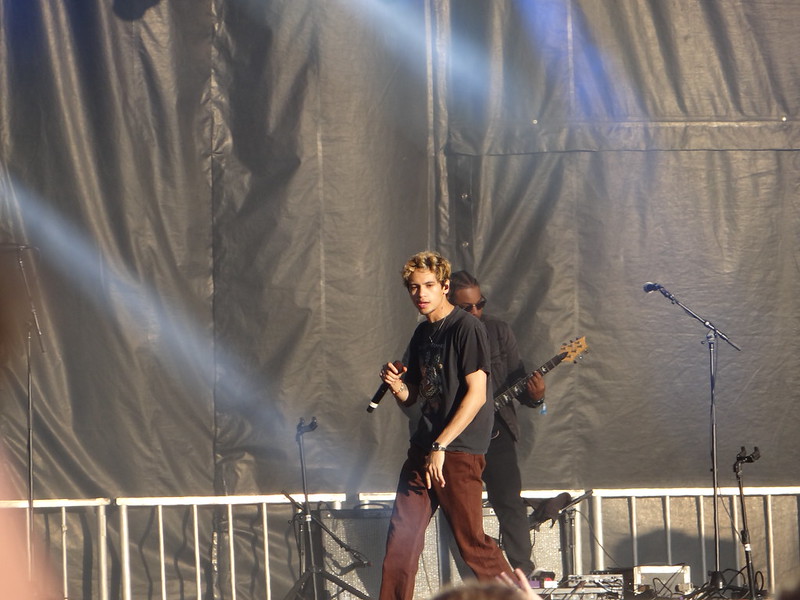 Here is a list of albums that are planned to release during this summer term, along with any accompanying tours these artists will bring to Philadelphia, or the surrounding area. More detail will be provided for highly notable releases or unusual circumstances surrounding the events.
TODAY'S RELEASES (Friday, June 30)
The Alchemist – "Flying High"
This project was first announced on Monday, June 26 at around 11 a.m. by many artists on Instagram, simply showing the expected album cover and release date. The Alchemist has released thirteen collaborative projects since the beginning of this decade, many with artists he also tagged on his "Flying High" post (Boldy James, Earl Sweatshirt, Larry June). This appears to feature many different artists throughout its tracks.
The Japanese House – "In the End It Always Does"
Tour: Nov. 1 @ Union Transfer
Uzi has finally announced "Pink Tape" after years of teasing the album's title. After revealing the half-cartoon, half-CGI "Pink Tape Movie Trailer" on July 26, the album became available for pre-order online. "Pink Tape" consists of 26 tracks, including the hit single "Just Wanna Rock."
Toro Y Moi – "MAHAL (Live from Big Sir)"
Lucinda Williams – "Stories From A Rock and Roll Heart"
JULY
7/7: Gus Dapperton – "Henge"
Henge Tour: Oct. 19 @ XL Live (Harrisburg, PA)
7/7: Dominic Fike – "Sunburn"
The future of this Internet-age star's music career was questioned after his large role in Euphoria's second season and the slightly disappointing reception of his debut album "What Could Possibly Go Wrong?" Fike's upcoming album "Sunburn" appears nearly identical to his debut in song length and amount, while the singles share a pop produced, vocal-driven approach. This release outcome could heavily influence the direction of Fike's career.
Don't Stare At The Sun Tour: July 16 @ The Mann
7/7: PJ Harvey – "I Inside the Old Year Dying"
Established creative PJ Harvey will return with a brand new album for the first time since "The Hope Six Demolition Project" in 2016. Since the start of the 2020s, Harvey has released a project of demos for eight of her nine previous albums. The new project's two singles feature inmate vocals, puzzling songwriting and distant acoustic instruments.
7/7: Little Dragon – "Slugs of Love"
Tour: Oct. 12 @ Theatre of the Living Arts
7/9: Taylor Swift – "Speak Now (Taylor's Version)"
7/14: Claud – "Supermodels"
Singer-songwriter Claud has developed an impressive list of co-sings over the past few years, including Jack Antonoff, Clairo, boygenius and Ethan Gruska. Their new album "Supermodels" will ditch the cartoon themes of their 2021 album "Super Monster" for an older, more confident image.
Tour: Sept. 15 @ The Foundry
7/14: glaive – "i care so much that I don't care at all"
Tour: Aug. 11 @ Theatre of the Living Arts
7/21: Various Artists – "Barbie The Album"
The soundtrack for 2023's summer blockbuster will be released on July 21 along with its parent movie. Besides the star-powered singles that have already been released, the soundtrack will contain songs from HAIM, Charli XCX, Tame Impala, Khalid, FIFTY FIFTY and many more.
7/21: Blur – "The Ballad of Darren"
7/21: The Arcadian Wild – "Welcome"
For fans of more traditional, acoustic folk music, The Arcadian Wild may be a familiar name. This quartet delivers formal, detailed compositions that feel mystical, adventurous and progressive. "Welcome" is The Arcadian Wild's first album since 2019, and spans twelve tracks.
7/28: George Clanton – "Ooh Rap I Ya"
Tour: Oct. 10 @ Union Transfer
7/28: Post Malone – "AUSTIN"
If Y'all Weren't Here, I'd Be Crying Tour: Sept. 25 @ Freedom Mortgage Pavilion (Candem, NJ)
7/28: Aphex Twin – "Blackbox Life Recorder 21f / in a room7 F760"
Legendary electronic act Aphex Twin is set to release a four-song EP on July 28; his first new work since the "Peel Session 2" EP in Nov. 2019. Richard James, the mind behind Aphex Twin, has been dropping boundary-pushing electronic music under this moniker since 1992.
AUGUST
8/4: The Front Bottoms – "You Are Who You Hang Out With"
Tour: Sept. 30 @ Franklin Music Hall
8/18: Genesis Owusu – "Struggler"
Tour: Oct. 21 @ Underground Arts
8/18: Shamir – "Homo Anxietatum"
Following his major breakthrough with the 2022 album "Heterosexuality," Philly-resident Shamir will release the 11-track "Homo Anxietatum" through the Kill Rock Stars record label. The singer will also be headlining the Sweet Juice Festival in Germantown on July 22.
8/18: Hozier – "Unreal Unearth"
Tour: Sept. 29 @ The Mann
8/25: Spanish Love Songs – "No Joy"
8/25: Melissa Menago – "Echo the Optimist"
Drexel University alum and adjunct professor Melissa Menago will release her album "Echo the Optimist" on Aug. 25. Apart from her role as the lead singer for the band June Divided, Menago has released one solo project titled "Little Crimes" in 2016. The album's title track will drop as a single on July 14.
Album release show: Aug. 27 @ City Winery
8/25: Victoria Monet – "JAGUAR II"
SEPTEMBER
9/1: Slowdive – "Everything is Alive"
Yet another long-running band is returning this summer with a new project. While not as long as their 22-year hiatus from 1997's "Pygmalion" to 2017's self-titled album, the shoegaze pioneers broke a six-year silence with their single "kisses" on June 20. "Everything is Alive" will contain eight tracks and will be released on the record label Dead Oceans.
Tour: Sept. 29 @ Union Transfer
9/8: Róisín Murphy – "Hit Parade"
9/8: Olivia Rodrigo – "GUTS"
After one of the most successful debut albums in recent history, pop-rock phenom Olivia Rodrigo is returning with the album "GUTS." While not much is known about this album currently, its leadoff single "vampire" (out today) will hopefully give fans a sense of sonic direction for the project. The single is produced by Dan Nigro, who played a very large role in the production of "SOUR," Rodrigo's debut album.