Being one of the most popular indie pop bands in the U.K. today, The Kooks are slowly but surely infiltrating their way into U.S. playlists. The band has been a personal favorite of mine since I stumbled upon their music on YouTube in 2006, right after the release of their first album, "Inside In/Inside Out."
A tremendously successful freshman album, "Inside In/Inside Out" went quadruple platinum in the U.K., and now the band is currently touring the U.S. following the September release of its junior album, "Junk of the Heart." The group has gone through its share of ups and downs, with a couple changes of band members along the way, but lead singer Luke Pritchard has remained throughout. Without him, The Kooks wouldn't be possible. It is his crooning British voice that gives the cheeky pop band its fame.
When I heard The Kooks were coming to Philadelphia on Nov. 15, I had to attend. The concert was held at the Trocadero Theater at 10th and Arch streets, with the Troc providing a particular scuzzy/indie theater that feels to fit the concert seamlessly. The Philadelphia show (like all of their other U.S. shows) was sold out, with a line of people waiting for hours prior to the doors opening to get the best spot for general admission.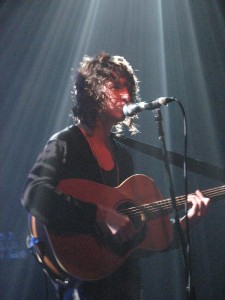 The dimly lit theatre was buzzing from when doors opened with people at the vintage theater bar and buying tour memorabilia until The Kooks finally took the stage at 9:15 after an opening by The Postelles.
The show was no frills — all about the music — and not an attempt at Cirque du Soleil (which is all too common today). The band was energetic and lively, seeming to enjoy every second being onstage. They played a large selection of songs from their first albums and their latest album, leaving no one in the crowd disappointed.
I ended up meeting The Kooks tour manager, who graciously agreed for me to meet with him and the band near my hometown of Columbus, Ohio on Nov. 25 for an interview. I arrived and was greeted with a private concert (some prefer to call it a "sound check") and chatted with Tony Brookes, their phenomenal tour manager who made this all possible.
As soon as the sound check ended, I was able to hang out with lead singer Luke Pritchard for a bit and ask him a heap of questions, such as: How different is it is playing shows outside the U.K. when the band could be playing the O2 in London housing 20,000? Pritchard didn't seem to think much of it. He's ridiculously low key and more laid back than any other famous lead singer I've ever met. He explained that, after the right-off-the-bat success of the first album, The Kooks could have started playing at much larger stadiums, but instead they choose to play three nights in a row at smaller venues, and they end up selling the same number of seats.
Pritchard explained they didn't feel established enough to be at major venues. The idea of playing there was too much for them, as if they didn't deserve to be there.
This sort of answer is certainly not something that comes out of a rock star's mouth very often. But fame did come absurdly quickly for The Kooks. They were signed to Virgin Records merely three months after forming, when they weren't even looking to be signed. The band simply sent out a few demos to land a few small, publike gigs, and somehow the demos landed in the hands of more than just pub owners — and hello, quadruple platinum! However, that lightning-quick jump to stardom hasn't seemed to alter any of their egos. Pritchard said, "You're just really playing a show. You don't think about it any different, really, whether it be the O2 or the Trocadero."
Pritchard didn't shy away from talking about anything, whether it be the band's dark times with the loss of a couple members over the few years since forming; his least favorite song to perform ("Eddie's Gun," because he's "not 16 anymore"); which songs are completely made up and which are based on personal experiences ("Rosie" isn't, by the way); or the fact that he absolutely gets sick of the sound of his own voice.
The band went on to play another excellent show that night in Columbus, and I walked away with a newfound appreciation for The Kooks. Between their talent, humility and overall great demeanors, I've certainly jumped on The Kooks train for more than just their music.