There aren't many places that I would say are worth slipping through rainy puddles in your flip-flops for, but TBowl might be one of them. Located on Penn's campus at 3716 Spruce St., TBowl is a casual, build-your-own rice bowl restaurant. TBowl's green walls, wooden decor and carefully placed plants make it look as organic as its menu. Everything, right down to the strawberry syrup, is 100 percent natural. The menu is free of preservatives of any kind, and the restaurant promises that none of its food is fried. Healthy food fans rejoice.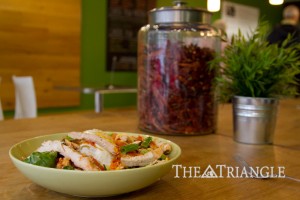 TBowl, the newest restaurant on UPenn's campus, is located at 3716 Spruce St. At TBowl, you have the option to build your own rice bowl and pick all the 100 percent natural ingredients that are free of preservatives.
First, you choose between white or brown rice, then from a colorful chalkboard listing, you can build your dream rice bowl. The starters range from bok choy and chopped tomatoes to edamame and baby spinach. You can choose as many options as you want. Then you choose your protein out of three choices: grilled chicken, sauteed shrimp on a skewer or grilled organic tofu. Finally, you can pick your sauce from a list that includes (but is not limited to) teriyaki, ginger, barbeque, peppercorn garlic, chipotle cheddar and poppy seed. Don't forget to pick out a complimentary helping of sesame seeds, fresh ginger, chili peppers or fresh garlic with your order.
If the number of choices is too overwhelming, you can order from a short list of pictureless recommendations sitting on the counter. The staff is patient enough to guide you toward a custom order that you'll like if you feel truly helpless. They also won't judge you if you're feeling adventurous enough to mix some fruit in with your rice. They'll still try to cook it, no questions asked! And speaking of the rice, they're definitely not stingy with their serving size or shy about giving you extra. You'll actually get a heaping pile of it in your bowl, served so fresh that it'll be steaming when it gets to your table.
I ordered myself a white rice bowl with a fried egg over chopped carrots, broccoli, and skewered shrimp, all covered in a rich teriyaki sauce. Unfortunately, I could only watch them mix my ingredients together — they cook it in a mysterious room in the back. Some restaurants might take the tails off of the shrimp for you, but TBowl doesn't, so keep that in mind. I made the delicious mistake of ordering my frozen yogurt too early, and couldn't stop myself from finishing it alongside my dinner. Usually, frozen yogurt makes me miss actual ice cream — there's something about the taste that always seems lacking — but TBowl's frozen yogurt was so good that I didn't feel that way at all.
To put the "T" in TBowl's name to the test, I bought a cup of royal milk tea. It had sweet tapioca pearls in it, so if that's not your thing, you'd be better off ordering one of their other drinks, such as their Jasmine green tea. I normally avoid drinking tea, but their royal milk tea surprised me at how refreshingly good it was. I can't say that I've been completely converted into a tea drinker, though.
While I managed to spend a little less than $20 on my entire meal (the rice, the tea and the frozen yogurt), the prices would probably make the typical college student's wallet cringe. It costs roughly $4 for a plain rice bowl, a dollar for each vegetable starter, and about two dollars per protein. My rice bowl had quality and quantity, so I didn't feel ripped off. I saw it as a nice treat for getting through my second week of freshman year. Nice treat or not, this isn't a place that I would eat at every single day for lunch. The restaurant was quiet on a Friday night, though the rain could have been to blame for that. I suspect that it's more crowded during the day, especially during lunchtime since it's right on a college campus. They do have recyclable takeout boxes if you want to avoid eating at the restaurant.
TBowl is a companion restaurant to Gia Pronto, another health-conscious and all-natural restaurant with locations in University City (38th and Spruce street), near 20th and Market (1900 Market St.) and at The Perelman Center for Advanced Medicine (3400 Civic Center Blvd.).