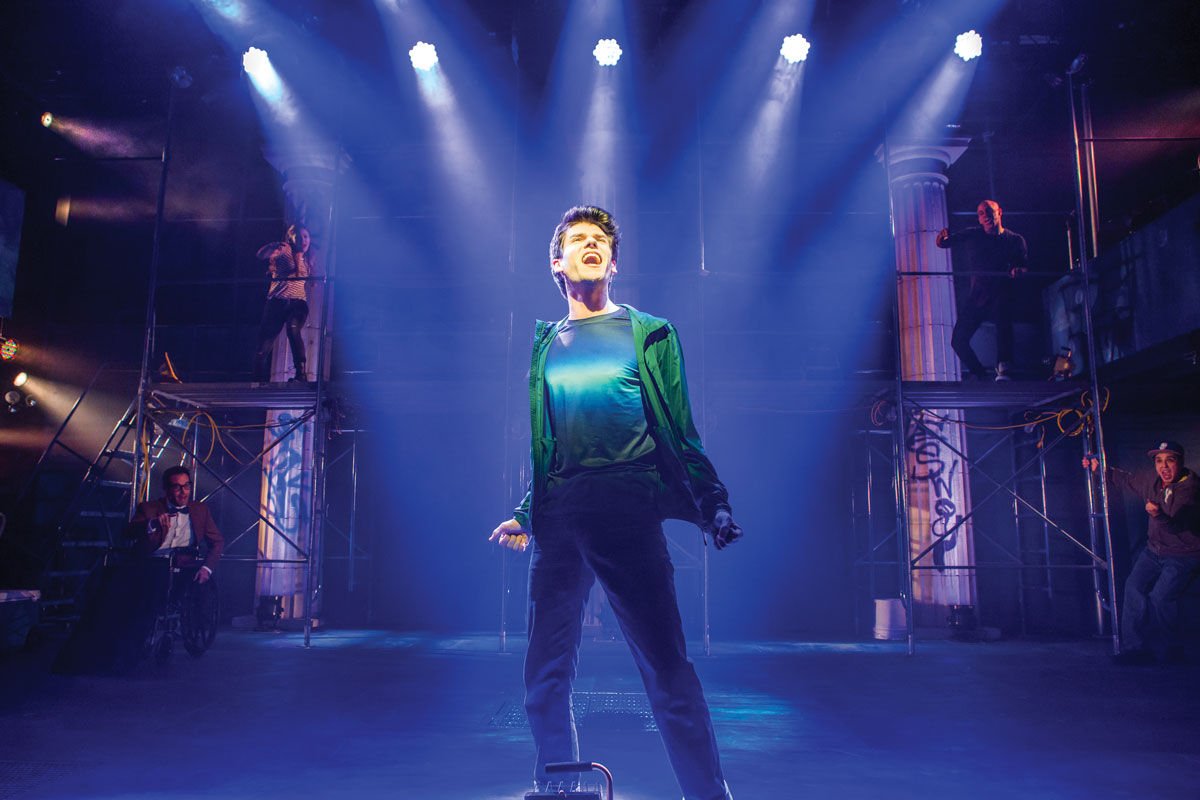 Chris McCarrell made his Broadway debut in 2014, playing Marius in the revival of "Les Misérables." Since then he opened the new show "The Lightning Thief: The Percy Jackson Musical" Off-Broadway in 2017. Now he's reprising his role as Percy as the show tours the country, including a stop in Philadelphia at The Kimmel Center from Jan. 22nd to Jan. 27th. The Triangle got to sit down with McCarrell this week to discuss the show, his burgeoning career and our favorite Greek gods.
This interview has been edited for grammar and clarity.
The Triangle: What is the show all about?
Chris McCarrell: "The Lightning Thief" is this huge odyssey of this young boy named Percy Jackson who starts out struggling in school, living in a single parent home, dealing with a ton of learning disabilities: dyslexia and ADHD and we slowly find out that all these things he perceived as hardships in the beginning of the show are all linked to the fact that he is a half-god; a demigod. His dad is actually Poseidon. So that explains the learning disabilities because his brain is hardwired for Greek instead of English and he's fidgety because those are his battle reflexes. The rest of the show is just him going on this quest to basically save the world and clear his name in the eyes of the Greek gods… and save his mom. There's a lot that happens.
TT: And it's based off of the "Percy Jackson and the Olympians" book series by Rick Riordan. Were you a fan of the books prior to the show?
CM: Right. I was not a huge fiction reader growing up because I just did so much theater. So I read a lot of non-fiction. After I got the show I read the first book because that's what our show covers — the first book in the series — and it was so fun to just see how much of the tone of the books and the character already lined up with my instinctual sort of disposition.
TT: Did you work much with Rick or get to talk to him over the course of doing the show?
CM: Rick, since he's still writing the series and crafting the universe that we're all living in in the show, he really protects that. He doesn't like to get too close to interpretations of the source. He has been a big supporter from afar and has definitely heard the fans and how much the book fans have loved and appreciated how much we respect the series' tones and heart.
TT: If you weren't really knowledgeable about the series or script beforehand what brought you to the show?
CM: Well when I read the breakdown of Percy, it definitely sounded like me. And, you know, in the New York theater scene, the casting people send out a call like "Hey do you know anyone who's like this?" or they ask agents, "Do you have any clients like this?" and they were like "Yes we do actually. A rock tenor who's a skinny superhero? We can try Chris on that." I walked in for my audition on the last slot on the last day of callbacks. I was their last hope of finding someone, and I walked in and I knew I had the show by the time I got home that day, which never happens.
TT: Well, you came onto a lot of people's radars as Marius in the Broadway revival of "Les Miserables" back in 2015. Obviously these are two very different shows and two very different characters. How different were your approaches to playing Marius then and playing Percy now?
CM: Ummmm… Just musically, they are so completely different. I went to a conservatory of music and got my Bachelor's of Music in Musical Theater so I was really well-versed in different styles of theater, musically speaking. I was big verbtrato tenor and I liked singing "Light in the Piazza" and those more classical musicals. But then I worked hard on getting my rock/pop sensibility going in college. When I came to New York, it made sense that my normal, natural wheelhouse was what I was first cast in — more of classical tenor. Then when I got my hands on Percy I was like, "Oh I can use all the stuff I learned."
In "Les Mis" I worked more with the directors about time period and posture. It was much different than how I handle myself in my day to day life. Then with "Percy" they throw me in blue jeans and a jacket and sneakers. There's really no rules when it comes to looking too modern or too young. I would say "Percy" was a lot more freeing in the way that I didn't have to subscribe to a time period that I wasn't used to.
TT: What was it like working on one show where you were coming in with all of these expectations as opposed to this show where you can set your own expectations?
CM: It's this weird art of being careful about what you research and what you don't research, I've found. So when I got "Les Mis" I was not on YouTube, looking up every person who played Marius and how they sang him and which one was the best. I was very careful about what was going to help me with my take on the character and what wasn't. That really prepared me for playing Percy. I didn't watch the movies and I only read the first book so that I could stay in that world. I tried to come in with just enough information to truly know the character but with still enough unknowns that I could still play with it.
They were very similar even though so many people have played Marius before me. With Percy Jackson, everyone has an image of Percy in their head that they hold so dear to them. It was almost like I was the thousandth person to play Percy even though I was the first real person to take on the character in this show. I learned that if you concentrate on the character from the inside out and really make him make sense on stage, it works.
TT: There's a good mix of comedy and earnestness in both the books and the show, what is it like to find that balance?
CM: It is so fun but so hard. It's definitely the trickiest tightrope of the show because it's so playful on stage and during the most dramatic moments, there's usually an undertone of laughter. It forces me to pick and choose between the moments he gets carried away in this world and what are the moments that bring him back to reality.
TT: What made you want to come back to the show for the tour?
CM: We just didn't do it enough. It was only a one month production which is so nuts for how many people know the show. I just knew I wasn't done with it. And the nice thing about a tour is that you get to go and perform for people who may not be able to take a trip all the way to New York to see one. It's a commitment that so many families can't make. If anyone can relate to Percy's situation, they're not your typical theater-going people in New York. It's a chance to bring the show to the people who love the source material and who may need it the most.
TT: Is this your first time touring a show?
CM: Yup. First tour. It's so different. In New York when you put up a show, you're in that theater for weeks. It starts to become like a home after a while and it feels like you're inviting people into your home. With a tour, it's completely different. It's almost like the opposite where you feel like you're coming into these people's homes, living rooms and putting on this show for them.
TT: Do you feel like it's a show geared for a younger audience or is it more accessible to all age groups?
CM: It's interesting because there are so many different frequencies of comedy that hit the different parts of the audience at different times. The show opens with this big thunder clap and you can always hear the kids in the audience kind of jump back, then a few minutes later there will be a joke and you'll hear the dads chuckle. But Joe Tracz, who wrote the musical, would have been bored if it were just a kids show and it shows. There's so many little easter eggs and intellectual jokes that there's something in there for everyone and there's an intimacy to that.
TT: I'll finish it up with a fun one: If you were a camper at Camp Half-Blood, which cabin do you think you would be in?
CM: I think I would in the Zeus cabin. I've always been a weather guy and the idea of controlling thunder and lightning and wind is so cool. So yeah, I would say son of Zeus even though that puts me in as equally a terrible position as a son of Poseidon, but I think I could handle it.