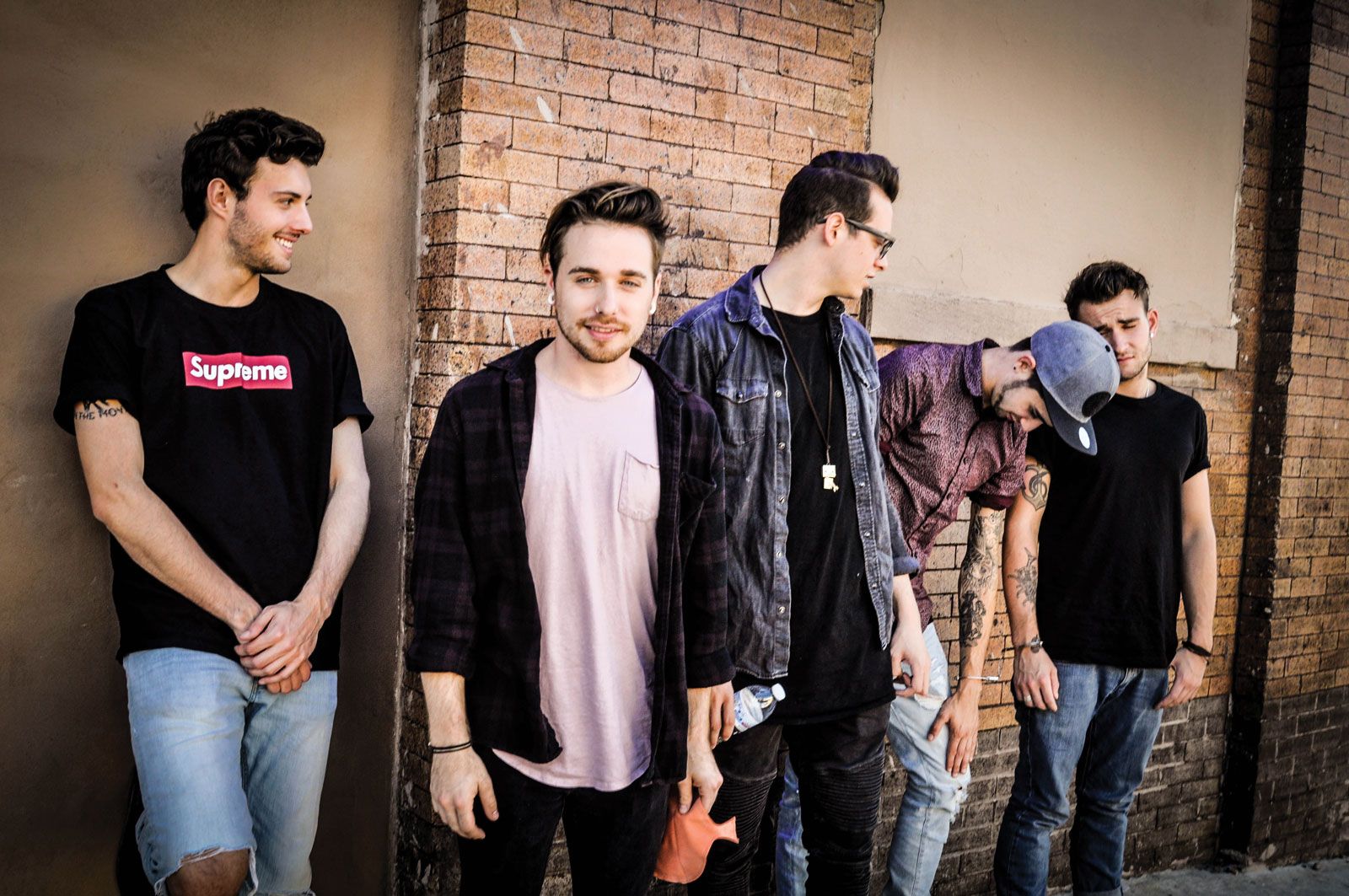 The Wrecks made their Fillmore debut Aug. 6, playing alongside Waterparks, Swmrs and All Time Low on the Young Renegades Tour.
This past year they released their first EP "We Are the Wrecks," featuring the breakout single "Favorite Liar." Just three days after the EP was released, both Alt Nation and Spotify featured the EP on multiple playlists. The music video for "Favorite Liar" already has half a million views. This is definitely a band a lot of people are already watching. The Triangle caught up with Nick Anderson, Aaron Kelley, Nick Schmidt, Westen Weiss and Billy Nally to talk music, fame and the true identity of their favorite liar.
The Triangle: How did you guys come together as a band?
The Wrecks: Aaron and I met online like six or seven years ago on Facebook, and then he introduced me to our current manager whom he was interning for in California and we, you know, wanted to start a band. Aaron and I were auditioning members all over the place in LA, no one was working out. We were putting up signs in guitar centers, going to the malls trying to find the perfect fit.
TT: So you guys didn't start out together?
TW: Aaron and I had a few songs and we were just trying to find members. I had met Billy years before, and he brought Schmidt along. About six months ago we asked Westin to join. Our manager knew us all individually, but it was definitely was not an X-factor, One Direction situation. it was more about finding the right fit and being lucky enough to have connections to find good musicians.
TT: How did you guys get onto All Time Low's tour?
TW: We just submitted for it. We should honestly ask them why they chose our band or how that happened. Someone told me that Jack liked us. Brian, the AUX guitar player's girlfriend was saying that Jack knew who we were and really liked us.
This is our third U.S. tour. We did two U.S. tours with Nothing But Thieves, who are an alt rock band from the U.K. and then we did a short run with Alt Nations' Advanced Placement Tour, which gave us that exposure.
TT: How do you think this tour compares?
TW: Everyone's stoked. The amount of people, the energy is just crazier. It depends on the show. Sometimes I prefer club shows where everyone knows the songs, knows the band is just freaking out. But I also personally like to win a crowd over who doesn't know who we are, which is what we strive to do every night.
Sometimes, when we first walk out some of the girls are all grumpy hanging over the barricade, who think they're just too cool for it — then watching them come around and all have a really good time and start jumping, clapping and being part of the show is my favorite part — that revelation.
TT: Who is your first single, "Favorite Liar" about? Is she a real person or a concept?
TW: None of our songs are concepts. All of our songs are 100 percent real stories, because I would probably puke if I had to sing about something that was fake. I'm not going to give a name, but she came to a show this tour actually. We are still close and we're still friends. The song is about a girl I was in a relationship with and looking back on that time with rose-colored glasses.
Being like, oh that relationship was great and remembering all of these things that were so nice,  but you need to have that sharp realization of like, this is why we broke up, this is why the relationship hit the fan. It's hard sometimes to remember that when you're looking back because you're hurt or you're sad or whatever it may be. The song is my personalization of like you know what? I'm alright, I'm in California pursuing music now, I don't need that. When you're wearing rose-colored glasses you trust people you shouldn't.
TT: What are you guys working towards?
TW: Money, fame and fortune. The band's structure is working on songs that mean something and being honest with our fan base, being transparent and not trying to be anything that we are not. And that's what you see living in Los Angeles, a bunch of people that are faking it.
We're just doing us, we just write our songs that we like. We are not being anything that we're not. People like our personalities and like our music, and that's what drives the success of the band, and if people don't like us they don't have to.
TT: Would you ever change your direction for more potential fame?
TW: We would never change our sound, we would never change who we are for monetary gain. I think that's more of a reflection of today's youth. People can see through being fake and selling out. People don't want Nickelodeon, they don't want us to look fake, people appreciate honesty.
TT: What do you think helped you gain your popularity?
TW: Spotify and radio helped a lot. Jeff Regan at Alt Nation and Allison Hagendorf at Spotify. Allison put us on all of her big rock playlists and indie rock playlists, and Jeff put us on his advanced playlist show pretty much on the same day, which was only a few days after releasing our first EP. Then the band Nothing But Thieves wanted us on their first U.S. tour, so we were on radio, we were on a lot of people's Spotify playlists — which is huge for breaking bands now. Then we were on that tour, and now for the past month we've been on this All Time Low tour, we're still really, really new and hoping people get to know us.
TT: Finally, where does "The Wrecks" name come from?
TW: The Wrecks is an allusion to mental stuff. It's spelled like a car wreck, but for me it's like you're a mess and you don't have your stuff figured out yet. You've got your baggage, whatever it may be. We all come from completely different parts of the country and backgrounds and we accept what the issues we have are, or whatever it is.
You never know what people are going through. You never know what someone just realized or what's going on in their life. You have to approach everyone with the same respect and kindness and that's something we all try to work on. The Wrecks, I loved that word, was not an obvious reference to mental health issues or anything like that, but being accepting of owning who you are is what the name came from.