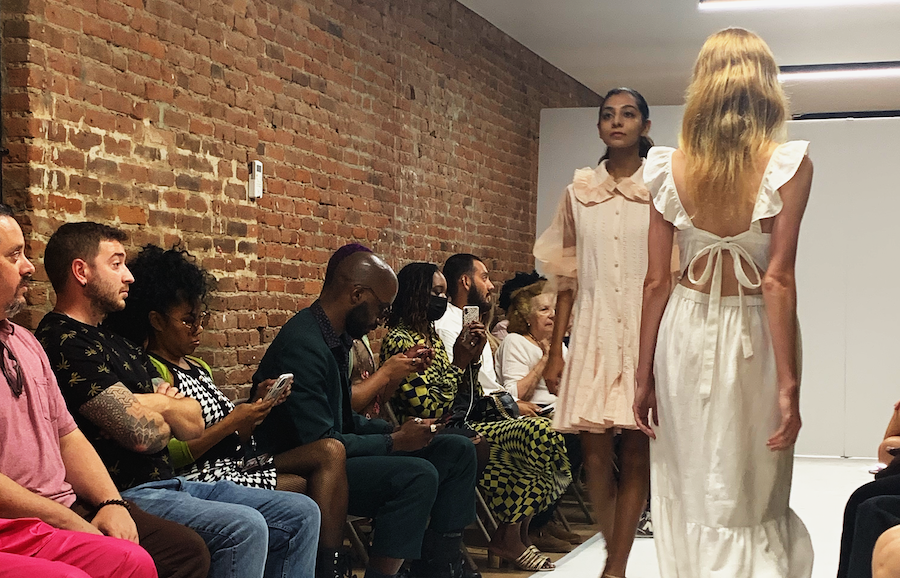 Fashion saw big surprises, questionable choices, and iconic moments in 2022. The past met the present as early 2000s trends made controversial comebacks and some of Hollywood's biggest stars channeled their inner 20th century fashionistas. Here are some of my picks for the best fashion moments of 2022.
5. Singing in Style(s)
First famous for being one of the members of the hit British boyband One Direction, Harry Styles is no stranger to being an internet heartthrob. From his multiple Grammy award-winning songs and albums to his Vogue magazine cover and growing fanbase, it was evident that Styles's 2021-2023 tour "Love on Tour" would be one for the history books, and would Styles be Styles if he didn't do it in style? Dressed in custom Gucci outfits in breathtaking, bright colors, illusion-like patterns, feather boas and flare and well…everything, Styles channeled his inner Y2K fashionista as he broke records during his 15 sold-out shows at Madison Square Garden.
4. Rihanna's Boss Lady Baby Reveal
It is safe to say that when we write the list of cultural icons of the 21st century, Rihanna will be near the top. As (arguably) one of the greatest artists and business moguls of all time, Rihanna's style is a reflection of her career: bold and powerful. Her baby reveal was no different. Confidently strutting down the New York City pavement hand in hand with her boyfriend A$AP Rocky, Rihanna donned a long bright pink Chanel puffer jacket. Her stomach, which was revealed under the coat, was adorned with a long gemstone-rich LACROIX brooch. One thing is for sure; no one can quite do it like queen Riri. We can not wait to see the outfits she rocks during her Super Bowl performance!
3. Blake Lively: NYC's New Statue of Liberty
Blake Lively is no stranger to turning out to her red carpet appearances in absolutely breathtaking outfits. The 2022 Met Gala was no different. As a seasoned veteran of what is fashion's biggest night, Blake Lively has been known to take bolder risks as every year passes. Her 2022 gown, custom-designed by Versace, wowed the crowd with its homage to the Statue of Liberty in glamorous crystal leather and copper foil. As she floated up the red carpet steps, the large copper bow at her waist unraveled to a long, oxidized-green train. But what's even better was the expression on Ryan Renolds' face, as she took the crowd by surprise: a look of utter adoration and love. So cute!
2. Kim Kardashian: 21st Century's Marilyn Monroe?
Kim Kardashian has seen her fair share of internet scandals, but her 2022 Met Gala dress certainly vies for the top spot. When she appeared at the steps of the "Gilded Glamor" themed Met in what appeared to be Marilyn Monroe's iconic "Happy Birthday, Mr. President" dress, the internet — to say the very least — blew up. People were certainly divided about the subject: some were afraid of ruining of such a historical artifact (even with the strict diet that Kardashian had undergone to fit into the dress), others were scornful that the dress didn't fit the time period of the "Gilded Glamor" theme and some were ecstatic about the re-interpretation being an homage to the memory of Marilyn Monroe. Regardless, it's safe to say that Kim K's 2022 Met Gala appearance was undoubtedly a memorable one.
1. Bella Hadid Coperni Spray-On Dress
If anyone can be titled the best model of the decade, it would be Bella Hadid. Her revolutionary fashion genius has produced endless iconic moments. But nothing has gone as viral as her spray-on (yes, you heard me right.) dress at the Spring Summer 2023 Coperni show at Paris's Musée des Arts et Métiers. Hadid drew the astonished eyes of everyone in the room (and millions of people worldwide) as her white, off-the-shoulder, body-fitting dress was sprayed on (in real time!) by the creator of the dress—Manel Torres, a Spanish fashion designer and scientist. As reported by Coperni, Hadid's dress can be re-worn, re-washed, or reused—technology that is ushering in a new, sustainable era for fashion and is now world-famous thanks to Bella Hadid's timeless grace and elegance.