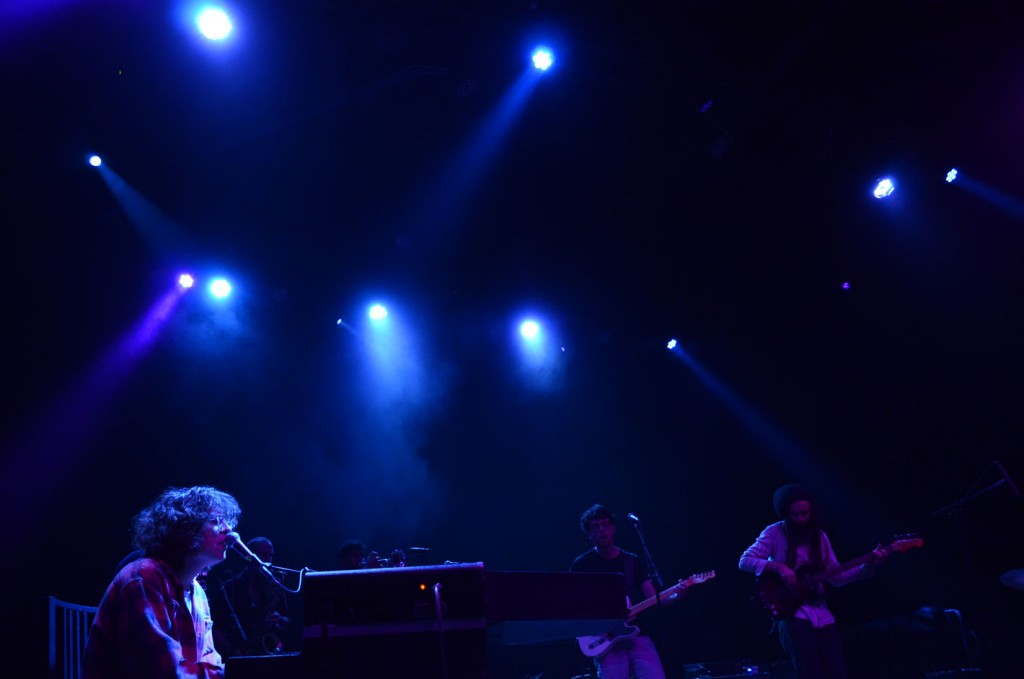 Six-foot-seven and full of charisma, Canadian-born singer-songwriter Tobias Jesso Jr. headlined at Union Transfer Oct. 16. Duk, a Los Angeles-based jazz band, played with Tobias as his backing band. Tobias Jesso Jr. is on his first major tour, in support of his debut album, "Goon," which was released in March 2015. The album consists mostly of '70s-style piano ballads with soulful melodies.
Wet, a three-piece indie pop band based in Brooklyn, New York, opened up for Jesso Jr. They had a lead vocalist, a guitarist and a drummer on an electric drum pad. Their enchanting sound was characterized by electronic drum beats, a powerful synth bass, ambient guitar-work and smooth vocals. Kelly Zutrau, the lead singer, had a soulful, soothing voice. The band kept the audience immersed in the performance; the gentle guitar and vocals could have lulled the audience into a trance, if it weren't for the powerful synthetic beats keeping the audience energized. They also played a couple of new songs from their upcoming record. The most noteworthy of their new material was a song called "These Days," in which Zutrau's vocal range was particularly impressive.
The way Jesso Jr.'s set started was indicative of how his whole show would be characterized — full of energy. The six-piece band Duk came out into the audience with horns and drums, in marching band formation. They played a couple polka-style songs before retreating onto the stage, where they burst into a rendition of the "Rocky" theme. As they played the song, Jesso Jr. emerged onto the stage with a towel on his head, running around and punching the air. At the conclusion of the song, he threw the towel off, revealing his shaggy brown hair and glasses, and took his place at the piano, his instrument of choice.
He jumped right into "Crocodile Tears," a lesser-known song from his album. Immediately, it became apparent that his live show would be packed with energy. His backing band Duk added many parts that were not included on the album, such as saxophones, trumpets, guitar and drums, making the songs much livelier. In between each song, Tobias engaged the audience, often sharing an anecdote or taking requests. The show was sprinkled with several impromptu covers, including songs by Michael Jackson, the Weeknd, Harry Nilsson and Haim. They also covered "Waiting on the World to Change" by John Mayer as Tobias Jesso Jr. introduced the members of the band.
Near the end of the show, Tobias debuted a song from "Goon," which he had never performed live before. The song, "For You," was received very well among fans. He made a joke about playing too long, assuring the audience that he would only play three more songs and fans erupted in disapproval until he agreed to make it four songs.
After a couple more songs, the band left the stage and Tobias played his pre-encore song, "True Love," by himself. The song was so quiet and beautiful that the whole audience seemed to be frozen in awe. Afterwards, the band came back on stage to play the final song — Tobias Jesso Jr.'s most famous one, "How Could You Babe?"
The addition of horns and guitar to the songs gave them a richer, fuller sound than the album had. What really made his performance impressive, however, was his unbelievable vocal range. Tobias's singing was sincere and full of emotion, and when he hit some of the high notes, it hardly seemed appropriate coming from a man as tall in stature as him. Perhaps what won the general audience most, though, was his character and his ability to make the concert feel like an intimate gathering of friends. I think Tobias Jesso Jr. has a long and fruitful career ahead of him if he continues to keep the same kind of energy in his performances.