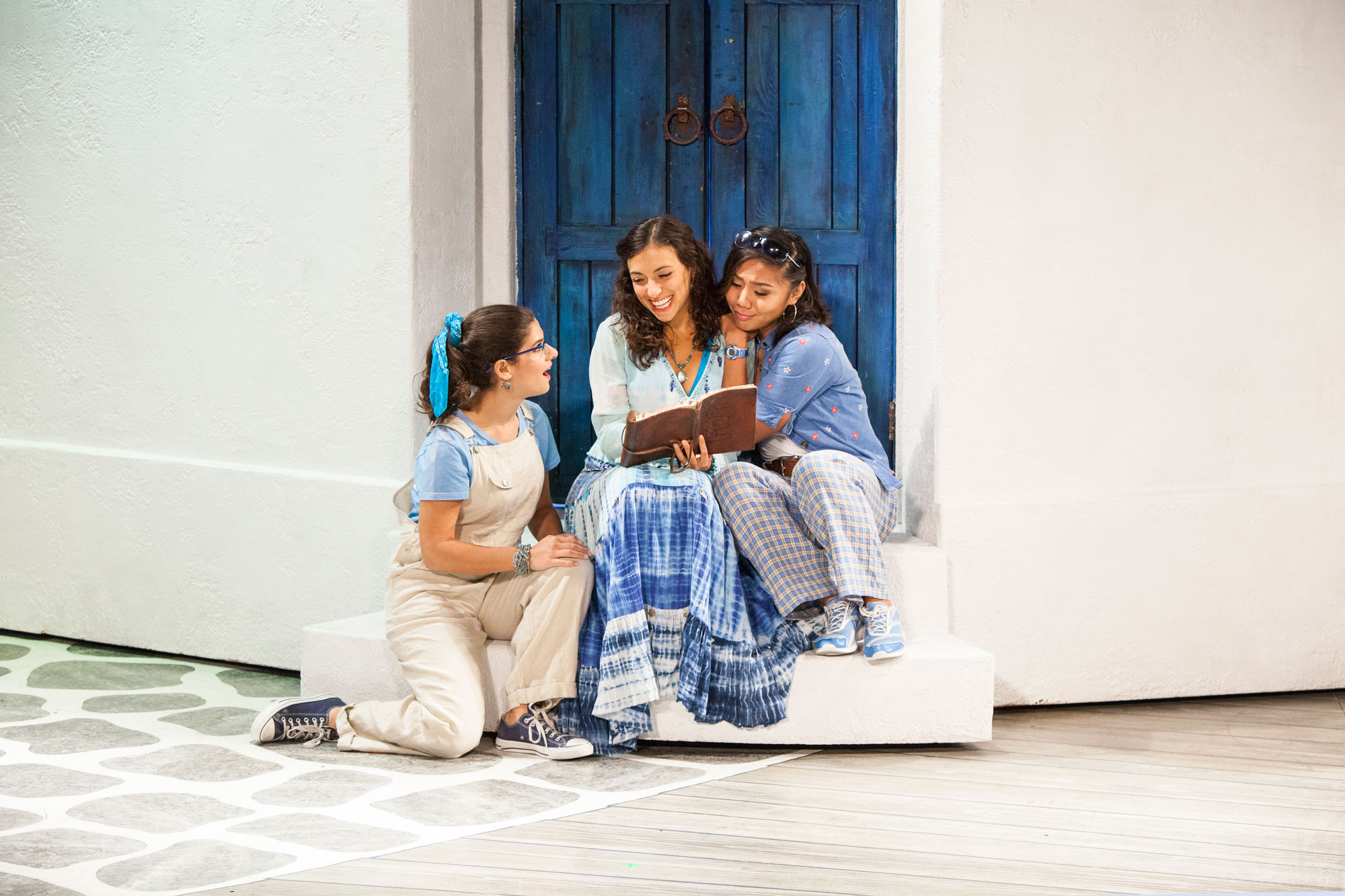 The cast of "Mamma Mia!" dazzled the audience Dec. 27 at the Merriam Theater in Philadelphia. The show is currently on its farewell North American tour, having stopped in Philly for a short time frame during the holiday season — Dec. 27 through Dec. 31.
The hit jukebox musical, comprised entirely of songs made famous by '70s Swedish pop group ABBA, begins with main character Sophie (played by Lizzie Markson) discovering one of her mother's old diaries. It is revealed that Sophie does not know who her father is, but wants him to attend her impending wedding with her fiance Sky (played by Dustin Harris Smith).
Using the diary, Sophie identifies three potential men who could be her father, and sends them wedding invitations unbeknownst to her mother, Donna (played by Betsy Padamonsky). This scene is narrated with one of the greatest songs about infatuation of all time, "Honey, Honey."
Act One of "Mamma Mia!" takes place the day before the wedding, on Donna's Greek island resort. Most of the guests arrive, including Donna's two middle-aged gal pals, Rosie (Sarah Smith) and Tanya (Cashelle Butler). However, much to Donna's surprise, her three old flames Sam, Harry and Bill also arrive, each with no idea why they have been summoned.
Padamonsky's performance as Donna was the best of the entire cast. Her singing on numbers such as "Money, Money, Money," "Mamma Mia" and "Dancing Queen" was consistently impressive and each of her lines was chock full of charisma.
Smith and Butler also really shined as Rosie and Tanya — their wit and comedic timing went unmatched throughout. Butler's performance in "Does Your Mother Know" was especially delightful and humorous.
Sophie and Sky, in a tantalizing display of their affection for each other, break out into a well-choreographed rendition of "Lay All Your Love on Me," in which they take turns expressing their love while Sky's friends drag him off to his bachelor party.
One by one, Sam, Harry and Bill started to become privy to the fact that one of them may be Sophie's father. Sophie, after much deliberation, decides that Bill is her father, and confides in him. He is reluctant to walk her down the aisle without Donna's permission, but Sophie wishes to keep her mother out of the loop. In a dizzying climax during the exciting dance number "Voulez-Vous," Sophie realizes she has no idea who her father is.
In Act Two, everything begins to fall apart. Sophie panics about not knowing for sure who her father is, which upsets her mother. Sam attempts to console Donna, but this dredges up old hurt feelings of the less-than-amicable end to their relationship, expressed through a heartfelt rendition of "SOS."
Without giving away the ending, the story takes a few turns and ends on a happy note — not that anyone in the crowd would've expected any less. The musical closes with a more pensive feel, with Sophie singing the beautiful classic "I Have a Dream."
Before the audience could leave the theater with hazy eyes, the cast came back onstage and had an "encore" of sorts. They danced and sang to "Mamma Mia," "Dancing Queen" and "Waterloo," three of ABBA's biggest and definite fan favorites. Everyone in the theater was on their feet, dancing along with the cast.
I enjoyed "Mamma Mia!" thoroughly — the entire cast was spectacular, and I loved hearing all my favorite ABBA songs (a few of which being "Thank You for the Music," "The Name of the Game" and "Slipping Through My Fingers"). It was probably the most fun I've ever had seeing a musical. The Merriam Theater was the perfect setting for "Mamma Mia!" as it was a little more intimate than the Kimmel Center, just down the block. There wasn't a bad seat in the house.