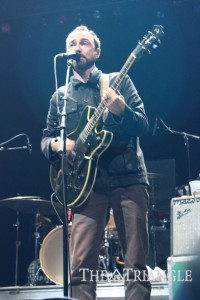 POPPED! Music Festival, which took place Sept. 23-24, did not occur under ideal circumstances. While the event was originally slated to take place in Franklin Delano Roosevelt Park, which had room for a planned three stages, stand-up comedy and many food vendors, poor weather conditions forced the planners to move the festival to Temple University's Liacouras Center.
This switch, while necessary, did not bode well for the festival — the presence of only one stage meant that set times had to be cut, stage crews were forced to operate under near-impossible setup times, and there was no room for anything but music. Despite this, the festival managed to carry on and even thrive.
POPPED!'s main strength was in the quality and diversity of its acts. By its original design, the festival was set to have multiple stages at once that would cater to people with different genre preferences. However, the amalgamation of genres worked extremely well: the crowd seemed consistently entertained at what was being performed, whether it be headlining acclaimed indie band The Shins, punk act Titus Andronicus, electronic artist Pretty Lights (who, fittingly, had an incredible light show) or Internet "sensation" Kreayshawn. While the artists featured during POPPED! cover almost the entire spectrum of genres, they were all high-quality entertainers, with the possible exception of Kreayshawn, who was still entertaining in her own right.
Even the bottom of the bill featured fantastic talent, from Dale Earnhardt Jr. Jr.'s neon-laden extravaganza to Charles Bradley's crowd-slaying soul set. The organizers of the festival clearly set out to make a diverse, quality lineup and wildly succeeded in this aspiration.
However, even given that almost every artist featured was entertaining, there were a few performances that stood out in particular as being exemplary. On day 1, the aforementioned Dale Earnhardt Jr. Jr. and The Shins were both extremely engrossing, the former due primarily to theatrics — matching neon blazers, two light up signs that said "Jr.," and bubble machines were involved in their set — while the latter featured excellent musicianship and a solid set of classic songs mixed with a few new tunes. Also, avant-garde downtempo electronic artist Panda Bear provided a contemplative and rewarding set. His layered compositions were combined with ample smoke and lighting to achieve something of a meditation, which was refreshing, enjoyable and distinctly unique.
Saturday's lineup was more eclectic, with Charles Bradley, Mates of State's dance-synthpop, Titus Andronicus' literate punk rock, and the inescapable dance party that is Girl Talk, all delivering absolutely fantastic sets. Girl Talk's set was something of a summary of modern pop music. His method of music creation is representative of the current state of music, borrowing and smashing together classic and modern songs alike to come to a catchy and altogether propulsive set. Samples fade in and out with reckless abandon, but Girl Talk's excellent sense of timing and energy combined with top-notch lighting, pyrotechnics, and an ample supply of balloons and toilet paper (yes, toilet paper) made for one of the absolute highlights of the weekend.
As previously stated, POPPED! was not a problem-free affair. In addition to the changing of venue, set times were mere suggestions at best, the location did not offer nearly as much as was originally intended in terms of food and atmosphere, and all the bands were confined to one stage. However, a fantastic music festival managed to take place regardless. Everything may not have been perfect, but the extraordinary talent and sheer fun that was on display at POPPED! more than made up for it, and provided for a weekend that those in attendance won't soon forget.