Just four weeks ago, I was fortunate enough to spend the day with The Niceguys in New York City as they promoted their sophomore album, "James Kelley." Covering quite a bit of ground, we began in Brooklyn, where the group's DJ Omar (known as DJ Candlestick) repeatedly blasted track 5 from the album "Married to the Mob" then moved to the Meatpacking District for a rooftop party. Our excursion finally ended in Harlem with a feast.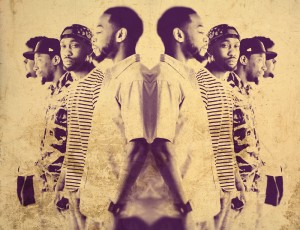 The Niceguys released their sophomore album "James Kelley" on Tues., Sept. 11. The album features Bun B on "Ari Gold Remix," as well as Slim Thug and MEL on "Married to the Mob." To purchase the album, go to iTunes or Bandcamp, or stream the album on Spotify or the group's Soundcloud page for free.
One thing that stood out to me was the relationships between each of the four members in the group. Together, they seemed like brothers, constantly pulling pranks and making jokes with each other, especially the producers, Todd (known as Christolph) and Free. Let it be known that these guys also know how to have a good time, as if you couldn't tell from track 6 of "James Kelley," "#OVERTOAST." While attending a rooftop party at the Standard Hotel in the Meatpacking District (don't worry, plenty of jokes were made about this), the group's emcee, Yves, began freestyling on the roof as the rest of the guys gathered around, and their video director, Danny Ocean, captured the moment.
The day came to an end at the Harlem house of their publicist, Dove, where she prepared an incredible home-cooked meal for us all. After that day in Manhattan, it was obvious that these guys not only share the same vision and dreams but also have an incredible bond that is rare and unique in hip-hop.
But let's get back to the matter at hand. It's been two full years since The Niceguys released their debut album, "The Show." After initially planning for "James Kelley" to be an EP, the guys went back to the drawing board, and despite a failed Kickstarter campaign, The Niceguys created a 17-track, full-length album that can easily compete with any heavyweight that was released this year. When I spoke with Yves, I asked him about the group's growth since "The Show." He said, "I think 'The Show' is great, it's very dear to my heart. For this not to be better than 'The Show' would be a failure to me. I believe it's better than 'The Show' in every way. We knew what we were doing with 'The Show.' We know where we succeeded on 'The Show.' We took the good parts and ran with it. I think it's actual progression. That's why it's excelsior." And not only did they progress with this album, but they were able to push the sound of hip-hop to a level that few artists have ever truly done with a project.
"To describe the sound right here, it's our potential, it's what we can be," Yves said.
The album begins with "War Eagle," featuring production that combines elements from hip-hop and rock as Yves begins to make you realize he's the most underrated emcee in all of hip-hop (this is a trend; you'll catch on). The first certified banger of the album appears next with "265 (Inglorious Basterds)." The song is an ode to the group's team, "265," and will be one they'll party to for years to come. Yves said of the track, "'265' is to show my appreciation because I didn't get here by myself."
"Ain't Life Grand" is exactly what you think it is; a record about how great life is with a backtrack of laughter on the hook as Yves boasts, "Ain't life grand, I got a great life man." Following one of many great interludes that help tie the album together is "Ari Gold," the album's first single, which still blares through your system before transitioning into the second half of the track, "New York Minute," an up-tempo jam in which Yves showcases his exquisite word play.
Next up is the aforementioned "Married to the Mob," which is the only track on the album produced by DJ Candlestick. On a rare occasion, Yves actually hands the mic off to Houston veteran Slim Thug and an up-and-coming female rapper, MEL, who delivers some great bars including, "stay in b—-es mouths like they're getting fit for retainers."
If you're looking for a song to party to this term, then "#OVERTOAST" is an excellent choice. The song is a follow-up to "Toast" from The Niceguys' debut album, but with a completely different sound. This time, the guys party with synths and heavy kicks, as the chant "Over and done, overtoast, guess we did it again, sipping with no remorse, we gon' do it again, and we gon' do it again, what we doing again? Oh, the most. Overtoast!"
One of the album's standout songs is the latest single, "Magick," which producer Christolph said gives him the confidence to produce anything after crafting this track. Yves continues to shine on this single as he says, "Got so many goals that I need it, y'all might have two or a hat trick. That's two or three but I feel 2-3, my tenth shoe full of my stats and s—." Read that back a few times. If you still don't get it, Google "Air Jordan X sole," and prepare to be blown away. This is just one of many examples of Yves' incredibly detailed and impressive lines on this album. He even drops a few "Harry Potter" and "Lord of the Rings" references when he says, "My soul in a horcrux, a wand in Voldemort's clutch, Gryffindor at my door, I'm on the phone with your bluff. On the text with Sauron said he don't leave Mordor much, but still gon' keep an eye out for me like my old heard Horus. Gandalf outchea talking down, [expletive] is Dumbledore's fuss, I ain't change that much i.e. still never be a whore's crutch."
One of the darker songs on the album is followed by "Just Be Cool;" a song about the one guy at the party ruining your time. The laid-back song is filled with great lines, including the chorus, which begins with, "No time like the present, no present like time." This song will remind fans of the vibe from "The Show," as will "Right Hook," which includes a full verse about Free's first time drinking.
The album continues to slow it's pace with "Live a Little" before picking right back up with one of the standouts from the album, "Real N—-s." With smooth drums and a clean, looped horn riff, this song continues to provide this album with the improved sound they established on "The Show."
Following another incredible interlude comes the album's next banger, "Casino Flow," featuring pop horns that'll make you want to get up out of your seats and do whatever ignorant dance rappers do these days.
The group's most personal song to date comes with the heartfelt "Never-Ending Open and Shut Case," which features talented singer Nick Greer, who also appeared on "The Show." Yves breaks down the intimate details of a past relationship while delivering clever metaphors and references as only he could with lines like "the villain Cruella was me" and "you don't want me lady than give me limbo," referencing "Inception."
"Think Big" begins the home stretch of "James Kelley." With live instrumentation from Hazy Ray, Yves provides the optimistic outlook on the future and where the group can go in the future before crossing over into the "Ari Gold Remix," which features legendary emcee Bun B. The remix is a song that will both sonically confuse and excite you, because it's something you've never heard a rapper on before, and at the same time it's incredibly impressive and clever. Yves plays the role of Ari Gold, while Bun B acts as Terrence McQuewick, Ari's old boss.
The most impressive track on the album comes with "Excelsior," which features an incredible Barry Manilow sample and a huge sound that captivates the listener as Yves delivers his best work to date. Throughout the song, you can hear the spirit and angst in his voice as he recites the incredibly powerful rhymes, leaving the listener with one final line, "Excelsior to play stupid, why bother if not progression." The song comes to a close with an incredible piano melody, accompanied with elegant strings and a quiet chorus in the background.
"James Kelley" ends with "911 (RIP Maggie)," a song dedicated to the horrific events of Sept. 11 and the recent passing of the group's dear friend, Maggie, who was killed in an accident the week before the album was released. This song was a late addition, but Yves felt it was necessary because the album dropped on Sept. 11. When I asked him about the event's impact on him as a New Yorker as well as the dedication to his friend, Maggie, he said, "9/11 is something we've heard about for so long. It's so [expletive]ing sad, it's hard to put it in the proper context. I was there for it, and it's still hard. Nobody ever talks about how angry we are about it. There's a lot of pride in that city, and I was trying to tie in that anger into the rap as well. Like, for us to succeed in music, somebody's gotta die. Like I say, it's a zero-sum game; my loss is your win, and your win is my loss. I feel like that as far as rap. I'm trying in a lot of feelings. It's a very angry song because people are afraid to be angry right now, but I think it's OK to be. The last bit to Maggie was really me talking a lot more casually than most Roman Catholics would. That's the way I would speak to the higher being. I was angry then, too. There's something I gotta say, and I was letting it out to let it be known."
"911" delivers chilling keys with heavy-hitting drums that remind you of a Kanye West song. Yves' anger bleeds out through the track and ends the album in an incredibly strong and meaningful way.
In hip-hop these days, two years is a long time to go without releasing an album, but The Niceguys did what few could, and that's build a complete project once again. "James Kelley" embodies exactly where the group is now and their uncapped potential. "We didn't come to lose. If you practice hard, if you prepare, you're smart, you're talented, then you won't be surprised when you win," Yves said. To say that this album is a win would be an understatement because "James Kelley" is hip-hop's best album so far in 2012. "James Kelley" is available now for purchase on iTunes and Bandcamp. The album can also be streamed on Spotify and SoundCloud for free.