The Pennsylvania Horticultural Society's annual Philadelphia Flower Show opened to the public March 2 at the Pennsylvania Convention Center.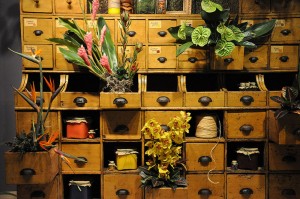 Dating back to 1829, the Philadelphia Flower Show has gained a hefty reputation as the world's largest indoor flower show. This year's theme is "Brilliant!" an Anglicism that equates to something that is inventive, dazzling or extraordinary. Appropriately, this year's Flower Show is billing itself as a "show fit for a king, a queen and everyone in between."
And that it is. Every detail at the Flower Show is decidedly British, from the cardboard cutout of the queen down to the music playing in the background, which features peppy British tunes that might make you think "the British are coming." All British invasion jokes aside, the Flower Show's British theme sets a mood that differs greatly from past years.
As soon as I entered the Flower Show, my senses began to tingle. The dim lighting combined with the aroma of freshly cut flowers created a permeable atmosphere. The manpower and time needed to construct such a show were absolutely incredible. This year, for the first time, Pre-Show Sneak Peek ticket packages were available for the public to visit during setup week, Feb. 25-28. This new feature allowed for behind-the-scenes access during construction.
The centerpiece of the Flower Show was a digital rendition of Big Ben, the iconic clock tower of London. Every hour the clock tower displayed a light and emitted sound, which garnered much attention. The entrance to the Flower Show floor was designed by Chris Woods, a native of Great Britain, and featured beautifully scented English roses and an alley of magnificent birch trees. Other British-themed items were scattered around the Flower Show floor, including the iconic yellow submarine, a fancy British dining room set and lots of British flags. Also noteworthy was this year's use of a new energy-efficient LED lighting system, which highlighted the intensity of plant coloring and improved opportunities for photographing.
The Flower Show has two categories for top winners: landscape and floral. This year's winners for the Best-in-Show award, the highest-scoring landscape and floral major exhibits, were Michael Petrie's Handmade Gardens and Schaffer Designs, respectively. Both exhibits epitomized a celebration of color and the art form of gardening. Other interesting awards offered this year included the PHS Sustainability Award for the educational major exhibit, demonstrating the best use of sustainable gardening practices to the public, and the Alfred M. Campbell Memorial Trophy for the educational major exhibit that demonstrated the most successful use of a variety of plants in a unique fashion, which was awarded to the Temple University Ambler School of Environmental Design.
Other attractions of this year's Flower Show included presentations and displays that catered to providing useful ideas for the home, garden and the do-it-yourselfer. There were culinary demonstrations, wine tastings, and themed afternoon and evening events including "LGBT Party," "Wedding Wednesday," "Girls' Night Out" and "Family Day." This year there is also a Speaker Series and Gardener's Studio presentations, in addition to floral-arranging contests pairing professional designers against amateur artists.
If you cannot make it out to one of the specially themed afternoons or evenings, the Flower Show is filled every day with a variety of vendors peddling flower-related goods. Whether you are looking for beautifully prepared and fragrant potpourri, homemade stained glass, beeswax hand lotion or elegant jewelry, the Flower Show has your needs in mind.
Proceeds from the Flower Show benefit the year-round programs of PHS, including the innovative City Harvest program. To date, PHS City Harvest has yielded more than 160,000 pounds of fresh, organic produce, helping 1,000 families in need per week during the growing season. Come out, support your city and enjoy some beautiful creations. For more information please visit www.theflowershow.com.