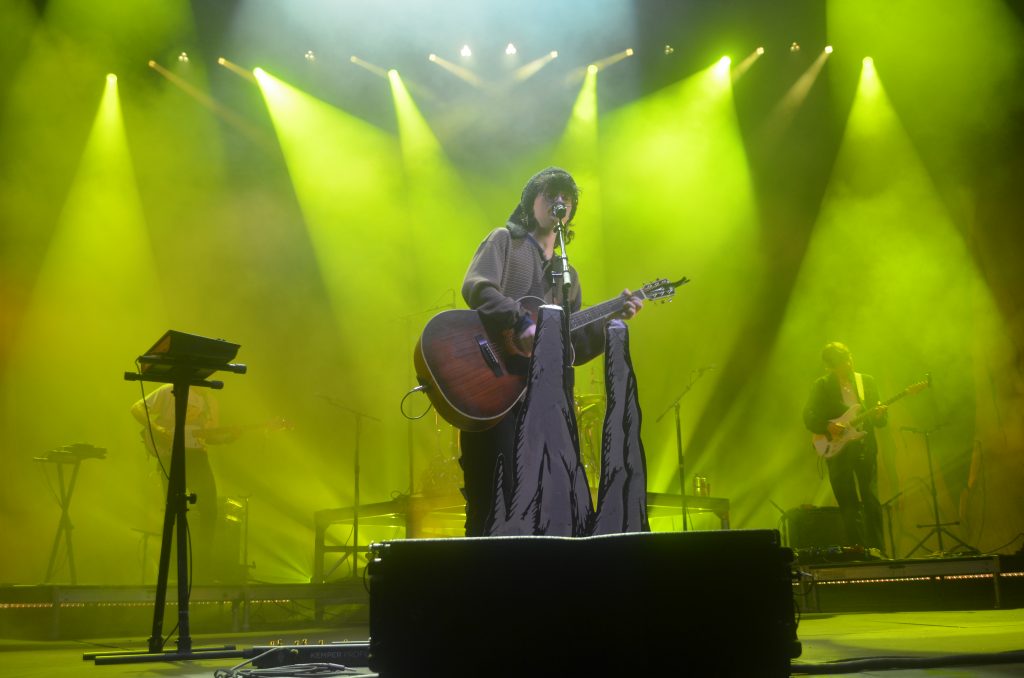 Cavetown's Bittersweet Daze Tour kicked off in Philadelphia, featuring special guests Grent Perez, Ricky Montgomery and mxmtoon. The event took place on Aug. 4 at the Mann Center's Skyline Stage. Attendees not only enjoyed the music but also supported Cavetown's This is Home Project and its mission to support LGBTQ+ youth in need. The project focuses on enhancing access to LGBTQ+-related healthcare, safe housing and vital resources. With doors opening at 4:30 p.m., the shining sun created a vibrant atmosphere. The audience eagerly anticipated an evening of dance and emotion. The venue featured food and merchandise trucks, cavetown-themed inflatables and more. Picnic blankets were sprawled across the grass, while attendees expressed themselves through pride merchandise, creative hairstyles and eclectic outfits.
Grent Perez
At 5:30 p.m., Grent Perez opened the stage, captivating the audience. Encouraging connection and love among attendees, he performed "Clementine" and urged everyone to dance, regardless of knowing the lyrics. Perez, in a white t-shirt, bleached cargo pants, a blue sun visor hat and blue guitar with a star embellishment showcased his signature style. His energetic performance featured jumps and dance moves between Perez and his band. Amidst songs like "Old with You," Perez led the audience in meditations, inviting deep breaths and joyous dances. Perez's interactions continued during breaks, by involving the crowd in the legendary beat from The White Stripe's "Seven Nation Army." During "Cherry Wine," he collaborated with his bassist, Timmy, for a guitar solo, while his drummer, Josh, and stage manager had their dance moments. Perez concluded the song with a trumpet solo as his lively presence energized the audience, making for an unforgettable performance.
Ricky Montgomery
At 6:20 p.m., Ricky Montgomery took the stage, wearing a red vest with patches, sunglasses, middle-part hairstyle, black shirt and cargo pants. Montgomery, full of energy, drummed alongside his drummer and bassist, delivering a collaborative performance. He engaged with the audience, as he reached out to his fans and ran offstage to serenade from the barricade. Montgomery excitedly announced plans for a new album and playfully mentioned his girlfriend. "Talk to You" and "Eraser" were crowd-pleasers, followed by the emotive "Line Without a Hook."
The joyful "Black Fins" featured poignant lyrics, and "My Heart is Buried in Venice" followed a drum solo. He encouraged dancing during "Don't Be Sad," intertwining melancholic themes with a lively beat, even immersing himself in the crowd. Montgomery's dreamy presence resonated, as he stood on the barricade fence above the audience. He returned to the stage, emotionally connecting with individuals through laughter, goofy faces during offbeats and eye contact. During intermission, he launched personalized merchandise into the crowd using slingshots. Transitioning to "Out Like a Light" with his band, the Honeysticks, he showcased unique guitar and drum sounds. Despite introspective lyrics, Montgomery brought joy to each song. The audience embraced the electric performance of "This December," and Montgomery concluded with "Mr. Loverman."
mxmtoon
As the sun set, mxmtoon took the stage at 7:30 p.m., connecting with her target audience, "sad gay girls." She wore a tight red floral dress, as her performance had a lighthearted, goofy essence. Beginning with "fever dream," she shared personal struggles, setting the tone for a "sad disco" experience. Shifting gears with a self-love anthem, "no faker," mxmtoon interacted with the crowd playfully, even prompting quack noises from the Philly audience. Interestingly, the sky turned gray and cloudy, an ironic contrast to the previous openers' sunny sets. mxmtoon acknowledged the weather and her own seasonal depression, leading to "seasonal depression."
Starting with her band, she later took the stage alone with her ukulele, known from her TikTok videos. Each song came with a different ukulele, progressively smaller. As rain drizzled, mxmtoon introduced a song for "delulu girls" and sang "cliche." Shifting from happy to sad songs, she humorously said, "so that song's really happy, but unfortunately, I sing sad songs." She had the audience pretend to cry before leading into "feelings are fatal." Acknowledging the rain, she encouraged the crowd, saying, "it's starting to sprinkle, right Philly? That's alright, I need your energy for the next one," and performed her popular song, "prom dress." During the encore, mxmtoon led the audience in choreography. The lighting mixed white and purple hues, creating a visually captivating atmosphere. She ended with "Mona Lisa," her drummer adding unexpected beats. The audience enthusiastically waved their arms throughout the encore, and mxmtoon joined in, ending the show with gratitude to Philly and skipping offstage while her band finished the set.
Cavetown's This is Home Project
After the performances, Ellie Wasserman, Director of Lifeskills at The Attic Youth Center, addressed the crowd. She introduced Cavetown's This is Home Project and spotlighted The Attic Youth Center, a haven for LGBTQ+ youth in Philadelphia, celebrating its upcoming 30th anniversary. The center serves queer individuals aged 14 to 23, offering programs such as drag, songwriting, academic assistance, counseling services, meals and more. It also provides training related to the LGBTQ+ youth in the community.
Cavetown
At 8:40 p.m., the band emerged under a moonlit sky amidst purple and white lights, creating an eerie silhouette. Cavetown (Robbie Daniel Skinner) took the stage in his signature look: black beanie, glasses, hoop earrings, striped long sleeve shirt, black cargo pants and old skool sneakers.
During the opening, an audience member's minor injury prompted Skinner's caring response, highlighting the dedicated passion of the audience. With most attendees there for Cavetown, the concert's energy peaked as the crowd fully became present.
The set began with "Worm Food," followed by "Fall in Love with a Girl" and "Lemon Boy." Cavetown danced with a non-binary flag provided by an audience member. Shifting lights and enveloping fog created a distinctive visual atmosphere. Cavetown appreciated fellow performers and expressed gratitude for fans that had been there since Perez's performance, leading to a segment of gentle melodies and swaying. During "Wasabi," he poured emotion into the lyrics, transitioning smoothly into "Juno," an emotional song about his cat.
During "Hug All Your Friends," Cavetown immersed himself as audience members embraced. Alongside mxmtoon and Ricky Montgomery, they united for "Nobody Loves Me," exuding genuine friendship. The atmosphere transformed with dynamic colors and spirited sounds. Cavetown acknowledged a fan's frog hat, his emblematic symbol, showing appreciation for the audience.
Transitioning smoothly, he delved into "a kind hing to do," dancing with his band. After "Juliet," he exchanged the non-binary flag for an audience member's transgender flag. Shifting gears, "Home" embraced introspection with rainbow lighting symbolizing LGBTQ+ pride. The encore featured "Boys Will Be Bugs" and "Devil Town," encapsulating the essence of the event.
As the show concluded, attendees gathered their picnic blankets, transitioning back to reality from five hours of musical euphoria. The weather mirrored the event's mood, alternating between sprinkles, sunshine, clouds and darkening skies. The performers radiated positivity, staying true to themselves while united by their dedication to the LGBTQ+ community and Cavetown's "This Is Home" project. The concert wove threads of connection and self-expression, with genuine cherishment from Cavetown, mxmtoon, Montgomery and Perez.