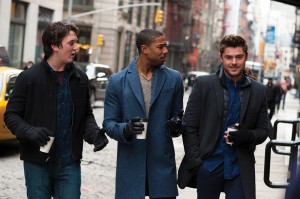 "That Awkward Moment: When You Realize Getting Some Means Wanting More." The tagline for the most recent romantic comedy to hit theaters, "That Awkward Moment," really does the film justice. After the movie ended, I did want to see more Zac Efron, Miles Teller and Michael B. Jordan. I know that when it comes to Efron, we all seem to maintain an image of him dancing on cafeteria tables, wearing his letterman jacket and belting out cliched songs about high school. At least, that's the image I had going into "That Awkward Moment," but I could not have been more wrong. "That Awkward Moment" takes the tired romantic comedy formula and makes great improvements, creating a better-than-most comedy that will get a chuckle and smile out of the most ill-humored person.
Jason (Efron), Daniel (Teller) and Mikey (Jordan) are twenty-something college graduates living in New York. Jason and Daniel work at a marketing firm that designs book covers and Mikey practices medicine at the nearest hospital. Jason and Daniel are the rising stars at the firm, designing the best and most innovative covers for the hottest books on the market. They are living the dream: great jobs, good money and, of course, plenty of women. When Mikey's life is turned inside out after his wife confronts him with the harsh reality of divorce, Jason and Daniel, already seasoned bachelors, pledge to help Mikey move past this loss and get on with his life. With the gang back together, they make a vow to each other: not one of the three will get into a real relationship, no matter what.
The trio, with the help of Daniel's wing-woman Chelsea (Mackenzie Davis), scours the city bar scene every night for women until one night Jason happens across the beautiful Elli (Imogen Poots). After a perfectly scripted tirade, the pair scares off the bedroom-hopeful seated next to Elli at the bar, and they end up back at her place; however, Jason has some concerns about Elli's particular line of work. He leaves quickly and quietly as she lies asleep in bed. After another chance encounter, the two slowly start to actually become a "pair," but Jason tries to hide the truth from not only Daniel and Mikey, but also from himself.
The group of friends, despite seeming to have the best work hours and some of the nicest apartments in New York City, manage to afford a sense of realism that most modern comedies seem to lack. Even at the film's most predictable moments, the cast and witty script keep the entire movie from buckling. While at times it feels a little choppy, the onscreen chemistry between the cast — especially when it comes to Efron and Poots — and Tom Gormican's raunchy yet sincere screenplay, are refreshing enough to make up for it. There never seems to be a dull moment on screen or on set (thanks to the hilarious outtake reel during the credits).
Upon watching this film, you must be prepared for a costume party you'll never forget, enough swearing to make a sailor happy, and a healthy number of off-color one-liners. So, "That Awkward Moment" when you actually thoroughly enjoy a romantic comedy starring Zac Efron … you might have that moment.