For Mexican food lovers, Tequilas restaurant is the ideal place to dine. Bright, colorful Mexican artwork depicting peasants and a newlywed couple painted as corpses greet you upon entering the Victorian mansion. In Mexico, el Dia de Los Muertos, the Day of the Dead, is celebrated in November to remember and honor the deceased. Much of the ancient festival's artwork depicts death, which is why the decor's theme is death. Past the high-ceilinged corridor there is a bar, and further into the restaurant is the seating area. Tequilas was established in 1986 by owners David and Annette Suro. The location, on the 1600 block of Locust Street, is great because it is only a few blocks from Rittenhouse Square. You can easily walk to Tequilas from University City or take the trolley, subway or taxi. Tequilas is open for lunch and happy hour on weekdays and for dinner daily.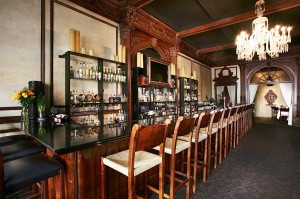 Being served by Hispanic waiters and waitresses authenticates the south-of-the-border vibe of the eatery. There is a large selection of lowland and highland tequilas on the menu, along with Mezcal, which is a distilled alcoholic beverage native to Mexico. Guests also rave about the excellent margaritas. When reading the menu, do not be shocked by the high prices. The guacamole is delicious as an appetizer and sets the high standard for the rest of the meal. For dinner there are a variety of seafood, chicken and steak platter options. Many of the dishes are served in heavy, carved-out lava rock bowls shaped as pigs.
One of their specials, the Seafood Lava Bowl, is a divine must-have that will fill your stomach. The Lava Bowl consists of a combination of fish, mussels, clams and langoustine, which is a small lobster or prawn, served in a flavorful garlic, tequila and lime sauce. If you dislike seafood, try the Molcajete de Pollo, which is chicken breast coated in a spicy salsa. Additionally, the Carne Aguacate and Carne Asada a la Tampiquena are superb steak choices. The first dish originated in Michoacan, a region in Mexico.
The service is efficient and friendly. An impressive skill that they have is serving guests their drinks by walking while balancing it on their heads. I highly recommend making a reservation to ensure that you do not have an unpleasant time at the upscale Tequilas. The cozy, candle-lit atmosphere creates a perfect ambience to dine with friends, family or that special someone. This is the best authentic Mexican restaurant I have eaten at that is north of the border!