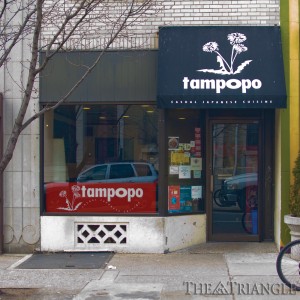 For this week's restaurant review I chose Tampopo, a phenomenal hidden gem suggested to me by another member of The Triangle staff. Tampopo is located on 21st Street between Chestnut and Sansom streets. This small Japanese sit-down is very student-friendly in terms of prices. Anyone can walk in and get a fulfilling meal with a drink for no more than $10. This restaurant has been Zagat-rated the past six consecutive years. More people have walked by Tampopo and thought it was just another run-of-the-mill Japanese restaurant, but it's so much more than that. This restaurant does not have the same qualifications as others serving sushi; it's strictly a noodle-bowl and bento-box eatery. Tampopo delivers speedy service from start to finish whether you are eating in or taking out.
My go-to meal of choice at Tampopo, introduced by hip-hop enthusiast Daniel Abelson, has to be the spicy chicken bento box, white rice, edamame beans and gyoza. Yes, all of that food is included in one meal. Tampopo offers the ideal "bang for your buck" meal that every college student wants. No student wants to spend $20 in one sitting. With Tampopo, everyone gets that expensive Japanese restaurant taste at the college student price.
As you walk in the restaurant and order at the counter, you'll see the customer choice board where the spicy chicken is highly rated. The spicy chicken may keep your lips burning for minutes after the meal ends, but it keeps people coming back for more. When asked what they do to make the spicy chicken so appealing, the cooks at Tampopo responded that giving up the secret recipe to even one person could cost them future customers.
It may be a 15-minute walk from campus, but I encourage every student to make the journey. Sad to say, Tampopo does not serve sushi, but it really isn't that type of restaurant. Tampopo is known for their rice bowls and bento boxes, which sell themselves. My roommate, business student and rap mogul Drew Veloric, is an avid Tampopo supporter. When asked for his opinion, he said, "It's so good that one time a day just isn't enough. The spicy chicken box and udon tofu noodle bowl are just two essential parts to my day." He and I speak from real experience; we eat at the bento box sensation daily and experience it all. I've never been to a place twice that I haven't liked. I've said it before and I'll say it again: Eating is not just a hobby of mine; it's a lifestyle. I give Tampopo two thumbs up.