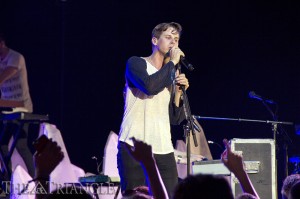 There was no reason to be crammed in the house watching repeat episodes of "House of Cards" on Netflix this past weekend. From Drexel's Spring Jam with Krewella to the Sweetlife Festival, there was a ton of entertaining things to do in the Tristate area.
On May 10, Sweetgreen, the farm-to-table quick-serve salad restaurant that currently has three locations in the Philadelphia area, hosted the fifth annual Sweetlife music and food festival at Merriweather Post Pavilion in Columbia, Md.
Like your typical day-long music festival, the venue grounds were filled with nearly 20,000 teenagers and young adults who traveled from near and far, dressed like they just walked out of an Urban Outfitters advertisement — high-waisted shorts, floral head circlets, plaid shirts and bandanas everywhere you turned.
Spread throughout the festival grounds were food vendors, body painting stations and interactive activities, including ping pong tables and oversized twister mats.
The three-stage festival, located just 45 minutes north of Washington, D.C., was headlined by 27-year-old songstress Lana Del Rey and pop indie group Foster the People. Del Rey, who performed with a lit cigarette in her hand, received a roaring welcome from the entire arena when she stepped out onto the stage wearing a graphic long-sleeved thermal, Daisy Dukes and cowboy boots.
She performed her latest single, "West Coast," off her unreleased album "Ultraviolence," as well as an array of other hits including "Video Games" and "Summertime Sadness." A few songs into her set, as everyone else was belting out the lyrics to the songs, I was no longer intrigued. She was expressionless and lacked stage presence and emotion. But I have to give her props; she did jump down into the pit to take in the energy and snap selfies with a handful of fans who were pushed up against the barricade.
Following Lana's gig and a brief intermission, Foster the People hit the stage for an electrifying performance, as expected. Daniel Miedzinski, a sophomore film and video major who also skipped out on Spring Jam to attend, wrote in an email, "My favorite part about Sweetlife specifically was Foster the People's set. The band really understands writing music to be played live, flows really well, and knows how to work an audience. There was one point in the concert, during the song 'Pseudologia Fantastica,' that really got to me: the band was getting through the bridge of the song (an extremely long crazy instrumental) and right when the bridge ended, it started pouring rain. That moment made the whole show worth it for me."
Other acts included Fitz and the Tantrums, Bastille, Bombay Bicycle Club, Chromeo, Capital Cities, and Astr. Oh, and let's not forget about 2 Chainz—I wonder how he ended up on the lineup.
Overall, Sweetlife was a fulfilling experience despite the torrential rain for those who were not under the pavilion roof.
Miedzinski wrote it best: "[It] was nothing short of a dream come true for me. Every one of the bands was fantastic live, the food was phenomenal, and we had prime spots on the lawn to lounge and soak it all in (and I mean that literally, because it did rain for a lot of the day). We had ponchos for the rain and stuck it out through the end, and that made every bit of the extremely long, tiring weekend worth it."