Immediately following sound check, Erik Hassle, a soulful Swedish pop singer and songwriter, sat down with The Triangle backstage in his narrow dressing room March 26 at the Trocadero Theatre to discuss his emerging music career and fresh material he's preparing to release.
The determined 26-year-old musician, who is quickly making a name for himself and currently traveling city-to-city with Broods, is preparing to embark on a tour with Twin Shadow and gearing up to drop his new single "No Words" in the coming weeks.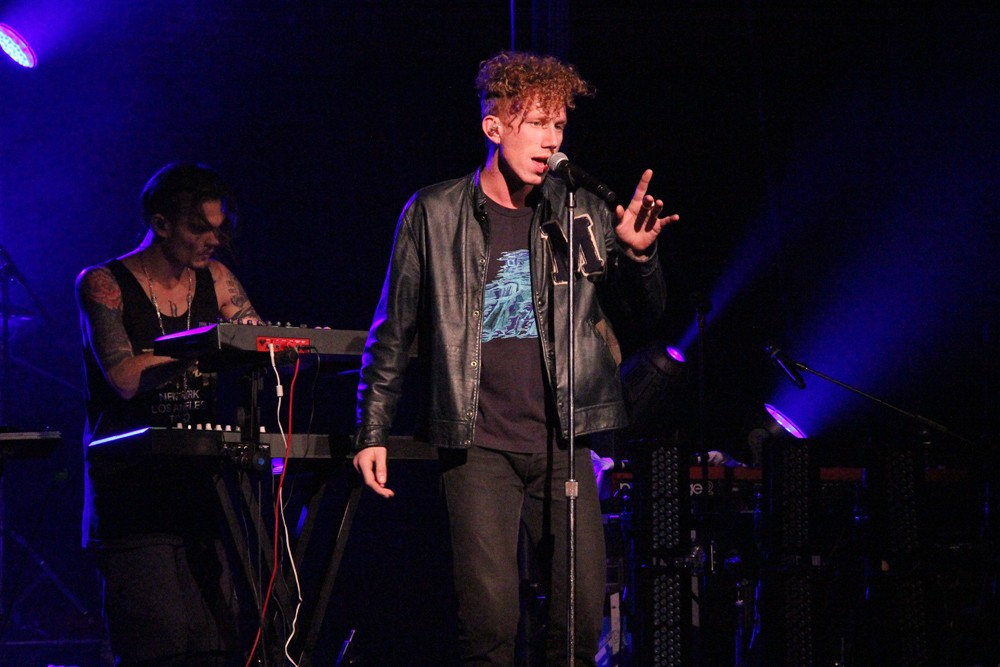 The Triangle: How did you end up on tour with Broods?
Erik Hassle: They asked me if I wanted to come. We have the same agent. So, it was also through him. But, we shared some likings of each other beforehand.
TT: What's your relationship like with them?
EH: We play a lot of "FIFA" together. I'm supposed to be the best, but I just recently lost. It was just the psychological part I lost at, I think.
TT: You're also touring with Twin Shadows starting in Chicago in a few weeks, right? How did you two link together?
EH: Actually, I went and had lunch with him in downtown Los Angeles and we got to know each other a bit and talked about everything. It felt good. I really like him as a person. I love his music. My friend Rey had known him before, so it was kind of a smooth transition, which is nice. We're going to travel on the same bus together.
TT: You collaborated with Tinashe, who has exploded in popularity over the last year or so, on "Innocence Lost." Without hearing the song, one would think that's an odd matchup.
EH: We're both on RCA Records and both have the same [agent] and people working around us. I loved her voice and asked her if she wanted to sing with me on a song, and she was up for it. We had a day at Capitol Records to record "Innocence Lost," along with some other stuff. That one ended well, so we put it on the EP. She's great.
TT: So, it seems like a lot of your connections with other artists tend to be either through agents or mutual friends. Is that typical in the industry?
EH: Yeah, a lot of connections also go on through social media as well. But, RCA has been very good to me in helping me get collaborations on my music. I also like for it to happen organically, though. I've lived in Los Angeles now for two years, and I'm starting to get a sense of the network.
TT: Tell me about your musical journey and background, and how you got to where you are now.
EH: I was discovered during my last year of high school in Stockholm, [Sweden], by my current manager and now close friend. He told me he wanted me to come down and meet some of his writers that he was working with, so I did. We started working on some music and it went really well. We began to take it at the right pace. I would come in once a month or so, since they were finishing up other projects.
And then, two years after that, I had my first album done. There was a lot of buzz around it and got really hyped and prioritized on Island Records, who I was signed to at the time. After that, my manager and I moved to London to do the whole major label thing to try and sell a million albums without that much experience. It was really a tough learning phase that was confusing because if you don't put your feet down and know how everything works, you get ran over pretty quickly. Or you have to contribute yourself or else someone else has to do it. So, that was a lesson.
I was, like, not burnt out, but I had to catch up on other things in life because I was so young. So, I stayed in Sweden for two years after that whole run and I also traveled to America. I was in the studio writing, but I didn't really release it or do that much outside of Sweden. I kind of waited for the right moment to come to America, hoping that I would get the right chance to start over and try my own wings a little.
TT: How did you know when the right moment to move to America was?
EH: Good people around me to help me and keep me going in the right direction. And, after a long hard relationship, I just needed to get out of there. I came here and got linked up with Daniel Ledinsky, and we found a really big love in working with each other and doing music together. We just started hammering out songs. We did like 20 songs in two weeks. It was just a nice process to keep them coming that fast. It felt so easy. But I didn't really think about what I was doing. Then, two weeks in, I had realized I had done some sort of self-biography that was therapeutic. And, now I'm here touring.
TT: Tell me about your unique sound. Although you're a fairly new artist, you're often compared to musicians like Prince and Justin Timberlake. Do you see yourself in their category?
EH: It's kind of hard to see that from your own perspective, I think. But, I grew up as the youngest of five siblings who were all a lot older than me — [they were] teenagers while I was really little. There was a lot of techno, Dr. Dre and soul that was going on and being blasted from their different rooms. So, that's what shaped a lot of my sound. And then when I was eight we moved down to the countryside. My best friend and I saw this movie called "The Commitments," about an English man who starts a soul group. We were like, "Wow, this is what we have to do!" And then, we went up to his dad's rehearsal space and he had old vinyls that we just started listening to. It was a moment of clarity there when I fell in love with music and started playing. There has always been a lot of soul.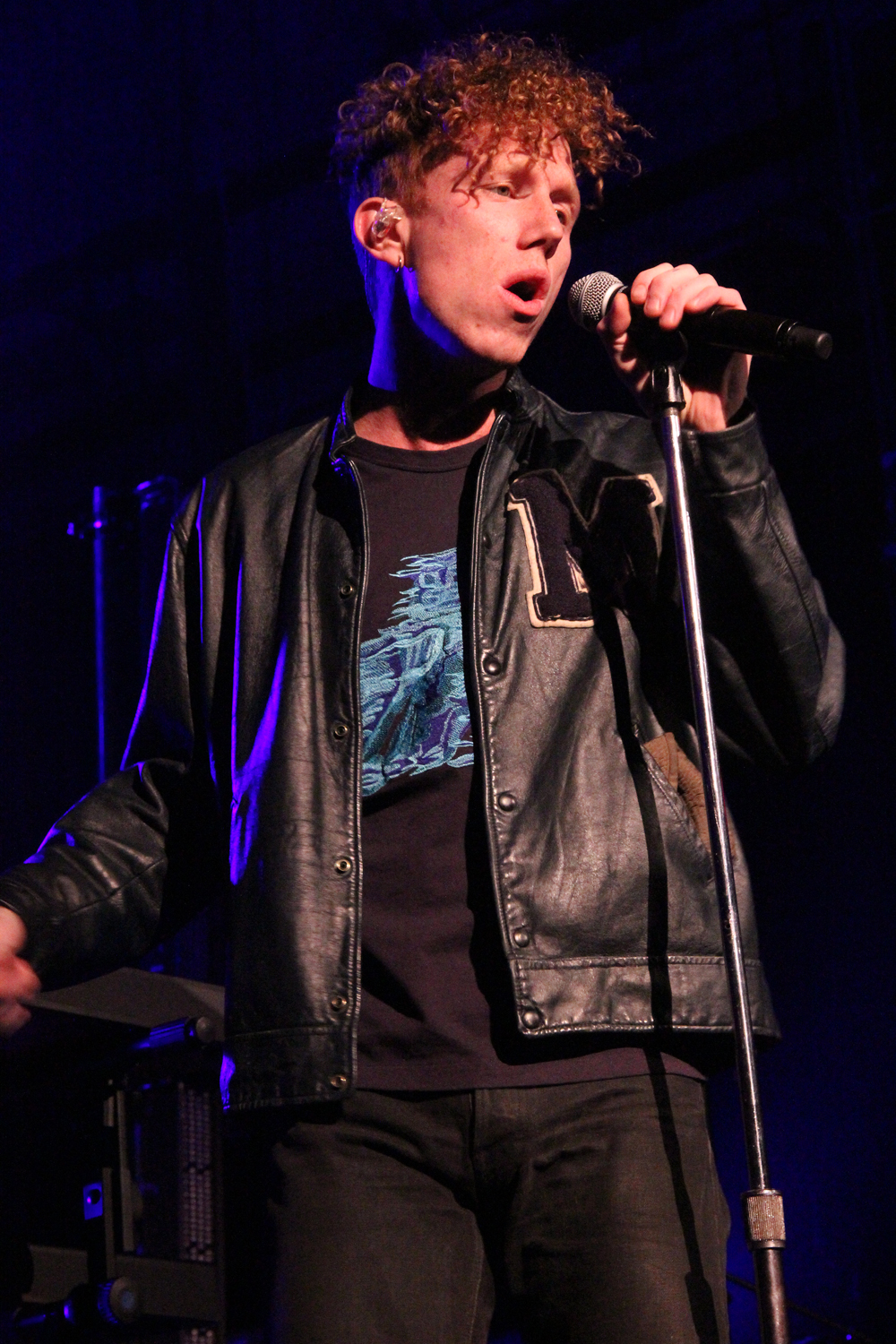 TT: What are your plans for this summer? Aside from hopping on tour with Twin Shadow, are you playing any music festivals?
EH: I'm really happy to announce the first single on my upcoming album April 10 called "No Words." I've been in the studio for so long, so it feels good to step out of it and start working. After the Twin Shadow tour, I'm going back to Europe to play there and promote the single. I think I'm a little late for the festival slots, but hopefully the song will live until next year.
TT: Would you say there's a difference between your fans or live performance in Sweden compared to here in the states?
EH: I think they're pretty similar, although I haven't played in Sweden in almost three years. It's been a while.
TT: So your return this summer will be a homecoming?
EH: Yeah, absolutely! And it's so small there, I know everyone. I'm really excited to meet everyone who has stuck with me and have kept up with me through this journey back in Sweden. I really want to go home and play for them.
TT: Something people may be surprised to learn about you is that you've written a song for Rihanna and Shakira.
EH: Yeah, it was Daniel and I who wrote the song "Can't Remember to Forget You" for them.
TT: How did you end up writing the song for them?
EH: We originally got the track, which was supposed to be for Gwen Stefani, from someone. And, like any other song, we just vibed on the track and started writing. I felt like we had something good. That was a part of the run of over 20 songs I mentioned we did a few years ago. Six months after, I heard that Shakira was willing to get on it, but I wasn't really involved from that phase on. And then another six months went by and Rihanna decided to get on it. A year and a half after that I got a text from my friend that said they were going to shoot a video for it and I was like, "What!" Then, I heard it once they premiered it on the radio.
TT: What was your reaction and how did you feel when you finally heard it?
EH: It was a big moment for me. I listened to it on the Swedish radio.
TT: Would you say that has been one of your biggest accomplishments so far?
EH: Absolutely! One of them. It led to so many good things after it was released.
TT: Where do you see yourself and career in five years?
EH: How old will I be then — about 30? That's too young to have kids.
TT: That's not too young.
EH: I mean, I guess I could wait another 10 years. But no, I want to start producing more. Hopefully by then, I would have produced an album or two.
TT: Who would be your dream collaboration as a producer?
EH: I would say with Rick Rubin. I would just like to learn from him. I've met him and worked for him and have seen his vibe. It's really fascinating what he's doing. It's almost magical.
TT: Last question, how many tattoos do you have?
EH: Twenty-one.